You're currently on: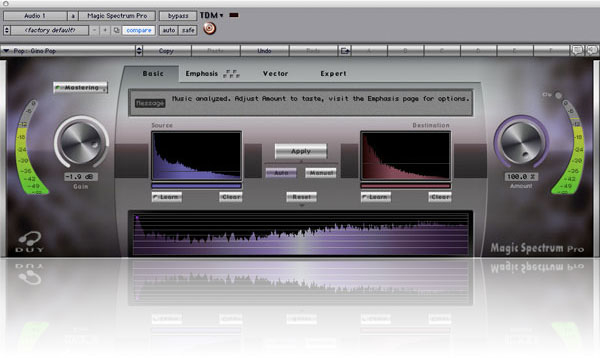 High resolution matching equalizer ideal for ADR
DUY's Magic Spectrum allows you, on one hand, to perform a basic operation such as matching the spectrum of one piece of audio to another. As such it is the perfect tool for ADR. It also enables you to actually modify the frequency contents yourself with edition Tools. As you can see, DUY Magic Spectrum is THE TOOL for modifying the spectral contents of your audio.
The most basic (and extremely useful!) utility that Magic Spectrum provides is the Matching of spectrums. For example: take a track you like the sound of, and "play it" to Magic Spectrum. Then, take your track and analise your sound. Finally, apply the sound 'character' of the song you like to your own song, in whichever amount you like. As easy as that! Fast and simple! If you have no songs to use as a reference, you may also load any of the many included presets, analyzed from some of the best recordings of all time, or from specific-sounding masters. Magic Spectrum can also be used as an EQ that emphasizes the results, or you can even load 4 different responses and vectorially combine these responses in the way you like, to add "more character" of one sound or more of another…
The "Advanced" mode literally lets you manipulate the spectrum by providing graphic edition tools that enable you to have direct access to the spectrum of the song itself, with an amazing precision!!! DUY's Magic Spectrum is available for multiple platforms (AAX, VST, AU) – check our Support page for a full compatibility list. A separate TDM version is also available.
MAIN FEATURES
– High resolution 2048 band automatic equalization to an external reference.
– Ideal for ADR.
– Advanced graphical interface for compound equalizations.
– Editing mode for complete control
Basic Mode
DUY's Magic Spectrum's "Basic Mode" is the simplest functioning mode within Magic Spectrum. The point is the following: we have a piece of audio and we want to make it sound (frequentially) like another. This process is called Spectral Matching: it studies the frequential character and qualities of a piece of audio and applies them to another.
To use Magic Spectrum as a spectral matcher, you have to "teach" the plug-in what the contents of each one of the materials is. Therefore, you simply click on the LEARN button and play the Source (the audio you like, which is going to be used as the reference of what you'd like to achieve). You will instantly see the frequency response of the audio on the plug-in's window. Once you have done this, repeat the same procedure with the audio that you're still working on. Once the process is over, Magic Spectrum will automatically adapt your sound to make it more similar to the one you're aiming at. You can control the amount of effect you want to add by using the "Amount" knob.
Expert Mode
When you're using the Expert mode, you become a "digital surgeon", editing with great precision. DUY Magic Spectrum provides a pixel-by-pixel editable spectrogram, which is a graphic representation of the frequency contents of your audio. You can graphically edit the spectrum yourself with an incredible degree and precision, by using a suite of edition tools. This is really UNIQUE!
Emphasis Mode
The Emphasis section allows you to apply additional equalization using a 5-band EQ (with shelf-type lower and higher bands), with adjustable Gain, Q and cutoff frequencies. So... Magic Spectrum can also behave as a constant parametric EQ.
Vector Mode
The Vector section is designed to extend the Matching's functionality even further, by allowing you to control different spectrums in a vectorial manner! By combining different spectrums, you can create a completely unique sound!! Compared to the Basic mode, the difference can be found in the Source (the spectrum of the sound you like). It now corresponds to 4 different spectrums, distributed along a circle. You select the "proportional amount" you want of each one of the spectrums, as if you were using a 2D joystick.
Compatibility
OS :

Mac OSX
Formats :



System Requirements
Mac: AU, AAX, VST
.
Mac OSX 10.7 or higher. 
 El Capitan, Sierra, High Sierra, Mojave and Catalina compatible.
ProTools 12 and 64-bit systems supported.
Windows not supported.
In general, the same system requirements as your host program.

A Generation 2 or 3 iLok dongle is required for authorization.

You may also be interested in: