You're currently on:

EastWest Hybrid Cinematic Bundle
Hollywood Orchestra Opus Edition | Forbidden Planet | String Machine

HOLLYWOOD ORCHESTRA OPUS EDITION
Hollywood Orchestra Opus Edition is the highly anticipated expansion to Hollywood Orchestra, the best-selling and most awarded orchestral virtual instrument ever produced. It includes brand new pristine recordings, reimagined original content, and powerful new features, all housed in our new revolutionary OPUS software engine. Produced by Doug Rogers and Nick Phoenix, recipients of over 100 international industry Awards, and sound engineered by multiple Academy Award and BAFTA winner Shawn Murphy, Hollywood Orchestra Opus Edition is the culmination of years of recording and programming and will set a new industry standard for achieving professional sounding orchestral soundtracks. Hollywood Orchestra Opus Edition will be released with the new Opus software and a companion product Hollywood Orchestrator, a must-have tool for composers of every skill level who want to achieve that Hollywood blockbuster sound quickly.
Brand New Recordings And
Reimagined Original Content
Brand new recordings include a new 18 violin string section for Hollywood Strings, new ensembles for Hollywood Brass and Hollywood Orchestral Woodwinds, plus new string, brass, and wind multi ensembles. "The new 18 violins are an alternate to the first 16 violins of the original library. They have a different sound," says producer Nick Phoenix, "the players are different. The vibrato is different. The legato is the best we have ever recorded. They work well with the existing collection or as a replacement for the original 1st violins. The new 2 tenor trombones have a completely different sound from the 3 trombones in the original collection. The new trombones are warm, full, and extremely precise. 2 trumpets were recorded again using two of the best players in the Hollywood film score scene. The legato is blazing at high velocities and sounds like a live performance."
The programming of the original content from Hollywood Orchestra has been updated to take advantage of the features included in the new Opus software engine, as well as the Hollywood Solo Instrument Series (now included in this expansion). Particular focus was placed on Hollywood Orchestral Woodwinds. After improving the original woodwinds, new ensembles were recorded, including 3 bassoons, 3 clarinets, and 3 flutes. "Once again, this was a huge success because of the quality of the players," says Phoenix, "Each woodwind ensemble works together on a regular basis and the tuning and timing are immaculate. In addition, a "Stage" recorded mic position was added for all of the new instruments and ensembles. This extra mic position is perfect for capturing the larger sound of EastWest Studio One, the home of countless Hollywood film and television scores. All mic positions are available in the Diamond version and for ComposerCloud Plus subscribers. One mic position is available for the Gold version and for regular ComposerCloud subscribers. ComposerCloud X members get an extra mic position than Gold. These new recordings are unmatched in the virtual instruments world. The Opus Edition also includes new string, brass and wind multi ensembles that have a unique fat sound that captures the tuning of a large orchestra playing together in a live setting."
Powerful New Controls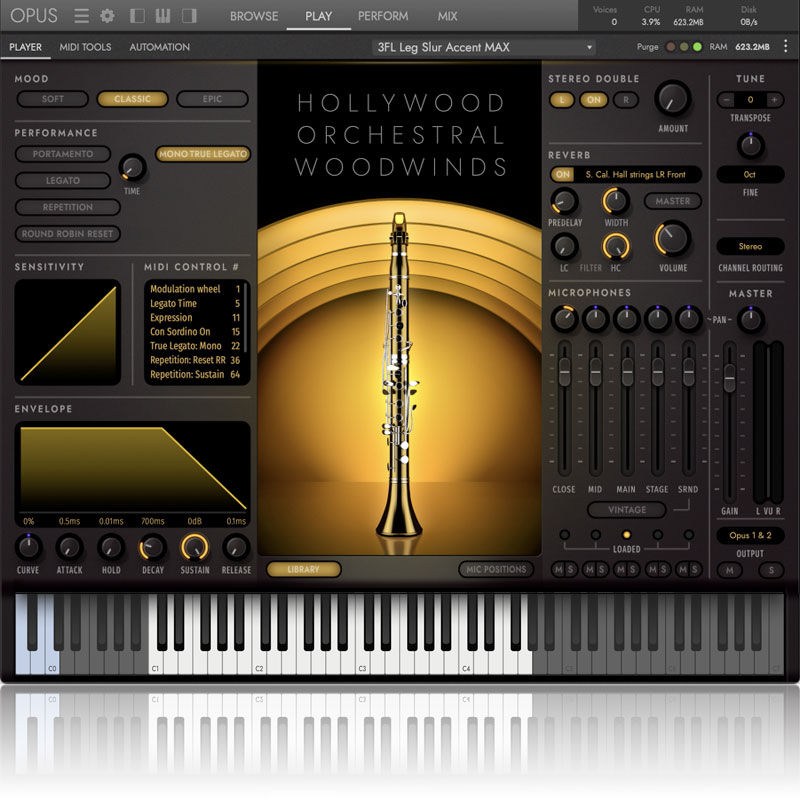 Powerful new control features include Master key-switches where all articulations can be fully customized in the new OPUS articulation palette. You can also customize the sound of each instrument using the new MOODS feature. Classic Mood is the original Hollywood Orchestra sound. Soft Mood modifies the sound for slower, more emotional passages. Epic Mood does the opposite, giving you a sound perfectly suited for your next Action Adventure score. Each mood changes the settings and the look of the interface, which has been completely redesigned and stylized for Hollywood Strings, Hollywood Brass, Hollywood Orchestral Woodwinds, Hollywood Percussion, Hollywood Solo Violin, Hollywood Solo Cello, and Hollywood Harp. In addition, we simplified all instrument versions down to LITE and MAX, making Hollywood Strings in particular much easier to navigate. On less powerful systems use the LITE versions, and on more powerful systems use the MAX versions.
That Magical Hollywood Sound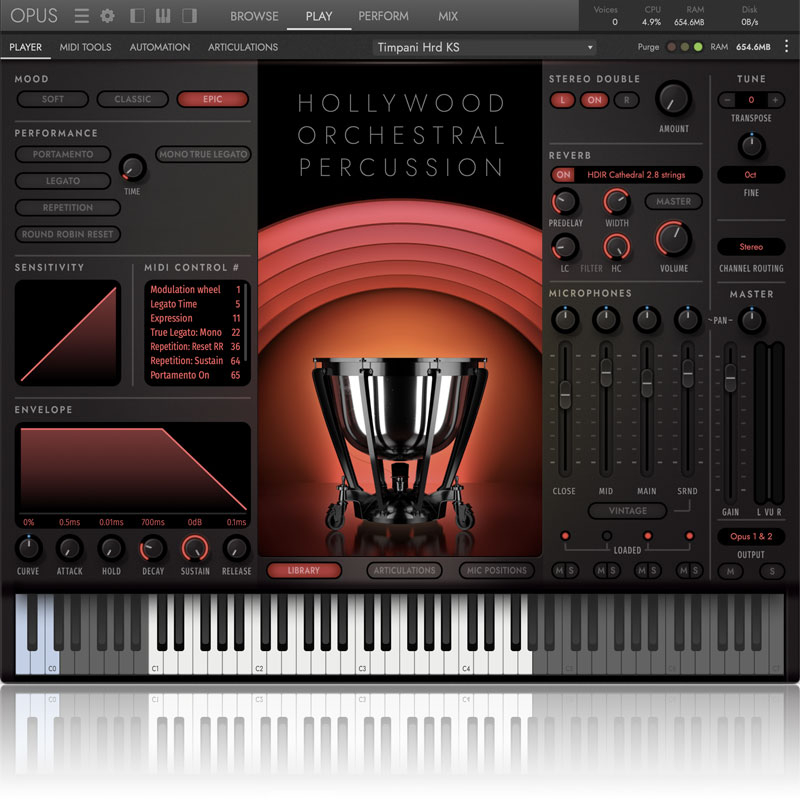 Of course, multiple Academy Award and BAFTA winner Shawn Murphy was brought back to sound engineer all of the new recordings. Shawn Murphy is one of the most prolific sound engineers and mixers in the history of cinema. Just some of his over 500 feature film credits include the Star Wars franchise (The Rise of Skywalker, The Last Jedi, The Force Awakens, Revenge of the Sith, Attack of the Clones, The Phantom Menace), The Hunger Games franchise, Harry Potter and the Prisoner of Azkaban, Jurassic Park and The Lost World, Titanic, Schindler's List, Saving Private Ryan, Mission: Impossible, Apollo 13, the Indiana Jones franchise (Kingdom of the Crystal Skull, Indiana Jones and The Last Crusade), and the Fantastic Beasts franchise.
Our Revolutionary New
Opus Software Engine
Our brand new OPUS software engine replaces PLAY and has been years in development. "Many improvements were made to the PLAY software engine over the last decade but we suddenly had a unique opportunity," says producer Doug Rogers, "we were able to bring Wolfgang Kundrus in as head of software development. He was the mastermind behind the creation of Cubase, Nuendo, and Studio One. Then we were able to bring in Wolfgang Schneider, the creator of Kontakt. With these two titans of music software development now on our team, we decided it was time to develop a brand new software engine from the ground up. The OPUS software engine is the realization of this effort. Not only is it faster, more powerful, more flexible, and better looking than PLAY, it comes with some incredible new features such as individual instrument downloads, customized key-switches, new effects for the mixer page, scaleable retina GUI upgrades for legacy products, a powerful new script language, and many more features that allow you to completely customize the sound of each instrument. It's one of the most exciting developments in the history of our company and will be the launching pad for many exciting new products in the future."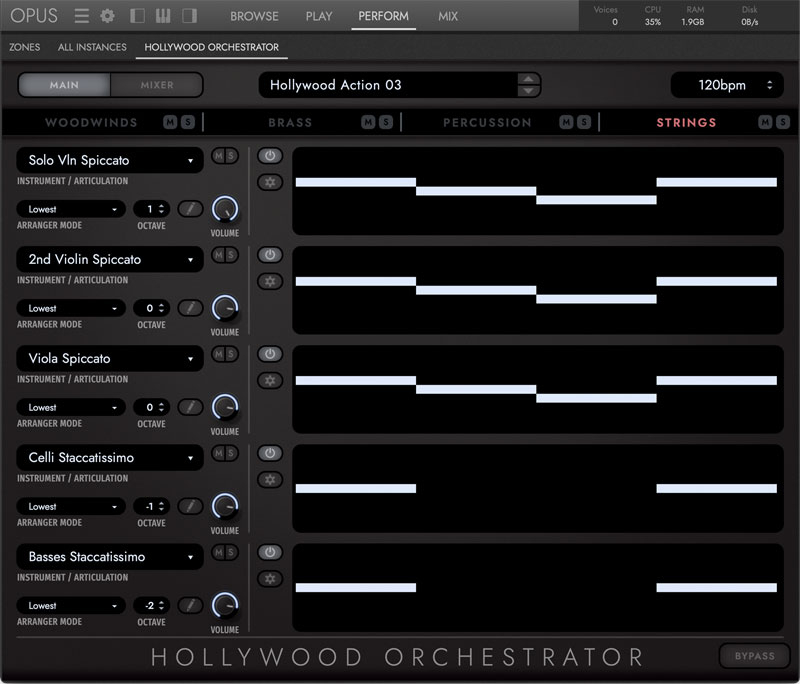 Also Includes
Hollywood Orchestrator
Create full-scale orchestral music with complex arrangements by playing a few simple chords with one hand and shaping expression with the other. Developed in collaboration with Sonuscore, Hollywood Orchestrator uses all the instruments in Hollywood Orchestra Opus Edition to create realtime arrangements based on your MIDI input with our Innovative Scoring Engine.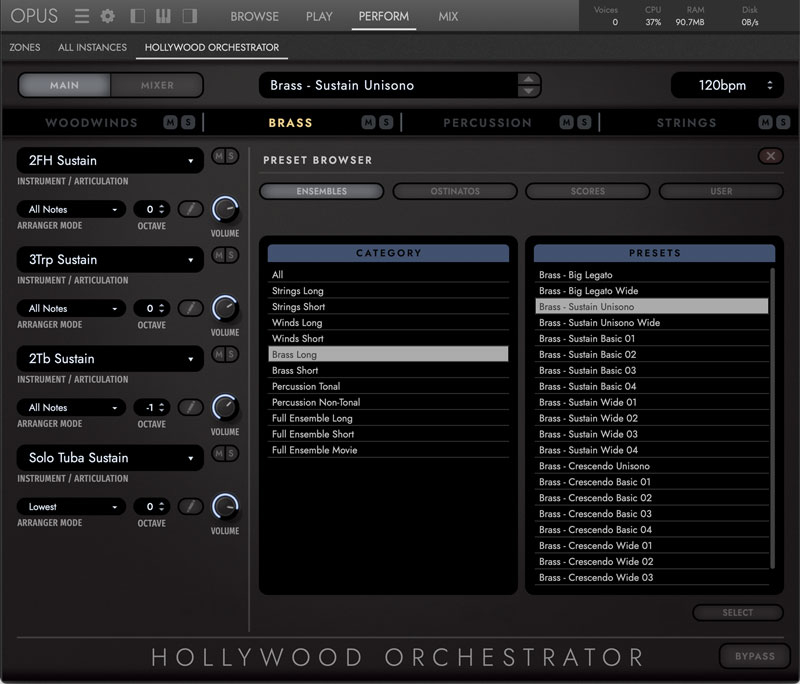 Compose A Blockbuster
Soundtrack In Seconds
With over 500 customizable presets, you can instantly create music in the style of Hollywood's greatest composers. Select from Ensemble presets to quickly create rich orchestral arrangements. With Ostinato presets, you can build rhythmic tension in different meters or create moving melodic lines by only changing a few notes. With Score, classic Hollywood orchestrations become an endless source of inspiration. Create your own User presets by modifying existing presets or by building your own presets from scratch!
Our Innovative
Scoring Engine
At the heart of Hollywood Orchestrator is our innovative Scoring Engine, which can produce results ranging from a basic string arrangement, to very complex orchestrations played by the full orchestra. It achieves this in a two-step process by first modifying the MIDI input with a Note Selection process, then sending those note selections to a powerful Step Sequencer where chords are played with the programmed rhythms. If you want to take things a step further, you can optionally active our step sequencers. Each slot has one of them. They take, whatever the note selection process outputs, and manipulate that. If you program a rhythmic pattern into the sequencers and play a C-Major chord, the sequencers will take the notes from the note selection and play the chord with that rhythm.
In the Mixer section, refine the final output of each instrument by adjusting the volume, pan, equalization, reverb preset, reverb send amounts, and other reverb controls like pre-delay, length, and filters.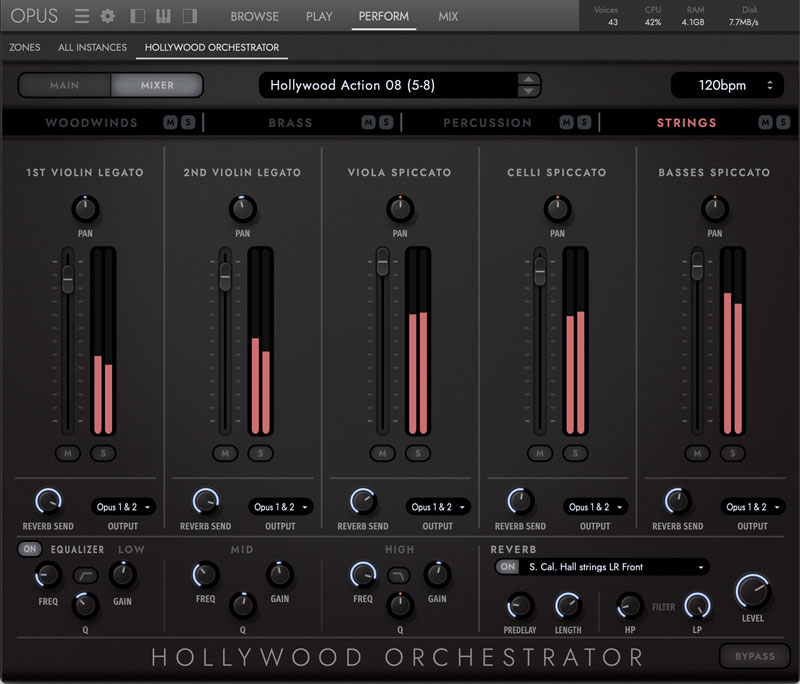 Hollywood Orchestrator is the perfect tool both for new composers who want to get that magical Hollywood sound quickly and effortlessly, and for professional composers who need to produce large amounts of compositions on a deadline. Please note: Hollywood Orchestrator requires Hollywood Orchestra Opus Edition, it is not a standalone product, and is not compatible with the original Hollywood Orchestra or Hollywood Solo Instruments which are now included in the Opus Edition with the newly recorded instruments. Hollywood Orchestra Opus Edition, Hollywood Orchestrator, and the OPUS software engine will be available for purchase and in our ComposerCloud subscription service upon release.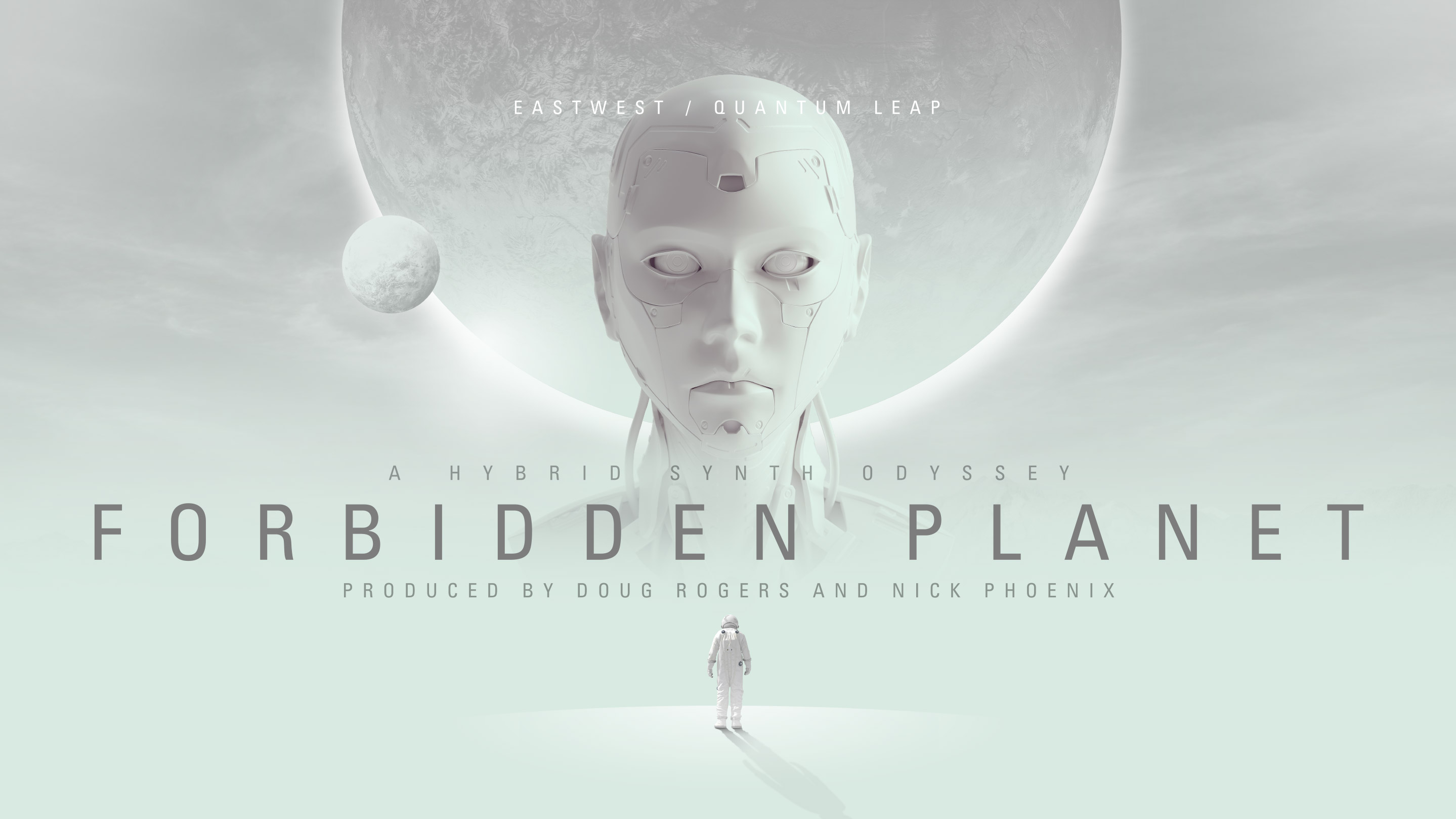 FORBIDDEN PLANET
FORBIDDEN PLANET features over 600 expertly crafted morphing synths across categories such as Arpeggiator, Bass, Drones, FX, Leads, Pads, and Poly Synth. Freely morph between electronic layers, acoustic instruments, and futuristic sounds - perfect for soundtracks, EDM, hip hop and more. Featuring a brand-new suite of post-processing and mixing tools, insane filter modulation, and an extensive rack of effects, you now have the ability to break away from everything that has come before with new controls, powered by the critically-acclaimed OPUS engine, that offer unprecedented sonic shaping power with presets completely customizable by the user.

The idea for FORBIDDEN PLANET started when producers DOUG ROGERS and NICK PHOENIX set out to create EASTWEST's first fully featured synth collection, not based on traditional oscillators, but combining electronic synth layers with orchestral, world instruments, choral samples, sound effects and more into one enormous collection — creating a new sound palette designed for the future, not the past. Producers Rogers and Phoenix were dissatisfied with most synths, which typically had a small percentage of usable patches and a lot of filler. Now with the new OPUS engine, they had all the tools they needed to create the ultimate collection of cinematic inspiration. Everything was meticulously captured with a state of the art analog signal chain, resulting in the fattest analog synths on the planet.
Crossfade between sound sources and filter settings with the central XY pad, allowing you to capture morphing hybrid sounds in moments. By moving the Orbital Control, you can dynamically capture broad but smooth shifts in both timbre and frequency content. Moving left and right changes the blend amount between two contrasting sources, chosen from analog, acoustic, synthetic, and large-scale cinematic sounds. The vertical position controls filter frequency and is perfect for creating sweeping gestures, manipulating the output however you see fit.
The XY Pad isn't the only way to control the filter — simply pull up the filter section of the UI and you can pop open the hood, controlling the modulation depth. The Mod Envelope allows you to add an ADSR-style envelope onto the filter cutoff, automating its movement with each note, while the Step LFO section produces a gated rhythm as the sequencer modulates the filter cutoff frequency. This leaves you free to play with the XY Pad, creating progressive textures and drones to set the tone of the atmosphere you want to build.
The arpeggiators allow you to create staccato and legato patterns, even with portamento or glide as you like. Not only does this make it easy to create highly dynamic and choppy ostinatos, but each of the 2 sound sources gets its own sequencer with the option to desynchronize their speeds. The two are adjacent to each other in the UI, giving you unprecedented automation capabilities without digging through multiple different submenus. Copy settings between both and you can produce slight variations that support more depth, creativity, and shimmer than you'll find anywhere else.
WHAT'S INCLUDED?
645 instruments, 54 GB of analog samples across categories such as Arpeggiator, Bass, Drones, FX, Leads, Pads, and Poly Synths. Perfect for EDM, soundtracks, rap, industrial, world music & more
ARPEGGIATOR
A dual arpeggio structure allowing any rhythmic combinations you like across both layers. You can create polyrhythms, sync rhythms together, or even choose one layer to sustain while the other sets a rhythmic foundation.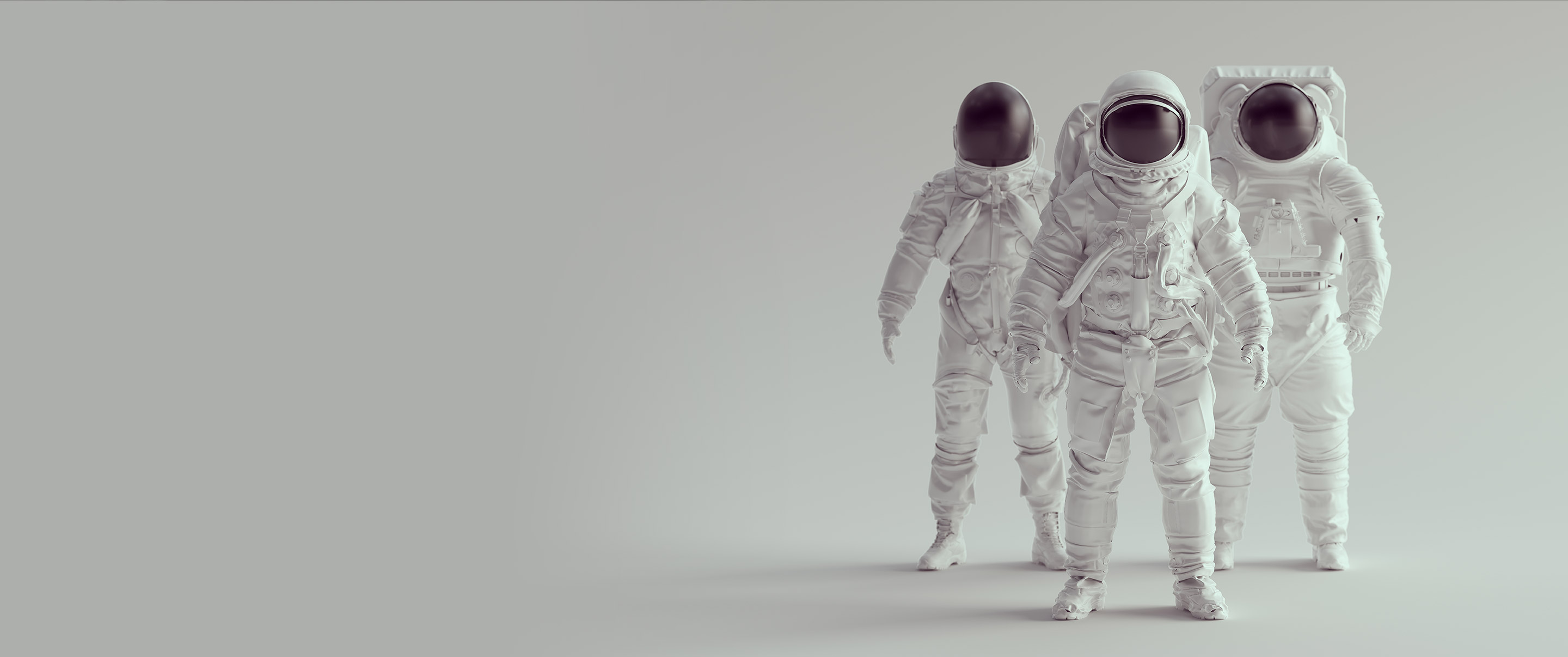 BASS
You don't have to accept a simple analog bass emulation and call it a day. Forbidden Planet's basses are layered with FX pedal tones, contrasting crossfades, and gritty overtones perfect for tackling the most ambitious soundtracks.

DRONES
Mechanical, organic, and environmental drones you can use to create any atmosphere you choose. This is where the XY Pad shines, producing original and morphing ambiences in real time so you can set the stage however you choose.

FX
A collection of effects that defy classification, obtained from voices, acoustic instruments and a variety of synthesized sources — these are ideal for adding tension, noise, and chilling one-shots to accent the soundscape you build.

LEADS
Pure sawtooth and square leads are quickly becoming outdated, so we wanted to give you a tool for creating organic, adaptive leads that pop out in the mix. Spend less time designing leads and arrive at the perfect lead instantly.

PADS
Use the XP Pad to shape warm, ambient, or gritty pads and morph between cinematic textures effortlessly. Whether you need to create a solid backing of chords or build a dramatic soundscape, you'll find all the analog hybrid pads you need.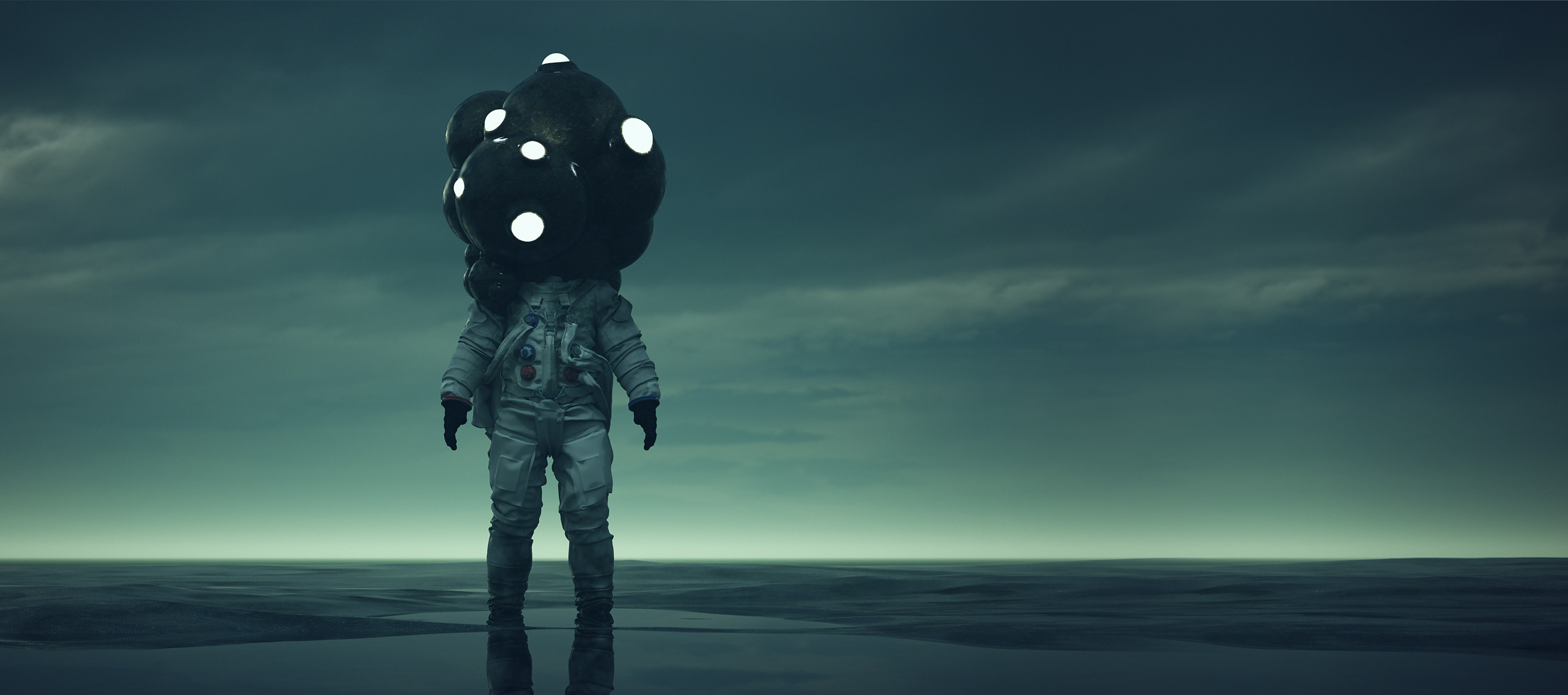 POLY SYNTH
A collection of presets that don't fit neatly into any one category, perfect for experimentation and bridging different styles. When you want to be surprised while still having fine control over the result, this will become your go-to.

WHAT WILL YOU CREATE?
You don't have to design synth patches from the ground up or settle for outdated analog-modeled hardware sounds. Forbidden Planet was designed to give you unfettered access to cinematic sounds rooted in classic film literature, now with the ability to manipulate, process, and combine them with hundreds of electronic and hybrid instruments out of the box. You're up and running in moments, with the option to make modifications to your heart's content. Every preset combines contrasting dramatic sources, making it a perfect source of inspiration on demand.
EDM, sci fi, horror, world, hybrid music and more — Forbidden Planet gives you the tools to bring them all to life without limitation.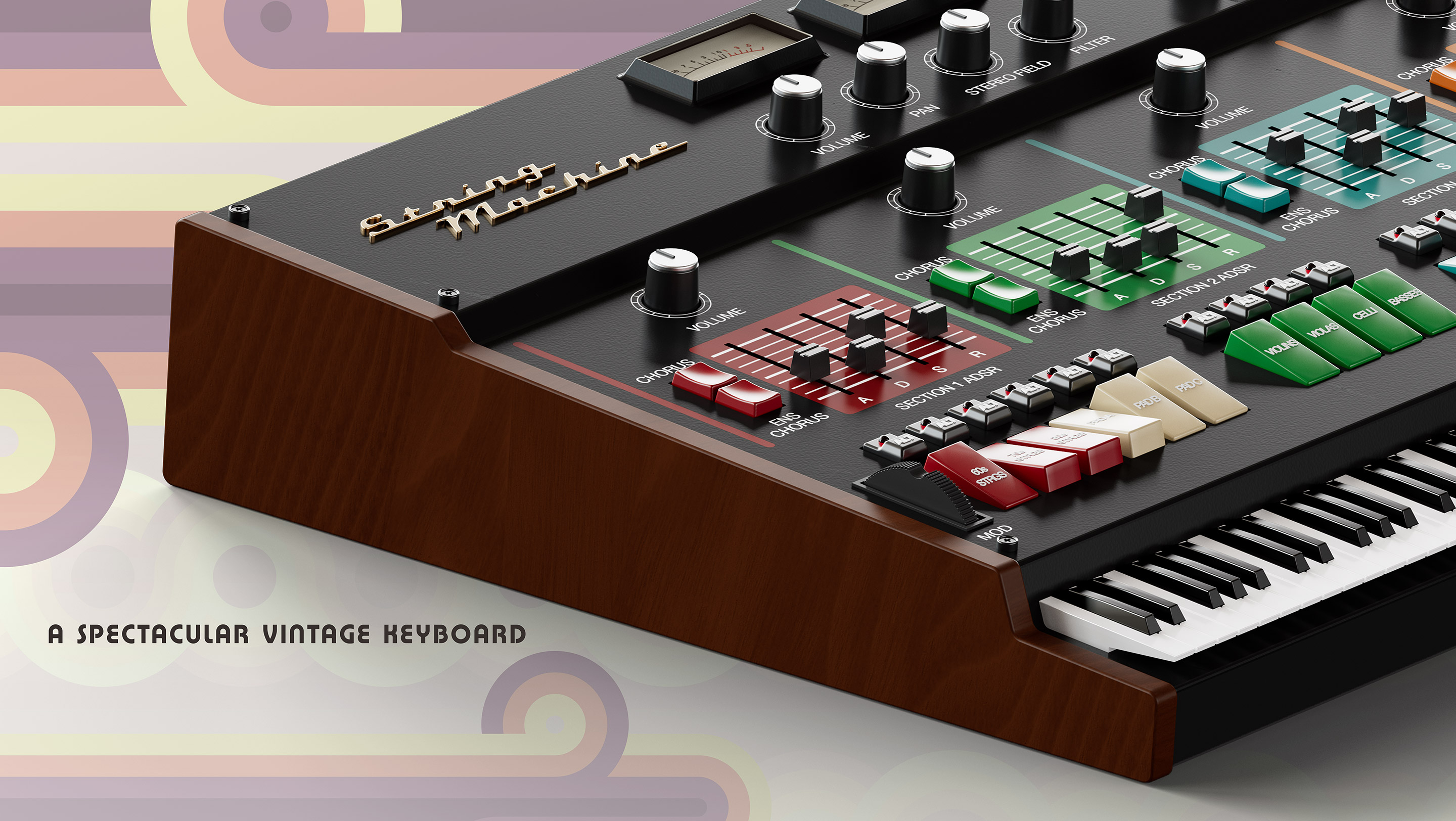 STRING MACHINE
Paying homage to the great vintage string synthesizers of the 60s, 70s, and 80s, EastWest's String Machine virtual instrument brings the past into the future. Produced by sound titans Doug Rogers and Nick Phoenix, String Machine includes samples from some of the greats – the Arp Solina, Oberheim OBX, Roland RS-505, and the Roland Jupiter 6 – and allows you to instantly combine them with modern strings, brass, woodwinds, and vocals to create unique vintage vibes perfect for your next pop, rock, or hip-hop masterpiece.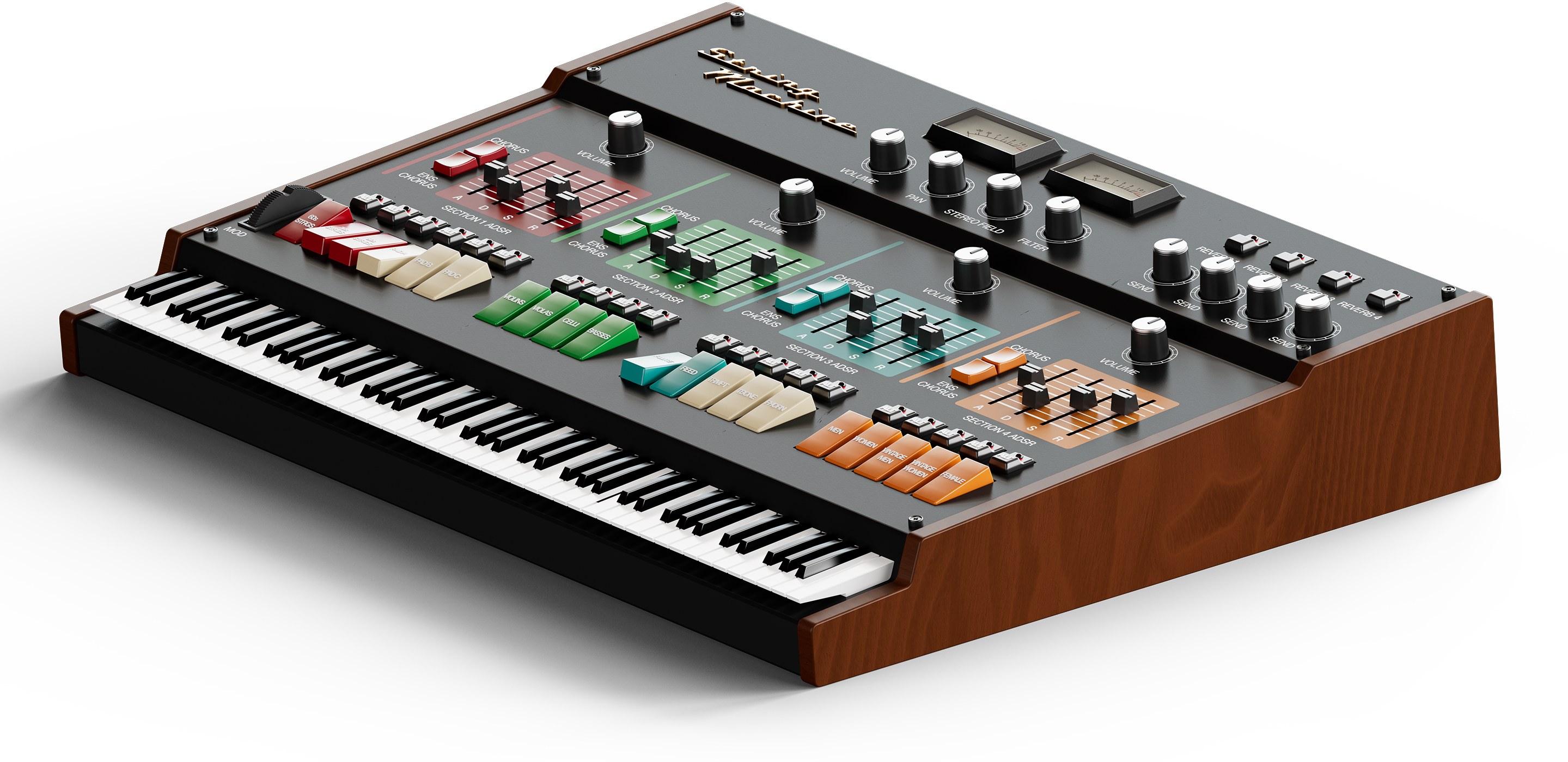 BACK TO THE RETRO FUTURE
String Machine's user interface takes inspiration from the design of vintage string machine synthesizers. From the chunky instrument switches adorned along the front panel, to the glide of envelope sliders, and the click of push buttons, String Machine's form and function is informed by the original hardware units.
String Machines were well known for their ensemble chorus effects, and the one included in String Machine features 3 modes, each with distinct characteristics. With effect emulations modeled from the Arp Solina, and Roland VP-330 hardware units, along with a 'Modern' mode, our Ensemble Chorus effect delivers everything from vintage warmth and thickness, to modern transparency and dimension.
String Machine's use is flexible, owing to its hybrid design of electronic and acoustic instruments. It fits right at home in a variety of genres, electronic or otherwise, but especially suitable for genres heavy on retro nostalgia, like chillwave or pop. Any piece of music that needs a large ensemble string pad would benefit by using String Machine.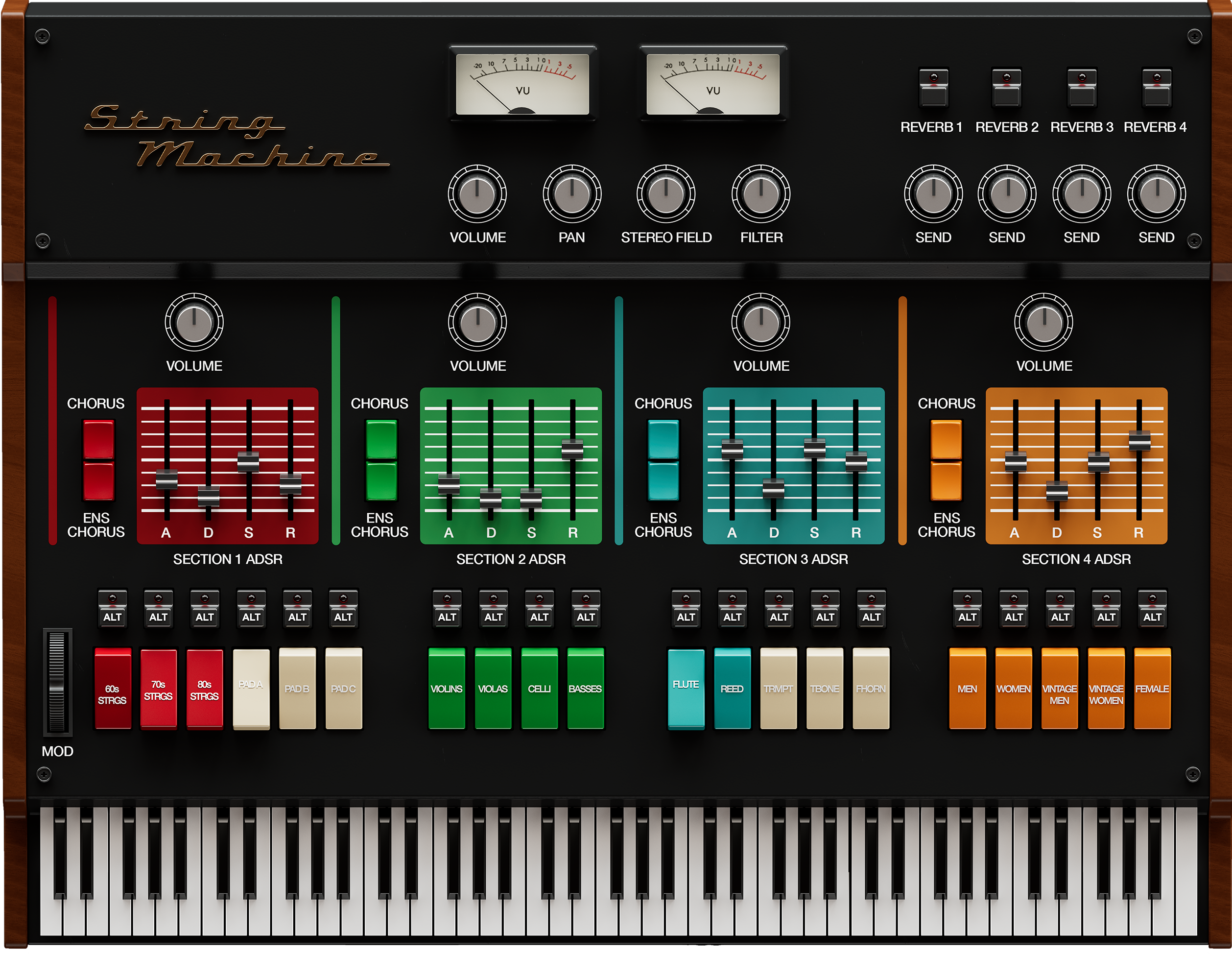 INSTRUMENT GROUPS
String Machine features 4 color-coded instrument sections, including string machines and pads (red), string sections (green), solo woodwinds and brass (teal), and choirs and solo vocals (orange). Each instrument section features a number of instruments and alternatives, giving you countless ways to combine them into a diverse range of timbres, and the ease of mixing the individual instrument sections together to create rich, multi-layered pads.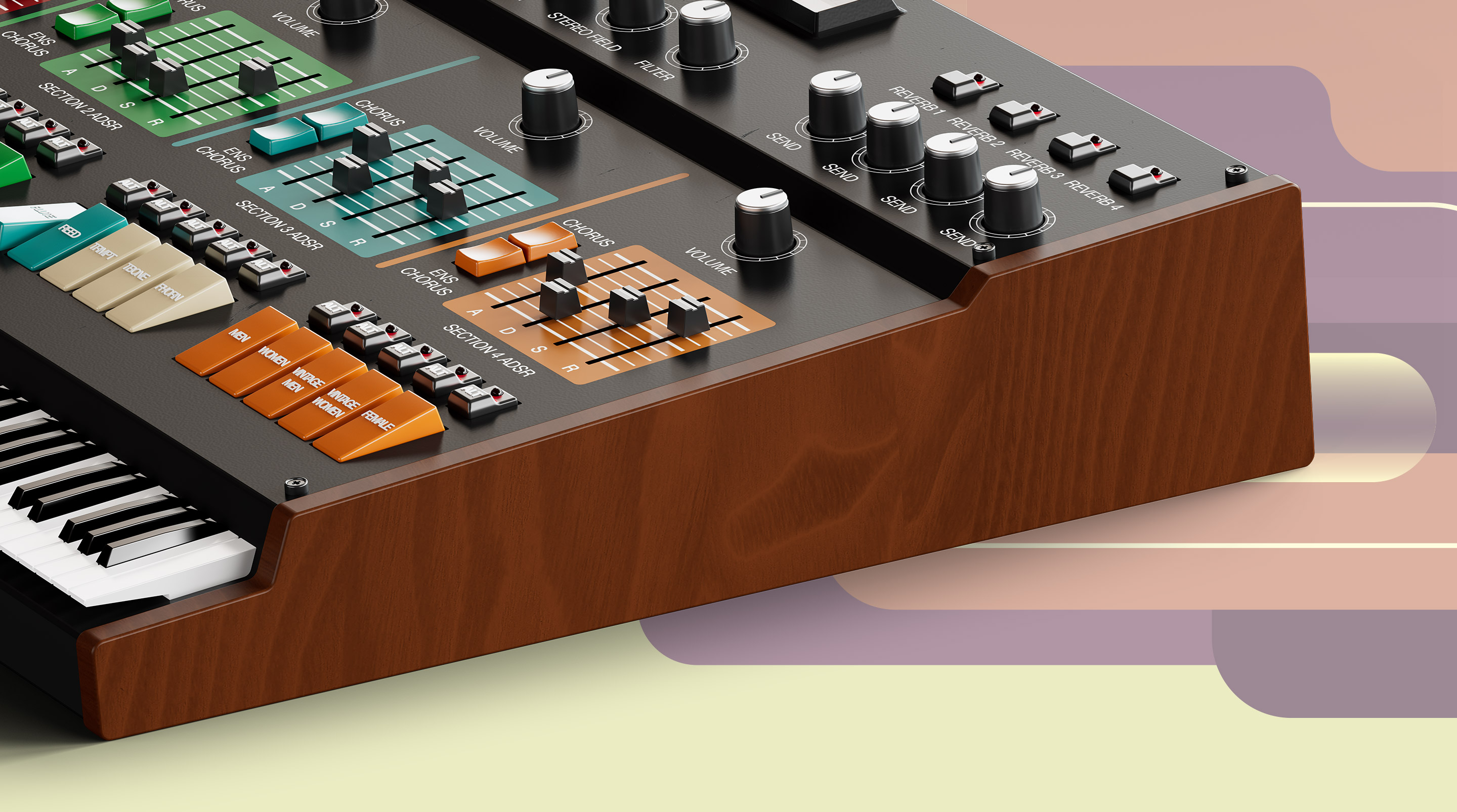 PRESETS
String Machine comes with 17 presets programmed by Nick Phoenix. These presets demonstrate the type of sounds possible with String Machine, but we encourage you to use String Machine as it was intended -- creating your own presets!

With high-quality sampling of vintage hardware units and authentic ensemble chorus emulations, String Machine is the perfect companion to recreate the classic sounds of vintage string machine synthesizers, and much more. Whether you need a synthy string pad heavy with retro nostalgia, or a rich backdrop for a pop track, String Machine gives you the instruments and controls that empower you to deliver.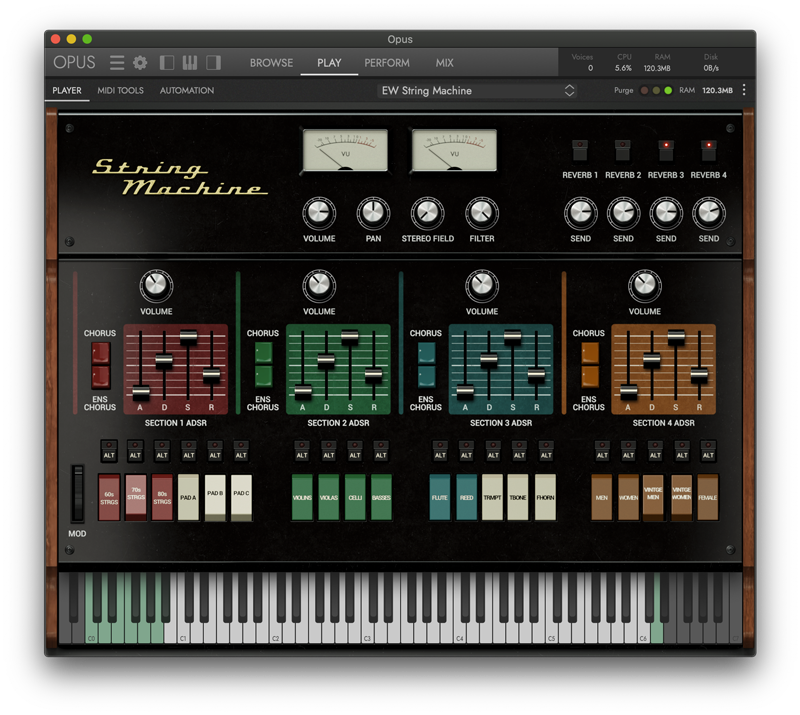 SYSTEM REQUIREMENTS
Below are the minimum and recommended hardware and software specifications for using Opus on Windows and MacOS systems.
MINIMUM SYSTEM

CPU: Quad-core (four cores), running at 2.7 GHz (or above)
RAM: 16 GB
OS: macOS 10.13 (or later); Windows 10 with ASIO sound drivers
Drive: HDD (7200 rpm, non-energy saving)

RECOMMENDED SYSTEM

CPU: Octa-core (eight cores), running at 2.7 GHz (or above)
RAM: 32 GB or more
OS: macOS 10.13 (or later); Windows 10 with ASIO sound drivers
Drive: SSD (SATA or PCIe)
The chart below outlines the MacOS and Windows 64-bit operating systems and sequencers that are officially supported and fully tested with the latest version of Opus. Please note that while most Sequencers / DAWs are VST 2, VST 3, AU and AAX plug-in format compatible, only those listed in the chart below are officially supported.
Product
Version
MacOS (10.13+)
Windows 10
EW Play 6 Stand-Alone
6.0+
-
-
EW Opus Stand-Alone
1.0+
YES
YES
Ableton Live
10.0+
YES
YES
Apple Logic Pro
10.0+
YES
-
Apple Garageband
10.3+
YES
-
Avid Pro Tools
2018.1+
YES
YES
Bitwig Studio
3.0+
YES
YES
Cockos Reaper
6.0+
YES
YES
Image-Line FL Studio
20+
YES
YES
Motu Digital Performer
9.0+
YES
YES
Steinberg Cubase

(1)

9.0+
YES
YES
Steinberg Nuendo

(1)

8.0+
YES
YES
Presonus Studio One
4.0+
YES
YES
VSL Vienna Ensemble Pro
6.0+
YES
YES
Notation Software

(2)

Version
Avid Sibelius
2018.1+
YES
YES
MakeMusic Finale
25.0+
YES
YES
Steinberg Dorico
3.0+
YES
YES
(1) VST3 usage is recommended
(2) Sibelius / Finale / Dorico notation programs work with Opus, but do not support the full feature set of some Opus/Play Libraries, such as those that use WordBuilder. Please contact support for details.
You may also be interested in: