You're currently on: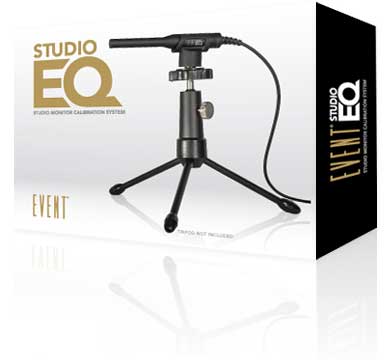 Event Electronics Studio EQ Reference Microphone - Open Box


This Event Electronics Studio EQ Reference Microphone - Open Box is a new open box unit in excellent condition.

Reclaim your studio
Any seasoned engineer will tell you the same thing - you can have all the gear in the world, but without measuring, understanding and controlling your listening space you'll never get the sound you're after.
Event's StudioEQ calibration package addresses this problem, and provides all the necessary tools to precisely measure and understand the low end frequency response (40- 280Hz) of your studio space so that you can focus on your creativity.
The complete toolbox
To gather scientific data you need to control as many variables as possible. That's why the StudioEQ kit is so much more than just analysis software.
Inside the StudioEQ package you'll find a high-fidelity USB audio interface, premium 3.5mm minijack to TRS speaker cable and a precision measurement microphone with 5/8th" thread mic clip.
Intuitive Operation
StudioEQ makes it simple to address acoustic room modes, following a step-by-step approach to measuring and equalising your speakers both individually and as a pair.
Not only does the package include everything you need, but we've made sure it runs on a wide range of computers (Windows XP SP2/Vista/7 and up and Mac OS X 10.4 and up, on both 32-bit and 64-bit platforms).
Opal's perfect companion
While StudioEQ can be used in any space to accurately measure and adjust your low frequency response, it was specifically designed to complement the features of the award winning Opal studio monitor.
StudioEQ features an integrated Opal EQ calculator, that allows you to preview the effect of the Opal's bandwidth limited parametric notch filter.