You're currently on:


Natural sound, musical controls
As one of the most used effects in the audio world, reverbs come in all forms and flavors. FabFilter Pro-R 2 stands out with stellar sound quality, being able to recreate natural spaces as well as classic vintage and plate reverbs that sit in the mix perfectly. At the same time, our unique interface design with intuitive musical controls make it simply a joy to work with.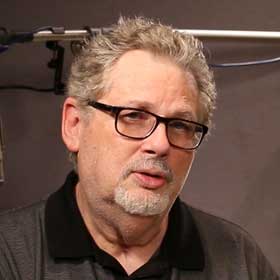 I believe FabFilter Pro-R is truly ground breaking! You guys have revolutionized audio plugins. I can't wait to see what's next!

— Dave Pensado (Grammy Award-winning mix engineer)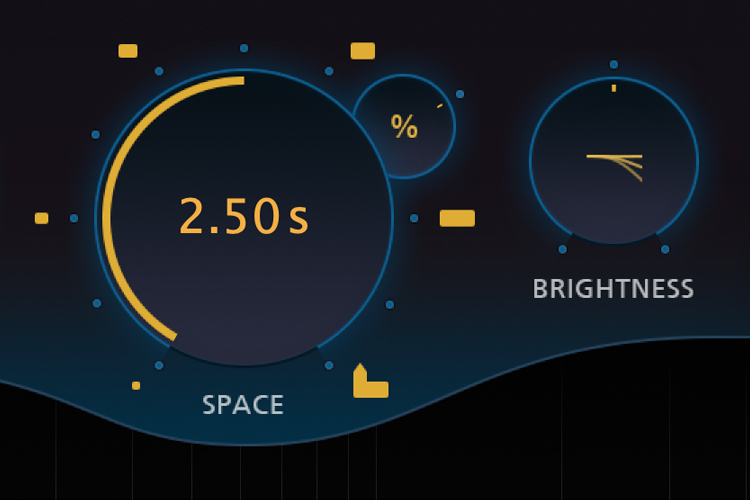 Make some space
FabFilter Pro-R 2 takes a musical approach to reverb, offering user-friendly, non-technical controls like Brightness, Character and Distance to achieve the reverb sound you are looking for — without requiring a degree in reverb science.
The stepless Space control lets you fade between dozens of different, carefully tuned room models, automatically choosing a matching decay time for a natural-sounding result.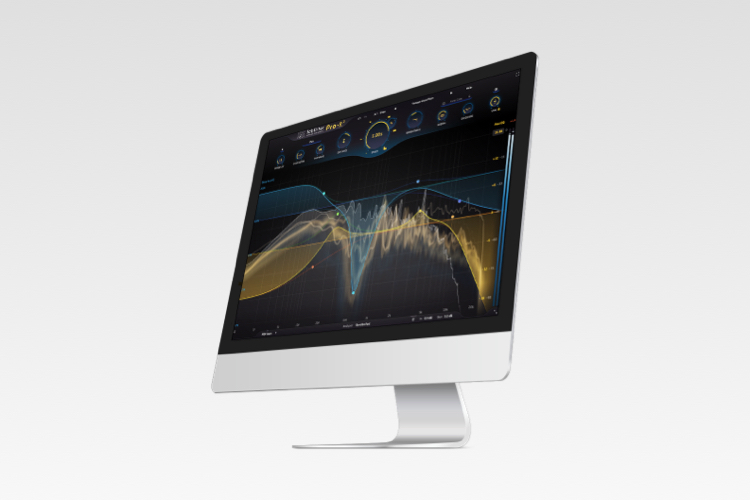 Shape the decay time
The decay time of a real room often varies wildly over the frequency spectrum, which is one of the key ingredients of a room's reverb character. To simulate this, the industry-first Decay Rate EQ concept in FabFilter Pro-R 2 offers completely free adjustment of the decay time over the frequency spectrum.
Since it uses parametric EQ bands instead of a traditional crossover system, it provides much more flexibility to shape the decay time characteristics. Together with the integrated 6-band Post-EQ, designing reverbs of any style or character has never been easier.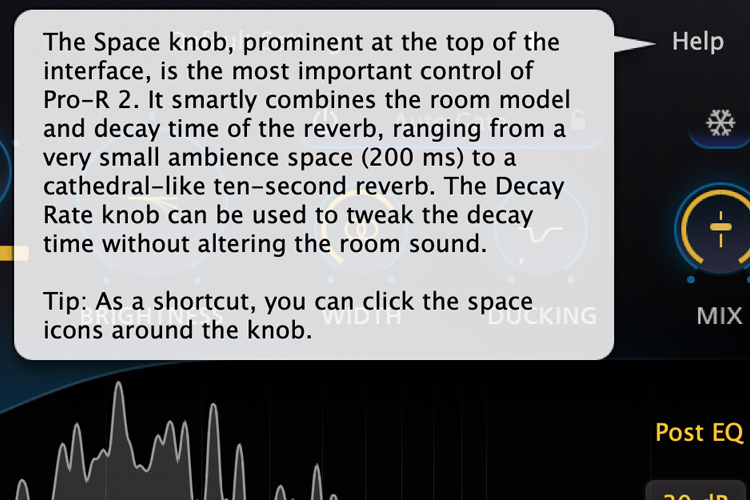 Versatility galore
New Vintage and Plate algorithms let you recreate classic digital reverb units of the '80s and '90s, as well as the evocative metallic sound of plate reverbs. The Thickness control adds saturation and compression, while the built-in Ducking feature makes it easy to let the reverb blend in with the mix.
Of course, you also get all the usual FabFilter goodies: perfectly tuned knobs, interactive MIDI Learn, Smart Parameter Interpolation for smooth parameter transitions, an extensive help file with interactive help hints, and much more.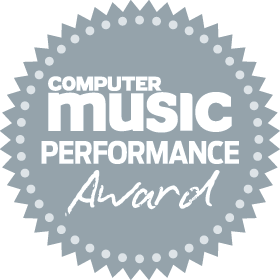 Pro-R sounds awesome and is hugely enjoyable and rewarding to work with. Verdict: 9/10!

— Computer Music
Awards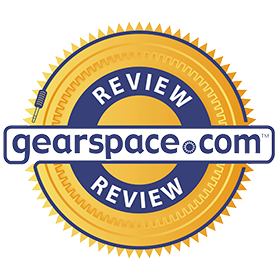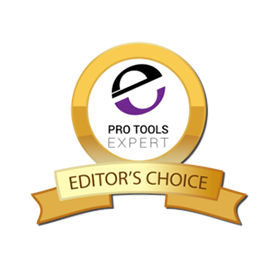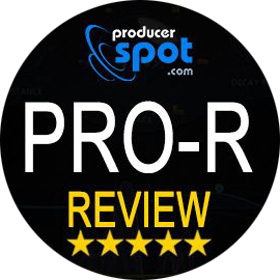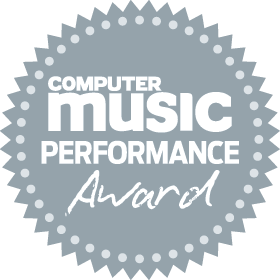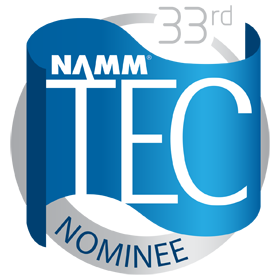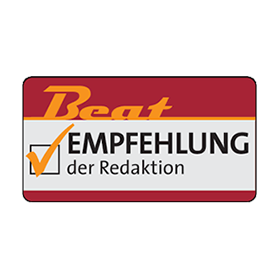 Key features
Beautifully designed room models, ranging from small ambiences and rooms to large concert halls and huge cathedrals
NEW Full immersive / Dolby Atmos® functionality, with channel layouts up to 9.1.6. A lot of time has been spent to implement surround cross feeding, resulting in an exceptionally convincing 'sense of space'
NEW Introducing two brand-new reverb algorithms: Vintage and Plate, recreating classic digital reverbs and the metallic plate sound
Carefully developed to easily fit in the mix, without causing undesirable coloration, density or phase problems
IMPROVED Gorgeous Retina interface with large interactive reverb display featuring Decay Rate EQ and Post EQ curves
Very easy to set up, with user-friendly, non-technical controls
NEW Introducing Impulse Response import. You can now import IR files, which will be analyzed by Pro-R 2 and converted to reverb settings, decay rate and output EQ to match the sound of the IR as well as possible
NEW Added Thickness, Ducking and Auto Gate controls
Stepless Space control, which smartly and smoothly combines the room model and decay time of the reverb. You can choose from over a dozen carefully designed room models and seamlessly vary between them, without hearing clicks or unwanted artifacts
IMPROVED Decay Rate control, changing the overall decay time from 25% to 400% of the current Space setting
NEW Introducing Freeze button
Distance control to adjust the proximity to the sound source in the selected space
IMPROVED Introducing a full-featured preset browser, with support for tags, favorites and easy searching and filtering
The Character control changes the sound from a clean, transparent decay, to a lively reverb with pronounced reflections and echoes, all the way to an over-modulated chorus-like effect
NEW Added optional Speakers setting for Decay Rate and Post EQ bands in surround/immersive layouts, offering much more control over decay times in a room model
NEW Added mid/side and L/R options for Post EQ bands
Perfectly tuned Brightness knob, affecting not only overall brightness, but also the decay of high frequencies
Mix knob with a Lock Mix option, which prevents preset loading from overriding the current mix setting
Predelay control, ranging from 0 to 500 ms, with optional host tempo sync
Innovative six-band Decay Rate EQ, giving you full control over the decay rate at different frequencies
IMPROVED Resizable interface, full screen mode and customizable scaling
Six-band Post EQ to equalize the final reverb sound. Together with the Decay Rate EQ, this lets you design reverbs of any style or character
Intelligent Stereo Width control, ranging from pure mono to true stereo and beyond
NEW Added output level metering and optional piano display scale
Real-time spectrum analyzer that also visualizes the decay time at different frequencies
IMPROVED Stereo, mono and immersive/Atmos® plug-ins available
Supports common Pro Tools hardware control surfaces
MIDI Learn
Undo/redo and A/B comparison
Smart Parameter Interpolation
Sample-accurate automation of all parameters
Extensive help file with interactive help hints
Available in VST, VST3, Audio Units, AAX Native and AudioSuite formats on Windows and macOS, as well as AUv3 for iPad
Reviews
Beautiful! I wish I'd had this when I finished this mix.

Rik Simpson(Producer/engineer Coldplay)
Plug-in formats
All FabFilter plug-ins are available in VST, VST3, Audio Units, AAX Native and AudioSuite formats.
Requirements
Windows
Windows 11, 10, 8, 7 or Vista
64-bit or 32-bit
VST 2/3 host or Pro Tools
macOS
macOS 10.13 or higher (64-bit only)
AU or VST 2/3 host or Pro Tools
Apple Silicon or Intel processor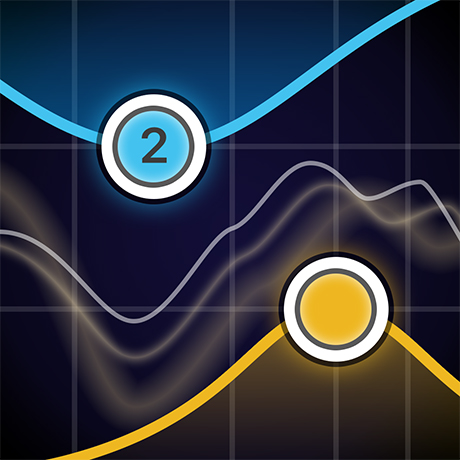 You may also be interested in: