You're currently on: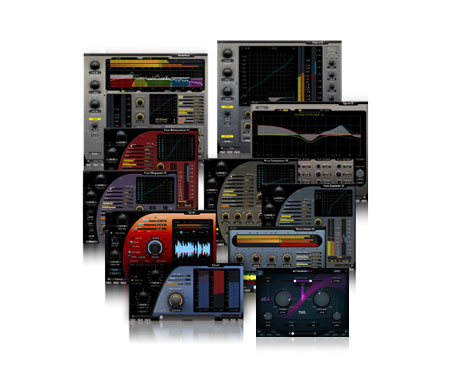 Full Pack 2.2 - All The Flux:: You Need
[ AU 64 bit | VST 64 bit | AAX Native/DSP/AudioSuite 64 bit | Waves WPAPI | Merging VS3 64 bit ]
Full Pack 2.2 Recording, Mixing, Remixing, Mastering - The complete range of Flux:: plug-ins in one big bundle.
Now includes BitterSweet Pro.
Alchemist v3 aiming at professional mastering and re-mastering applications, the intricate design of Alchemist suggests a superior workflow and sound perfection within the field of dynamics processing, well adapted for the high demands of today's pro-audio industry.
Alchemist presents the option to operate as a single broadband processor as well as a multiband processor providing up to five individual bands, with the possibility to process up to eight channels simultaneously when inserted on a multi-channel (surround) bus.
Each of the five band-sections provides
- Flux:: core dynamics processors; Compressor, De-Compressor, Expander and De-Expander, all operating in parallel, as well as our exquisite BitterSweet transient processor.
- MS (mid/side) control.
- Auto Delay (Introduces a delay line in the processed signal allowing zero attack time).
- Selectable level detection mode and dynamics detection profile
- Dynamics processing envelope control (Attack, Hold, Release with optional Auto mode).
- Input / Output gain control.
Epure v3 a five-band state of the art equalizer using one of our most complex proprietary algorithms, ensuring the most superior quality achievable in digital equalizing processing.
Each section provides
- Individual bypass
- Filter type that can be set to low cut, low shelving, peak, hi shelving or hi cut
- Gain control with the range -24 dB to +24 dB
- Frequency range covering the whole bandwidth
- Q factor adjustable from 0.1 to 100
Solera v3 primarily designed for mastering and re-mastering applications, though heavily used as a regular dynamics processor with it's superior sonic quality and distortion free operation in many professional studios all over the world.
Four dynamic sections work in parallel, compressor, de-compressor, expander and de-expander. Three release modes (manual, auto, and advanced) are available. In advanced mode the minimum and maximum release values are user adjustable. An Auto Delay function allows zero attack times by introducing a delay line in the processed signal and the side chain features a three-band equalizer to generate frequency sensitive processing.
Syrah v3 a new generation dynamics processor, which handles the dynamics in a way that allows you to be creative, without a complicated user interface. Utilizing real time dynamic detection and level dependent processing, providing adaptive dynamic capabilities, which mean that Syrah is always trying to adapt to the music and to the beat of the material.
Using parts of our exquisite BitterSweet technology, our new adaptive-dynamics technology, and our well-recognized level independent dynamics processing, Syrah will be well suited as a creative versatile processor for recording and mixing, as well as for delicate and demanding mastering tasks.
Elixir v3 - The Premier Real True Peak Multichannel Limiter Plug-in
Elixir is a novel kind of program limiter carefully designed to accomplish a truly pure natural sounding result without altering the nature of the audio material and its timbre.
Intended to fulfil the requirements of the broadcast, post-production and mastering industry, Elixir provides real True Peak output level in accordance with the ITU-R.BS 1770 and EBU R128 norms, and for surround/multichannel operation Elixir provides up to eight channels of simultaneous processing.
BitterSweet Pro v3 - The Ultimate Frequency Dependent Transient Designer
BitterSweet Pro v3, Frequency Dependent Transient Designer, is built around a new improved design of the algorithm found in Flux:: acclaimed freeware transient processor, BitterSweet, used by hundreds of thousands of users all over the world.
One of the main features of BitterSweet Pro is the Frequency Dependent Transient Processing, providing the ability to process only a certain part of the frequency spectrum making it act just like a dynamic equalizer driven by Transients and/or Sustain.
In addition, Transients and Sustain can be amplified or attenuated simultaneously or individually, and it can process either all components (Main) in one, or process the Mid (Center) or the Side (Stereo) parts of the sound independently by encoding the material with its internal MS encoder, process it, and then decode it back to stereo again.
To retain control of the signal, even under extreme processing, a soft clipper is provided at the very last stage of the processing path carefully rounding the edges of the clipped peaks for a smoother clipping.
This fundamental design makes it a genuinely easy task to perform powerful level-independent transparent shaping of the sound spectrum using BitterSweet Pro.
Pure Series is the very core of the Flux:: dynamics derived from our flagship Solera II and provided as five single plug-ins for maximum versatility with a classic "one tool for each task" approach to slim the workflow without compromising quality or function.
Pure Compressor v3 produces a wide range of compressions from ultra clean subtle compressions to classic heavy pumping ones. It's up to your artistic choices not to the technology limitations.


Pure DCompressor v3 allows you to restore the original dynamic of a sound. The DCompressor is superior for heavily compressed signal adding some of that natural feeling to the sound.
Pure Expander v3 produces a wide range of expansion process from subtle expansions to hard noise-gate.
 Using Flux:: proprietary Angel's Share and Hysteresis algorithms Pure Expander allows you to remove unwanted noises or reverberation without adding a processed character to your sound.
Pure DExpander v3 enhances the low levels of the sound, magnifies the spatialization information and is also very useful when you want a compact expander sound. The Angel's Share algorithm permits some heavy processing though still keeping an organic character with the sound
Pure Limiter v3 is using exquisite proprietary Flux:: algorithms generating a release-envelope producing no artifacts on the processed sound achieving a transparent limiting. A dramatic increase of the average audio level is easily achieved without damaging the perceived audio quality of the material.
The Full Pack bundle contains the following plug-ins:
Full Pack 2.2
Alchemist v3 - AU / VST / AAX Native / AAX AudioSuite
Solera v3 - AU / VST / AAX Native & DSP / AAX AudioSuite
Epure v3 - AU / VST / AAX Native & DSP / AAX AudioSuite
Pure Compressor v3 - AU / VST / AAX Native & DSP / AAX AudioSuite
Pure Expander v3 - AU / VST / AAX Native & DSP / AAX AudioSuite
Pure DCompressor v3 - AU / VST / AAX Native & DSP / AAX AudioSuite
Pure DExpander v3 - AU / VST / AAX Native & DSP / AAX AudioSuite
Pure Limiter v3 - AU / VST / AAX Native & DSP / AAX AudioSuite
Elixir v3 - AU / VST / AAX Native & DSP / AAX AudioSuite
Syrah v3 - AU / VST / AAX Native & DSP / AAX AudioSuite
BitterSweet Pro - AU / VST / AAX Native & DSP / AAX AudioSuite
Processing Specifications
All Flux:: plug-ins, provide
Up to 8 channels Input/Output.
64-bits internal floating point processing.
Sampling rate up to 384 kHz DXD (Pyramix & Ovation MassCore/Native)
Sampling rate up to 192 kHz for native (AU/VST/AAX/AAX AudioSuite).
Compatibility
All major native formats are supported
Windows - Vista, 7, 8, 8,1 and 10 all in 64 bits.VST (2.4)
AAX Native/DSP
AAX AudioSuite
Waves WPAPI
Merging VS3 (Only in Windows 7 64 bits)

Mac OS X (Intel) - 10.7, 10.8, 10.9, 10.10 and 10.11 in 64 bits.VST (2.4)
AU
AAX Native/DSP
AAX AudioSuite
Waves WPAPI
AAX Native/DSP & AAX AudioSuite (Alchemist AAX Native & AAX AudioSuite only) supports 64 bit in Pro Tools 11.
VS3 64 bit versions for Pyramix 9 & Ovation Native/MassCore available only through Merging Technologies
Software Licence Requirements
In order to use the software one of the following alternatives is required
An iLok.com user account (the iLok USB Smart Key is not required).
A Flux:: USB Dongle
You may also be interested in:
| | |
| --- | --- |
| Variant | 1 |
| Specials | Dec 24, 2019 |