You're currently on: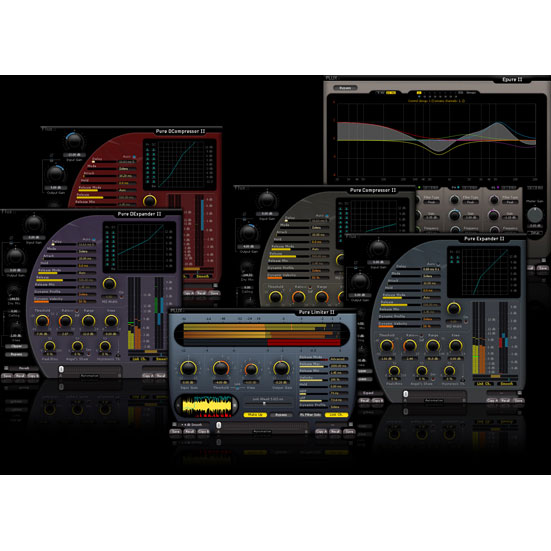 Recording Pack provides a versatile and comprehensive set of precision tools for your everyday recording and mixing session work giving you the best processor for each task within the range of dynamics and equalization processing.
Epure II is our State-Of-The-Art Equalizer, a five-band equalizer using one of our most complex proprietary algorithms ensuring the superior quality ever for a digital equalizing processor.
Each section provides
An individual bypass
Filter type that can be set to low cut, low shelving, peak, hi shelving or hi cut
Gain control with the range -24 dB to +24 dB
Frequency range covering the whole bandwidth
Q factor adjustable from 0.1 to 100
To match the perfection of the sound quality a range of user interface functions to improve the workflow are provided
Copy A and Copy B duplicate the twenty settings of one slot to the other with a single click
Morphing A/B allowing for ultra fast and precise operation
X2 and /2 affect the gain value for each equalizer section
Invert, to turn the positive gain values to negative ones and vice versa
Pure Series is the very core of the Flux:: dynamics derived from our flagship Solera II and provided as five single plug-ins for maximum versatility with a classic "one tool for each task" approach to slim the workflow without compromising quality or function.
Pure Compressor produces a wide range of compressions from ultra clean subtle compressions to classic heavy pumping ones. It's up to your artistic choices not to the technology limitations.


Pure DCompressor allows you to restore the original dynamic of a sound. The DCompressor is superior for heavily compressed signal adding some of that natural feeling to the sound.
Pure Expander produces a wide range of expansion process from subtle expansions to hard noise-gate.
 Using Flux:: proprietary Angel's Share and Hysteresis algorithms Pure Expander allows you to remove unwanted noises or reverberation without adding a processed character to your sound.
Pure DExpander enhances the low levels of the sound, magnifies the spatialization information and is also very useful when you want a compact expander sound. The Angel's Share algorithm permits some heavy processing though still keeping an organic character with the sound.
Pure Limiter is using exquisite proprietary Flux:: algorithms generating a release-envelope producing no artifacts on the processed sound achieving a transparent limiting. A dramatic increase of the average audio level is easily achieved without damaging the perceived audio quality of the material.
You may also be interested in: