You're currently on: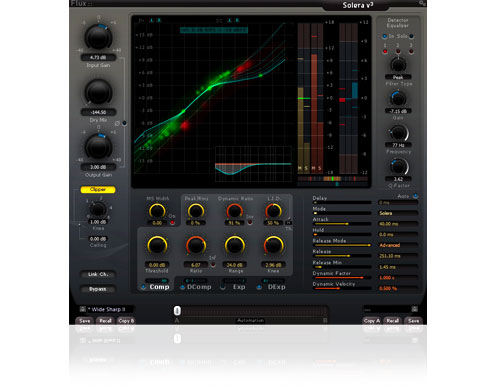 Solera v3 - Mastering the art of dynamics
[ AU 32 & 64 bit | VST 32 & 64 bit | AAX Native/DSP 32 & 64 bit* ]
How do you:
Compress the sound increasingly without losing the nuance and without adding pumping?
Make a compressor that can add loudness whilst keeping the sound airy, preserve fast transients, subtle distinction and undertone?
Make a processor that can recover lost dynamics?
In order to achieve all these things, as well as any other imaginable dynamic processing assignment, a full set of dynamic processors working together on the same processing task is required - Solera v3.
User Interface And Workflow
The Solera v3 dynamic processor combines the power of a compressor, expander, de-compressor and de-expander, all four available direct through the user interface, processing in parallel.
To provide the best means for the analysis of the material, a side chain section featuring a three-band equalizer to generate frequency sensitive processing, as well as input options for an external side-chain signal, is provided.
In order to further enhance the workflow, three release modes are presented; manual, auto, and advanced (with minimum and maximum release values fully adjustable), as well as an auto delay function allowing for zero attack times by introducing a delay line in the processed signal.
The user interface in Solera v3 is designed for simplicity. In addition to the dynamic processing section a vast range of functions are provided to simplify the workflow and to facilitate the achievement of exceptional results. Some of the key functions are:
Generous -/+ 48 dB input/output gain range
Phase invert of the processed signal
Dry/wet control offering true parallel dynamics processing
Discrete peak-limiter rounding peaks off in a smooth and musically fashion
True bypass control routing the incoming signal direct to the output for a smooth transition between clean and processed signal
Morphing slider for seamless transition between two explicit full parameter-sets
Processing
Solera v3 is unique in its kind as it offers two different methods to analyze the signal-processing base. Either by using a straightforward detection process that generates an RMS detection value based on the signal level, the foundation of dynamic processing. Or by using a more complex detection algorithm that generates a dynamic detection value based entirely on the signal's dynamic complexity and not on traditional peak or RMS detection schemes, generating a dynamic value instead of relying on the signal level alone.
Solera v3 presents two parameters that are kind of unique to dynamic processing, Dynamics Ratio and Level Independent Detection (L.I.D), using the dynamic range content of the signal and not just the signal levels as standard processors do.
Dynamics Ratio is controlling the amount of auto-ratio determined by the signal dynamics and the manual ratio setting.
Level Independent Detection (L.I.D) controls the amount of auto-threshold determined by the signal dynamics and the manual threshold value. A Maximum mode can be engaged on the L.I.D control, allowing for processing that accounts for the maximum values of both the standard and the L.I.D detection schemes.
As all Flux:: processors Solera v3 provide up to eight channels of simultaneous processing for multichannel/surround operations.
* Solera v3 AAX Native/DSP supports 32 bit in Pro Tools 10.3.5 and 64 bit in Pro Tools 11.
You may also be interested in: