You're currently on: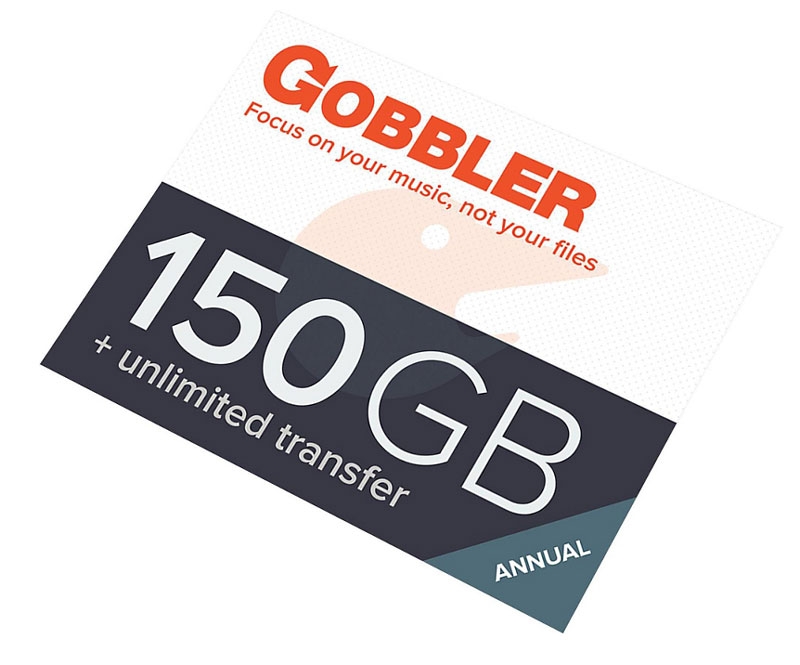 150GB of storage and unlimited transfers
Gobbler is the backup, transfer, and organizational tool for managing your media project files and assets. Gobbler solves some of the most frustrating problems that media creators face on a daily basis, without getting in your way or changing the way you work. Gobbler keeps your most important work secure, enables quick and easy collaboration, and provides access to your projects from anywhere with an internet connection.

This annual plan offers 150GB of storage and unlimited monthly transfers at 15% savings over comparable monthly plans. The only creative cloud designed and built for professional musicians Gobbler works with the applications you use most and understands how your projects are organized so you can create - and collaborate - without ever losing a file or interrupting your creative flow.

Backup
Gobbler automatically detects and backs up changes to your projects as they happen, so you never lose data. You can even go back in time to restore an earlier version of your work. Gobbler also knows when you're working in processor-heavy media applications, and will never interrupt your creative flow. Whether your project is on a local hard drive or an external one, Gobbler will make sure that it's backed up - even if you move the drive between different computers.

Media projects aren't like normal folders: They can contain gigabytes of data, and project files need to be kept in sync with their referenced media files. So normal cloud backup solutions just won't work.

Transfer
Gobbler makes FTP and file-sharing services obsolete. It's almost like sending attachments through email... but without the file size limits. You can send multi-gigabyte attachments or folders with thousands of files and Gobbler will handle them without breaking a sweat. Share large files or entire projects, securely and faster than ever regardless of size.
Gobbler's industry-standard lossless compression algorithms are optimized to increase transfer speeds. Combine that with our deduplication technology - which makes sure that you don't need to re-upload files that are already on the server, or download files that are already on one of your drives - and huge projects will arrive faster than you thought possible.

Organize
Gobbler will scan your drives with a single click, automatically discover all media projects and build a catalog for you. Your catalog enables you to browse your drives almost as though they were plugged into your machine, and it's always available so that you'll know exactly how to find your work - even if projects are scattered throughout the world.

At home, or on the road.

Geo-tagging keeps track of the last known location of every project, and you can further tag projects to make your searches even quicker. Gobbler cuts through the clutter on your disks by singling out the audio and session files.
Features
Backs up sessions in three places, two local and one in the cloud
Lossless compression to send any size file fast
Single-view organization of all files
Encrypted transmission and encrypted cloud storage
Specifications
Gobbler Operates on OS X 10.5 (Intel), Windows XP SP3+, or iOS 5+
For Audio Creators: compatible with most major DAW software and file types.
Ableton
Adobe Audition
Ardour
Avid Sibelius
Cubase
Digital Performer
Finale Finale
FL Studio (Fruity Loops)
Garage Band
Harrison Mixbus
Hindenburg
IK Multimedia T-Racks
Logic
Magix
Movies folder
Native Instruments Maschine
Notion Music Notion
Nuendo
Numerology
PD Pure Data
Plogue Bidule
Pro Tools
Reaper
Reason
Record
SONAR - Cakewalk Audio Bundle
SONAR - Cakewalk CAL script
SONAR - Cakewalk project
SONAR - Cakewalk project template
SONAR - Pre-SONAR 1.3 Audio Bundle
SONAR - Pre-SONAR 1.3 project
SONAR - Pre-SONAR 1.3 Project Template
SONAR - Cakewalk playlist
Sonic Studio SoundBlade
Sony Acid
Steinberg Wavelab
StudioOne Project
StudioOne Song
Triumph
Vienna Ensemble Pro
You may also be interested in: