You're currently on: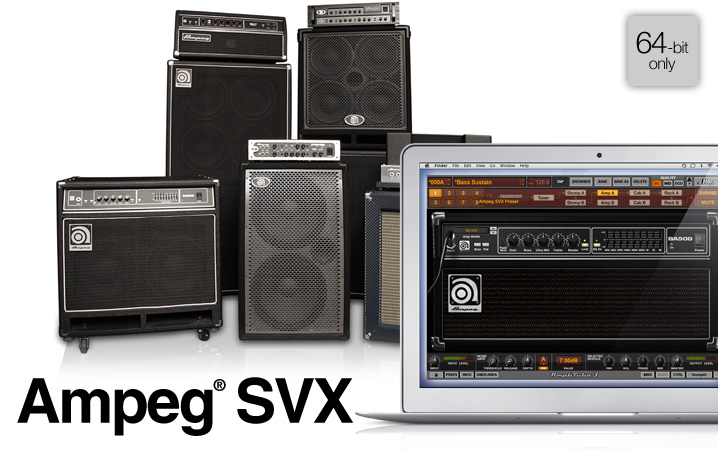 Legendary Bass Tones in a Plug-In
Ampeg SVX: Humungous Sound Waves causing Aural Tsunami-Type Euphoria
Ampeg SVX recreates the sounds, operation and feel of the world's most influential line of bass amplifiers and brings it to your desktop. You'll get the legendary sounds of the SVT-CL, the B-15, the 4Pro and BA500, all in a convenient lightweight and easy-to-use package.
When you think Ampeg, you think huge stadium bass tone… the Rolling Stones '69 tour with the wall of SVT Classic Heads and 810 cabinets. The sound of Rock & Roll — early Van Halen through AC/DC to Dave Matthews Band. You think the Motown sounds of James Jamerson and that fabulous "round" bass sound only a B-15 Flip Top can provide — the sounds that DEFINED, and DEFINE, bass.
So really you think "legendary". The sounds of Ampeg amplifiers are the sound of a bass revolution — the voice of generations of musical identity and groove definition that are synonymous with the fabric of our core as musicians. These are the tools we use to express our inner groove. These are our…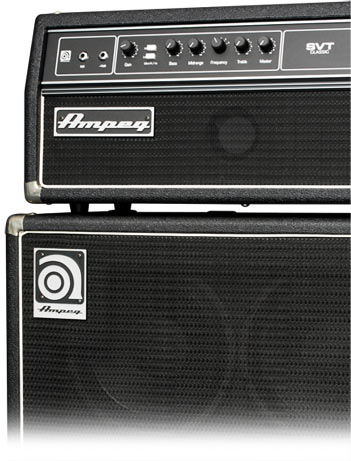 Get Legendary Tones. But what's behind a "Legend"?
You hear the term "legendary" and "legendary tone" thrown around a lot these days. Everyone is trying to "capture that legendary tone." But if you think about it, what does it really mean? What's behind "legendary" that makes it so?
If you dig deep, at the core of everything "legendary" you'll find one common thread — innovation. And at the heart of innovation is the challenge of the norm, a spirited approach that focuses thinking on not "what is" but "what if."
Stadium Bass Tones, no Chiropractors
That's exactly what you get with the Ampeg SVX models. 100% pure Ampeg Bass Tone. Take 175lbs of "legendary" earth-shaking back-breaking roadie-killing bass gear and compress it into a mere 3-pound delicate instrument that can equally produce such raw power and emotion and you've got our "what if" thinking, and you've got the Ampeg SVX suite of Bass Amps and Bass effects. Innovative? Absolutely. Legendary? Hmmmm…
The SVT Classic. The B-15 "Flip Top". The SVT-4Pro.
Let's face it - We could say anything here. But fact the fact is, Ampeg chose us, IK Multimedia to create digital models of their most prized gear. Frankly, that should really say it all. However, if you're an Ampeg Fan, let us make you all warm and fuzzy inside. With the SVX package, you get the Ampeg "Greatest Hits" amps — the earth-shattering sound of Rock & Roll bass from the Grandaddy of them all – the SVT. The smooth groove making rolls of the B-15. The scooped "edgy-ness" of the 4Pro. All Tube, all legendary, all Ampeg.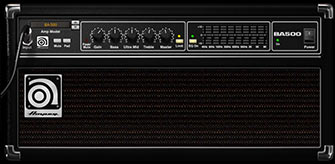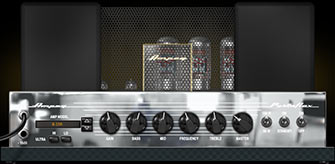 BA-500 B-15R Portaflex "Flip Top"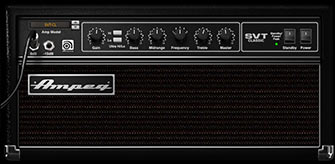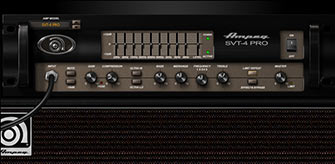 SVT-Classic SVT-4 PRO
These amps and cabinets have a firm place in music history, but more importantly have the foresight and innovation that will drive the future of music.
So accurate it even shut down
Actually, this is true. Funny story… during the first phase of testing with the Engineers at Ampeg, one particular software model was being driven so hard that it "shut down." Completely stopped working. Nada, nothing. Oh crap — we thought we were in trouble. But the lead engineer at Ampeg approved the model on the spot. You see, there was a slight design flaw in the actual amplifier being modeled that would cause a power fault shutdown if the amp was driven too hard for too long. The software model was in fact so accurate that it even replicated this design flaw… that's how accurate it is. If you think about it, it's the software engineer's equivalent of the "no brown M&Ms" rider clause in a performance contract — so it looks like we're playing tonight. But don't worry. We took took the "shutdown" feature out of our models so you can rock all night. Really.
Life Below 250Hz (250Hz Under the Sea)
As Bass players, we live in a different, delightful world. Some would call it the "sub" world… the basement… the underground. We prefer "the Foundation." And Ampeg SVX delivers the foundation in spectacular form. You'll find the bass sound you need here to hold it down… the keep the drummer in check, and to guide the rest of the band through the complex musical journeys as only a true pro bass player can do.
So we're glad you're here. And hear. Welcome to the new worlds of legendary bass tones… Welcome to Ampeg SVX.
---
How it works
If you play, it makes sense. If not, it still makes sense.
If you're familiar with our other products, then you're right at home. Ampeg SVX works just like AmpliTube 3, AmpliTube Fender™, and our other guitar products. If you play bass through an amplifier instead, still, you're right at home.
Signal Flow-er. Your Bass will bloom.
Bass —> Tuner —> PedalBoard (if needed) —> Amp —> Cab/Mic/Room —> Post Effects —> Groovealicious Euphoria.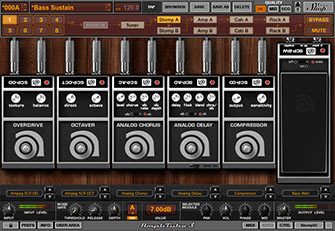 Ampeg SVX is extremely intuitive because it works just like your rig, only lighter. Make no mistake. The sounds from Ampeg SVX are authentic, true-to-the-original bass tones from the world's most respected line of bass amplifiers. What's different is the packaging.
Ampeg SVX starts with the ONE effect that makes every player sound great — the Tuner. Then your signal runs through a virtual dual pedal board. You daisy-chain pedals together, mix and match, drag and drop. Instantly reconfigure the order of pedals simply by grabbing one and dragging it to its new position in the signal chain. (Ampeg SVX has an automatic "unplug" and "plug in" feature in the pedalboards.)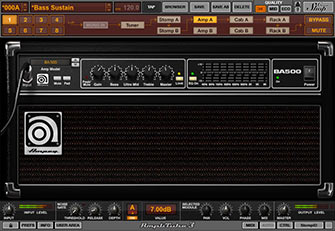 Let it Go to your Head
The B-15 looks, acts and sounds like a B-15. The SVT-CL looks, acts and sounds like an SVT. The 4Pro looks, acts and sounds like a 4Pro. See a pattern here?
Then your signal travels to the Bass Head. Choose from four groove making machines… The SVT-CL Classic Head, the SVT-4Pro, The B-15R and the BA500 (combo, but the preamp and power sections have been digitally surgically "separated" from the cabinet). Here you can tweak your tone to perfection.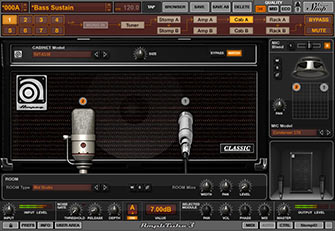 Next Stop: The Bass Cabinet
Some people argue that the cabinet is the single most important "tone" feature for a bass rig. With that in mind, we completely re-engineered the cabinet section, providing you with more realistic bass response than any other bass amp simulation package. The new section allows you to freely position two microphones in front of the speaker, plus add room ambience with a stereo pair of condenser mics that allows you to adjust the "spread" and depth of the room. The result? Ultra-accurate bass response plus the ability to mix in the perfect amount of room warmth. Boom.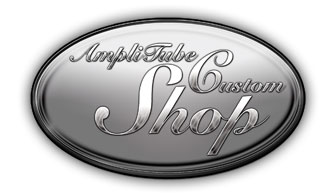 Plays well with others
If you already have an AmpliTube package, don't worry. The Ampeg SVX suite integrates seamlessly into your current architecture. All you have to do is start your version, and Ampeg is automatically there.
If you use the AmpliTube Custom Shop, once you purchase the Ampeg SVX package or individual amps, they automatically show up. If you use only the Ampeg SVX package, we're not having this conversation. But you can add more gear to the Ampeg package via the Custom Shop. Plus, we're constantly adding new models to the custom shop
---
How we did it
There's a special place in our history for the Ampeg project. You see, it was our first opportunity to actually work and communicate directly with the engineers at a company making the gear we were simulating. In retrospect, this project was really slightly ahead of its time. Way back in 2004, companies thought that digital modeling of their gear was a threat to their business, that it would "steal the soul" of what they were doing. Ampeg was different. They understood what we were doing, and how our technologies could help them spread the love and groove of Ampeg. And it worked. Now you can get that Ampeg sound everywhere… in the studio, in your house, on stage, in the street. Everywhere. That's pretty cool, don't you think?
Tear it up… Virtual style
In order to model an amplifier, you have to have, well, the amplifier. Ampeg sent us stuff. And lots of it. What came next would delight and simultaneously terrify most players: the dismantling and reconstruction of a legendary piece of gear. (Not really… we're talking about "virtual" dismantling of the gear. Take it easy.)
The original amplifier, cabinet or effect is then accurately measured and a virtual circuit representation of it is coded in software, carefully matching each component's value and circuit details. Then, a comparison of the electrical signals between the original and the model ensures that the model's behavior matches the original circuit behavior in the gear. After this phase we start a complex audio-engineering comparison with the original amplifier or effect to the modeled version. This is followed by a series of tweaks and fine-tuning to the circuit and the sonic characteristics of the model. The result is a sound indistinguishable from the original when fed with various guitar signals and dynamics.
The creation of a single model of amp or effect takes the same time than it would take to build a hardware version of it. All these technologies and development efforts have helped millions of users get the best sounds out of their guitars and basses on countless records and productions – including legendary bands like AC/DC, Rolling Stones, Coldplay, Guns'N'Roses, Queen, Level42 and more. And we are passionately proud of it.
Digital Mojo: The Art of IK's Science
Since 1997 with the release of T-RackS analog modeled mastering suite, IK has been one of the pioneers in the digital tone generation and analog gear modeling field — unraveling the secret DNA and true behavior of analog components and recreating them for the next generation of musicians, engineers and producers. With unique technologies like DSM™ (Dynamic Saturation Modeling), VRM™ (Volumetric Response Modeling) IK models have set the industry standard evidenced by our co-branding recognition from the most influential partners in the industry such as (duh) Ampeg, Fender, Orange, Soldano, T-Rex, Jet City and many more.



What's inside
Bass. Bass. More Bass.
Ampeg® SVX is the only official, authorized and officially authorized software available in the market that provides you with "true to the original" Ampeg Bass tone. Incidentally, it was also the FIRST branded software package that transported the sounds of the hardware to your desktop… no small feat. And IK Multimedia was, and remains, the premier partner provider for the world's leading manufacturers of guitar and bass gear. But enough about us…
Ampeg SVX is divided into four main parts: Tuner, Pedalboard, Amp Head, and Cabinet/Mic/Room. The signal flow is exactly like your hardware rig and the interface is extremely familiar and intuitive.
Tuner.
Ahh, the indispensable Tuner — the one pedal that will make any player sound good. It's the first element in the signal chain beyond your interface and USB port, and it' not only digital for a huge degree of accuracy, but chromatic as well.
Pedals.
Next stop is the stellar collection of stompboxes designed specifically for bass. In this section you'll find an amazing selection of bass tone modifiers that add shimmer, tremble and quake to your tones. These bass behemoths include the SCP-OD Bass Overdrive, the SCP-OCT Bass Octave, an Analog Chorus, Analog Delay, Envelope Filter, Bass Wah, Compressor and Volume Pedal.
The pedalboard can easily be configured and reconfigured via the "drag & drop" feature, and you can assign knobs (parameters) to a controller like the StealthPedal with a simple right-click of the mouse. Otherwise, the pedalboard functions just lik
Heads.
Ampeg SVX gives you 4 amp head models you can use: the SVT-CL (a.k.a. the "Classic" head), the most popular bass head on the planet, the B-15 PortaFlex "Flip Top", the SVT-4Pro and the BA500.
These are the core of your bass sound, and give you a full, balanced range of bass tones. You've heard most of these in your favorite songs because after all, Ampeg defines bass.
Cabinets.
You get 6 cabinet choices covering every possible usable bass cabinet situation:
SVT810E – the granddaddy of bass cabinets and the one most ubiquitous on major tours, arenas, clubs and stages; the SVT410H, the BXT-410H, the B-15 Single 15", the BA500 2x10", and the PB2x12". Your sound? It's in here!
Mics
A bass cab is nothing without the microphones. The mic section gives you 6 choices: 4 dynamic mics and 2 studio condensers giving you access to some of the best microphones the industry has conjured up in a century.
So, here's how it looks:
Bass —> Cable —> Interface —> Computer [Ampeg Magic: Tuner —> Pedalboard —> Amp Head —> Cabinet/Mic/Room Ambience] —> Adoring Fans.
Ampeg SVX Specs
Complete Bass Amp modeling solution and Bass Effects powerhouse
Industry-standard sound with DSM
™
(Dynamic Saturation Modeling) and VRM
™
(Volumetric Response Modeling) technologies offer the most realistic emulation of real world gear and the best sounding models
Perfect as a plug-in for studio recording and mixing in any Mac/Win DAW, native compatibility with 64-bit applications and operating systems
Also perfect for live performance thanks to the standalone version with instant preset switching
Highest supported Sampling Rate: 96 kHz
DAW automation and BPM synchronization
5 separate modules
Rig of up to 12 stomps, 2 Amp heads + 2 Cabs + 2 x double mics and 8 rack effects can be configured in up to 8 serial/parallel configurations
Two movable microphones allow you to mic the cabinet exactly like in real world studio and live environment
Stereo signal path makes it suitable for any type of instrument including drums, keyboards, vocals and more
Massive database of presets with multiple guitar and bass oriented tags and keywords, advanced search function, rig visualization and more plus free online sharing service for user presets called "Preset XChange"
Perfect integration with IK's range of audio interfaces and controllers such as StealthPlug, SteathPedal, StealthBoard and StompIO allows for instant recording and performing in the studio or on stage with full programming at the software level
4-track built-in multitrack recorder with DAW-like features enables you to quickly capture ideas or even record a small band in the standalone application without the need to open a DAW and with the convenience of AmpliTube superior quality audio processing
Imports any Wav, Aiff, sd2, Apple Caf, Flac, MP3 audio file (Standalone version)
SpeedTrainer for speeding up/slowing down imported tracks without affecting the pitch – the perfect tool for practicing and improving your instrument skills or learning your favorite riffs and solos (standalone version)
---
System Requirements

Mac® (64 bit CPU, 32 or 64 bit Mac OS)
Minimal: 1.5 GHz Intel processor, 1 GB of RAM, Mac OS X 10.6 or later.
Supported Plug-in formats: Audio Units, VST, RTAS, AAX (32 and 64-bit).
Note: on 64 bit systems, the plug-in also works in 32 bit compatibility mode.

Windows® (32 and 64 bit)
Minimal: Intel® Pentium 4® 2.4 GHz or Intel® Core™ Duo or AMD Athlon™ 64,
1 GB of RAM, Windows® XP, Windows® Vista, Windows® 7, or Windows® 8.
Supported Plug-in formats: VST, RTAS, AAX (32 and 64-bit).
You MUST be connected to the Internet as all of the Custom Shop operations are web based.

You may also be interested in: