You're currently on:
AmpliTube SVX
Legendary bass gear collection

The holy grail of deep tones
AmpliTube SVX is a must-have collection of gear for the bassist who appreciates pedigree. The Rolling Stones '69 tour. Early Van Halen to AC/DC to Dave Matthews Band. The Motown sounds and that fabulous "round" bass tone. The gear behind AmpliTube SVX defined – and continues to define – the sound of electric bass. We painstakingly captured every nuance of these deep-sounding amps to give you the same sounds that you've loved on countless recordings.
AmpliTube SVX overview
Gear collection for AmpliTube Custom Shop
18 new models split between amps, cabs and effects
Powered by IK's award-winning DSM™ technology
Sound-certified and approved by bassists
No previous version of AmpliTube required
Works seemlessly with the new Custom Shop updates
Also included in
AmpliTube 5 MAX
Total Studio 3 SE
Total Studio 3 MAX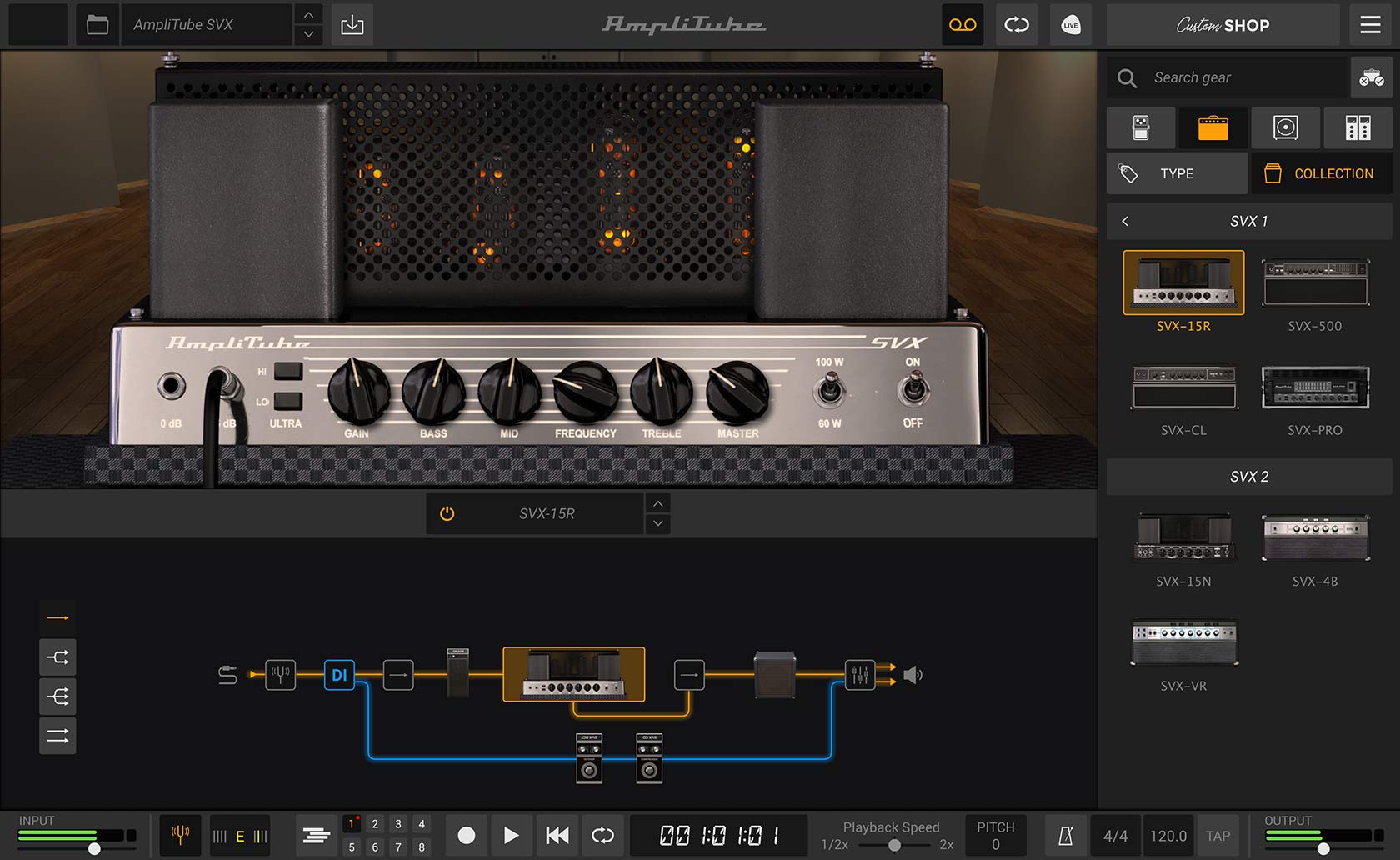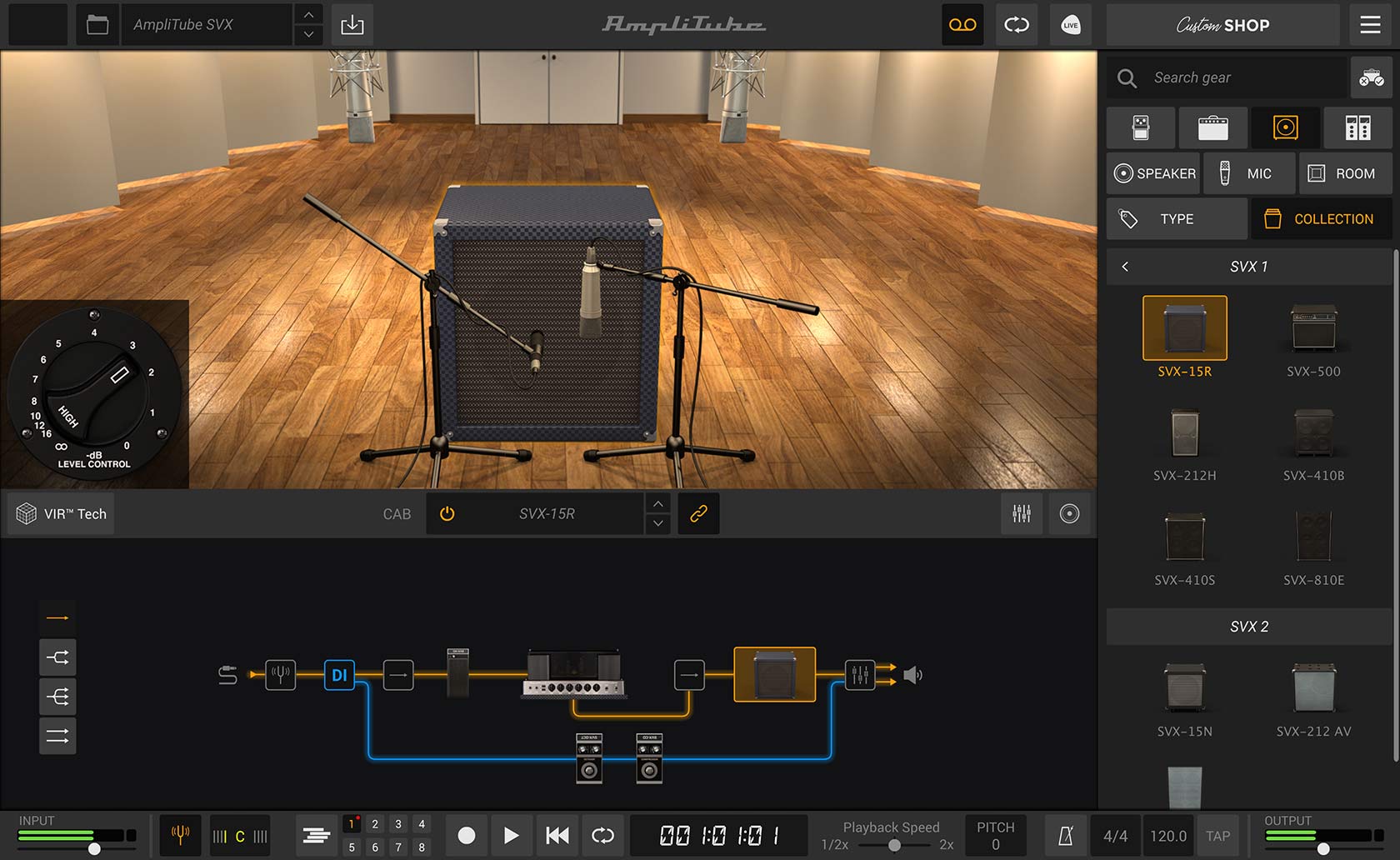 So accurate, it even shut down
Funny story… during the first phase of testing with the original engineers, one particular software model was being driven so hard that it "shut down." Completely stopped working. But the lead engineer approved the model on the spot. You see, there was a slight design flaw in the actual amplifier that would cause a power fault shutdown if the amp was driven too hard for too long. The software model was so accurate that it even replicated this design flaw! Hear for yourself.
Gear available in AmpliTube SVX
AmpliTube SVX features 18 models including 4 amps, 6 cabinets and 8 stomps, giving you the "Greatest Hits" amps, from the earth-shattering sound of Rock & Roll bass from the SVT – the Granddaddy of them all, to the smooth groove-making rolls of the B-15. The scooped edginess of the 4Pro. Plus a complete set of bass-specific pedals to give you unprecedented tone shaping options.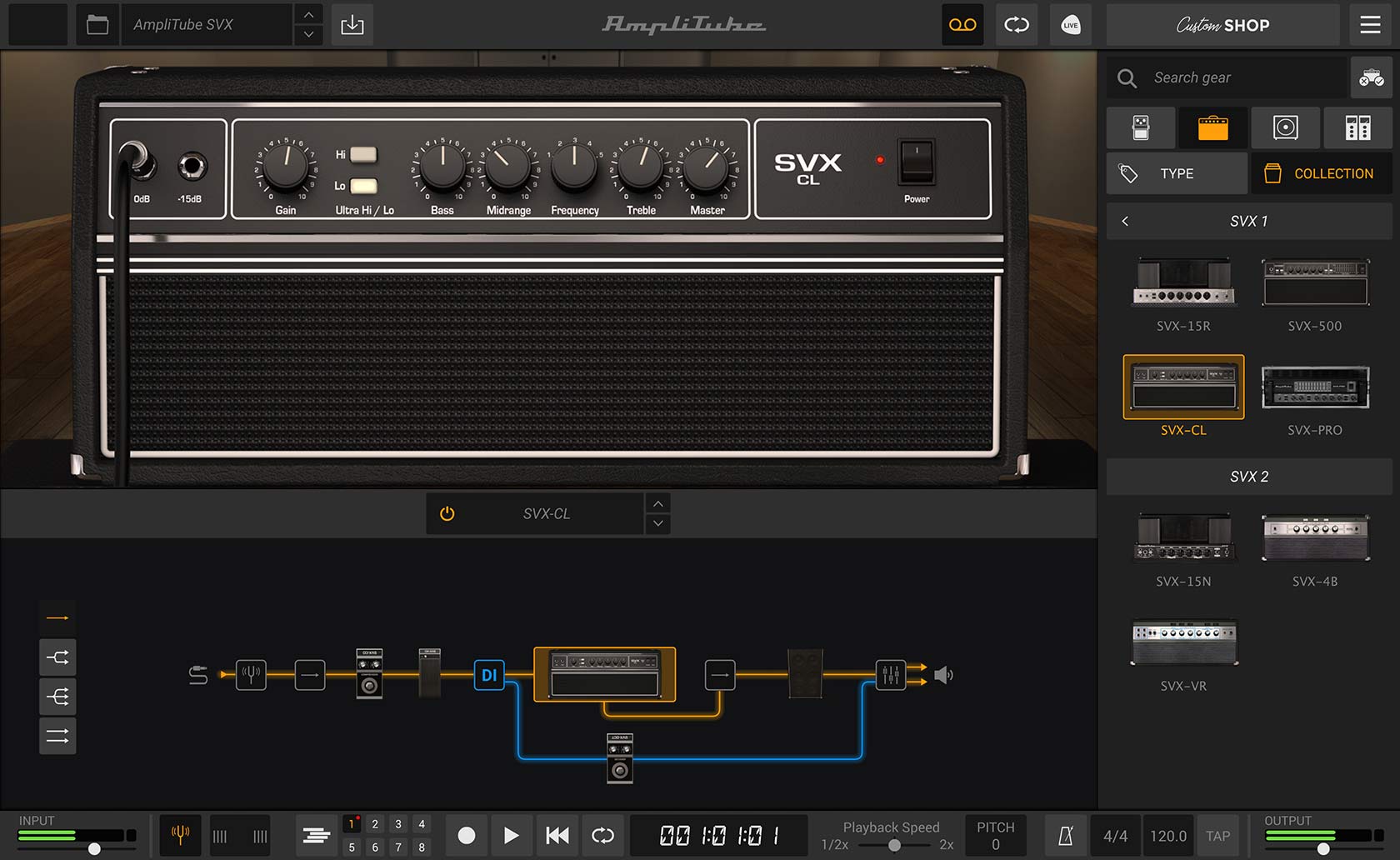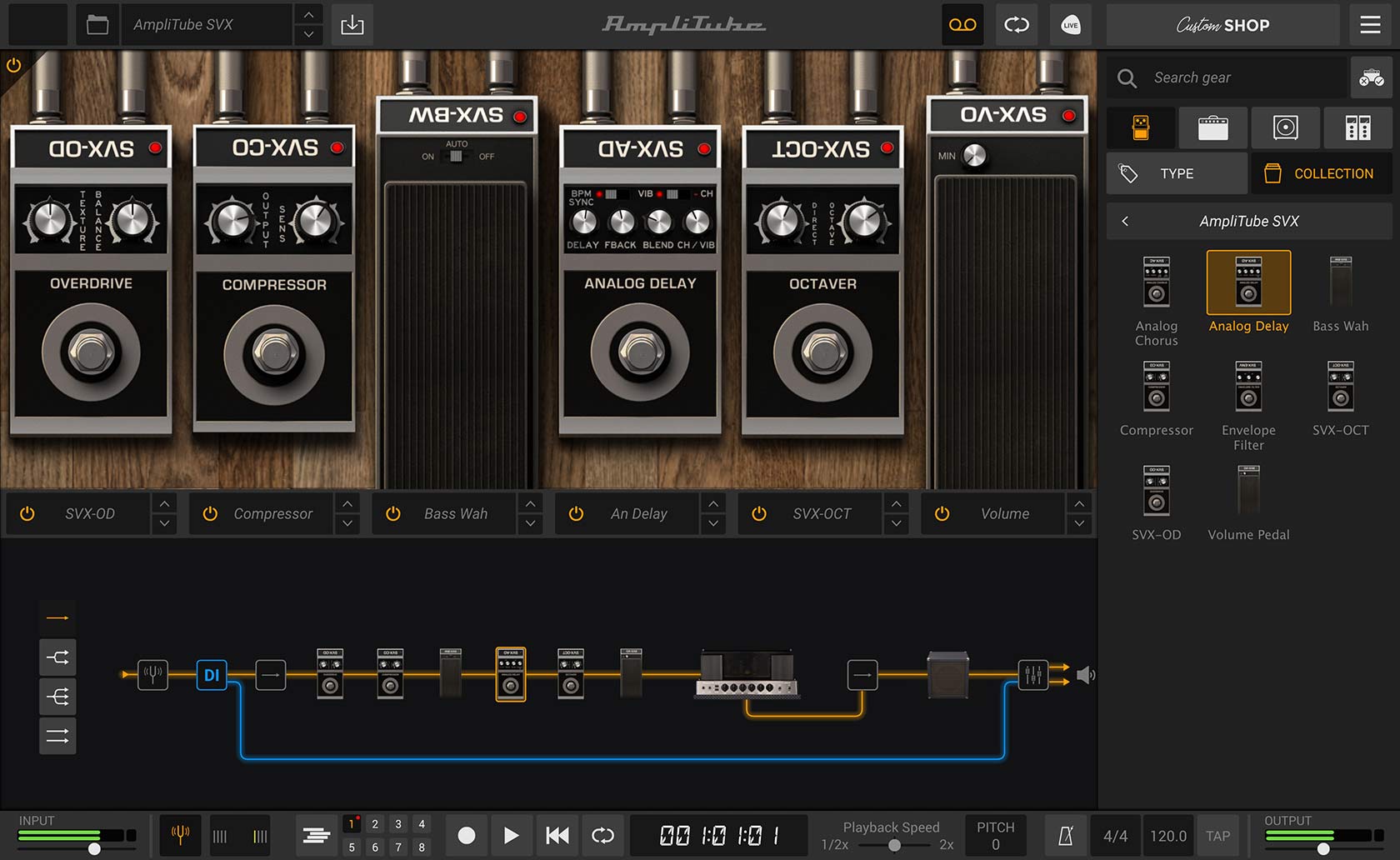 4 Amplifiers
SVX-15R
SVX-500
SVX-CL
SVX-PRO
6 Cabinets
1x15 SVX-15R
2x10 SVX-500
2x12 SVX-212
4x10 SVX-410B
4x10 SVX-410S
8x10 SVX-810E
8 Stompboxes
Analog Chorus
Analog Delay
Bass Wah
SVX Compressor
SVX Envelope Filter
SVX Volume
SVX-OCT
SVX-OD
3 Microphones
Dynamic 20
Dynamic 421
Vintage Dynamic 20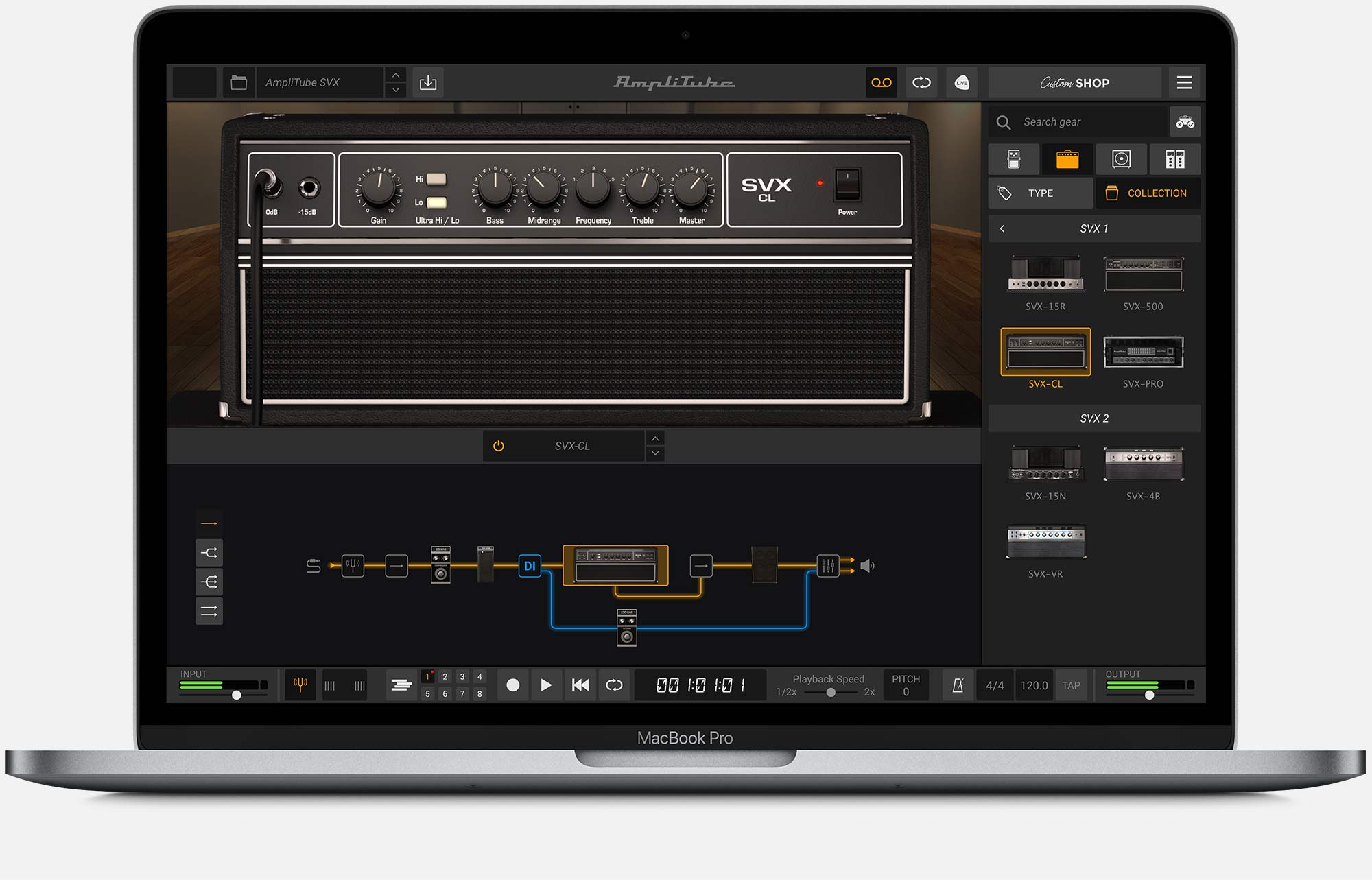 AmpliTube SVX gives you iconic bass gear with the same sound (and feel) you'd get from the real gear. You won't believe your ears – turn it up and you'll feel it in your chest, too.
AXE I/O — Capture your guitar and bass at their best
Ready for the ultimate guitar and bass recording experience, that brings out every nuance of AmpliTube? Check out AXE I/O, IK's premium audio interface with powerful tone shaping tools. It's the audio interface guitar and bass players have been waiting for.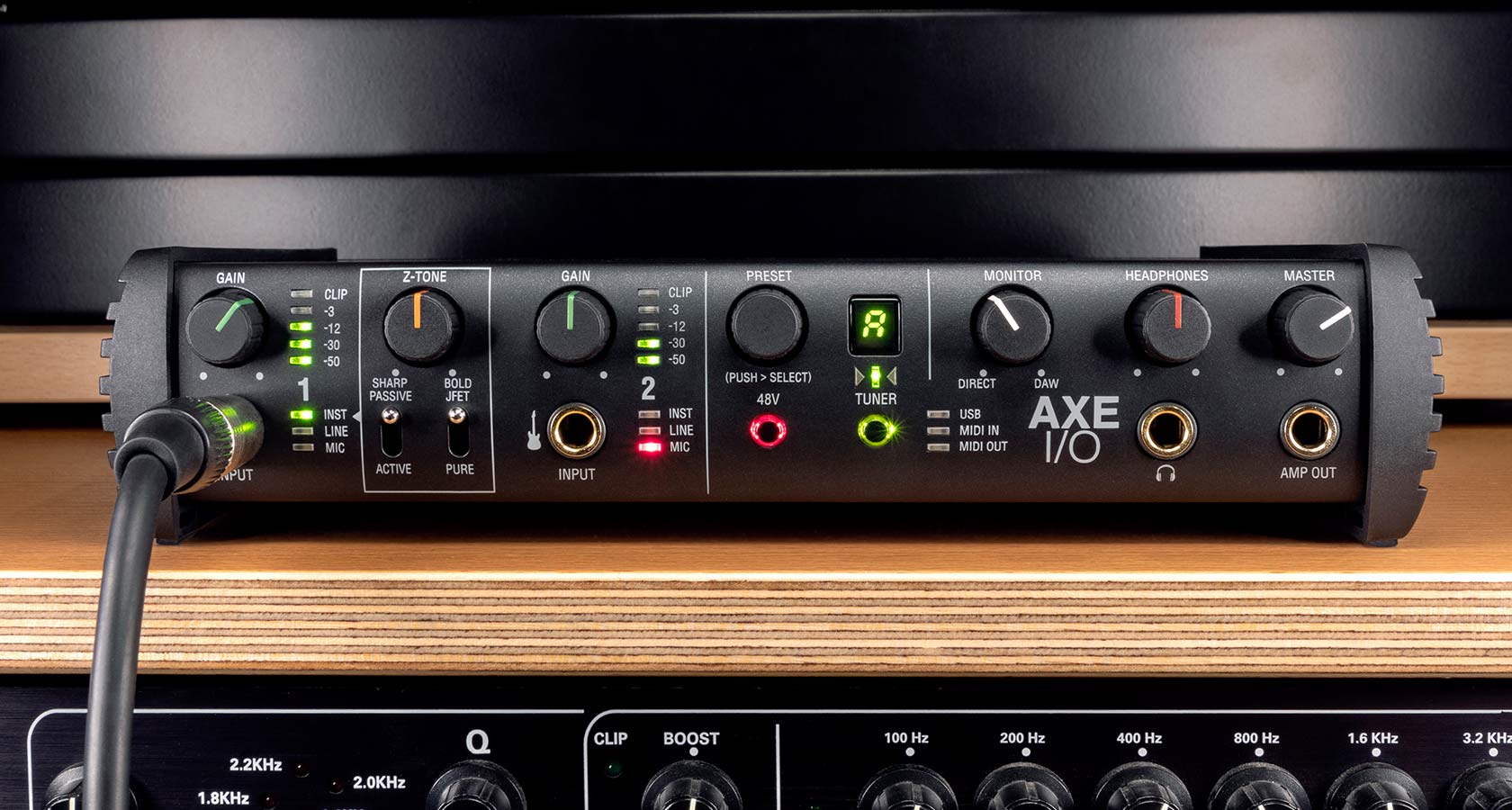 ---
Take MIDI control
AmpliTube is fully MIDI compatible, so all the knobs, controls and presets of this gear Collection for AmpliTube can be assigned and controlled with a standard MIDI controller, or a high-quality interface like the iRig Stomp I/O, or the convenient iRig BlueBoard.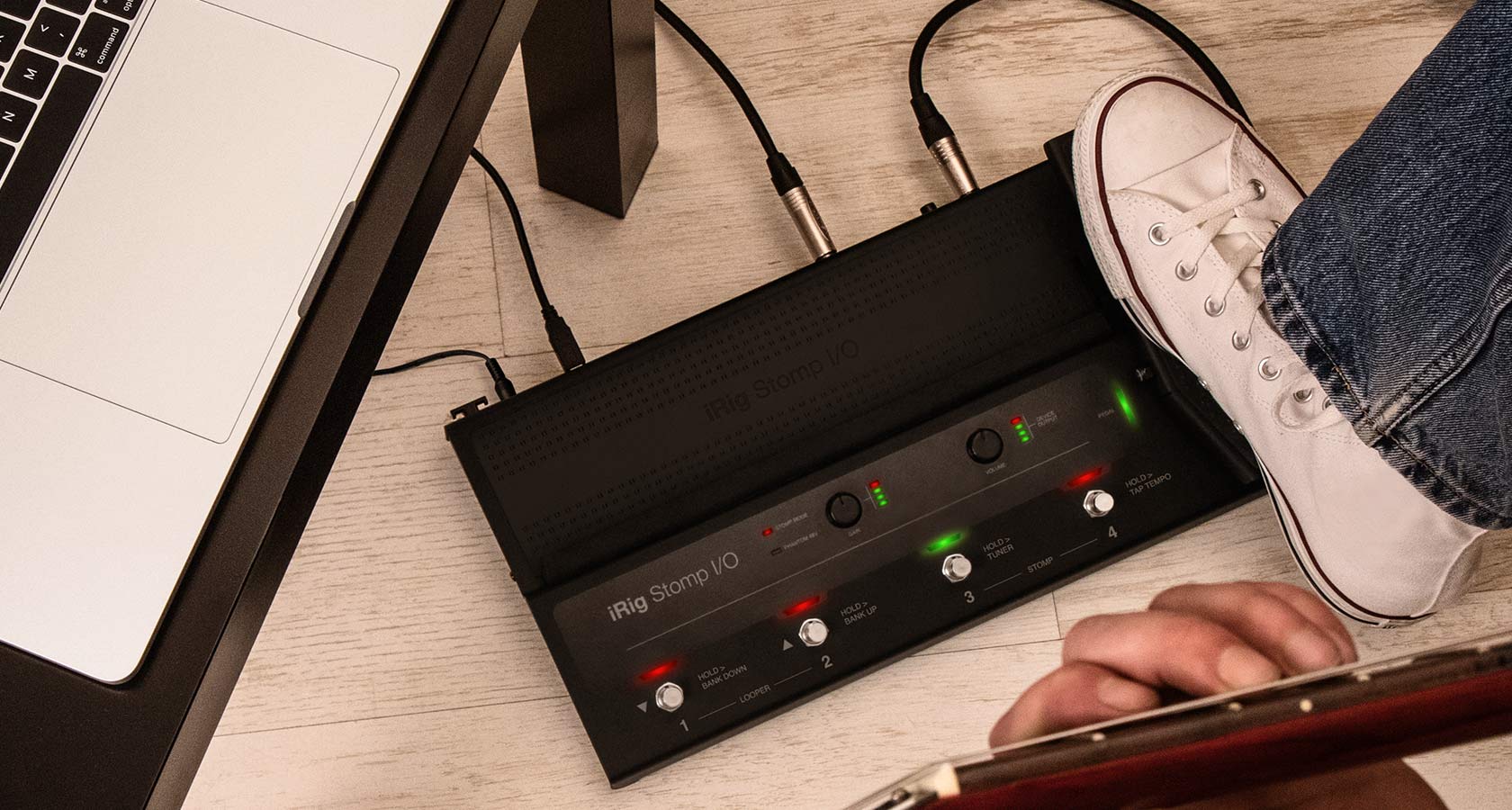 ---
A Time Machine of tone… for free
The AmpliTube 5 Custom Shop is a free software package for your Mac or PC that includes a complete guitar dual signal chain; tuner, pedalboard, amplifier, cabinet, microphone and rack effects section. It comes with 39 pieces of gear and access to our unique online virtual music store where you can purchase gear models either a-la-carte or as a complete collection. You can even create almost any rig you can dream up combining this gear collection with the universe of gear available to try or buy in Custom Shop.
When used as a standalone application, AmpliTube 5 Custom Shop features a 2-track recorder section and a song-player for easy play-along capabilities. The SpeedTrainer function allows you to slow down the audio so you can learn Satch's signature licks note for note without affecting the pitch.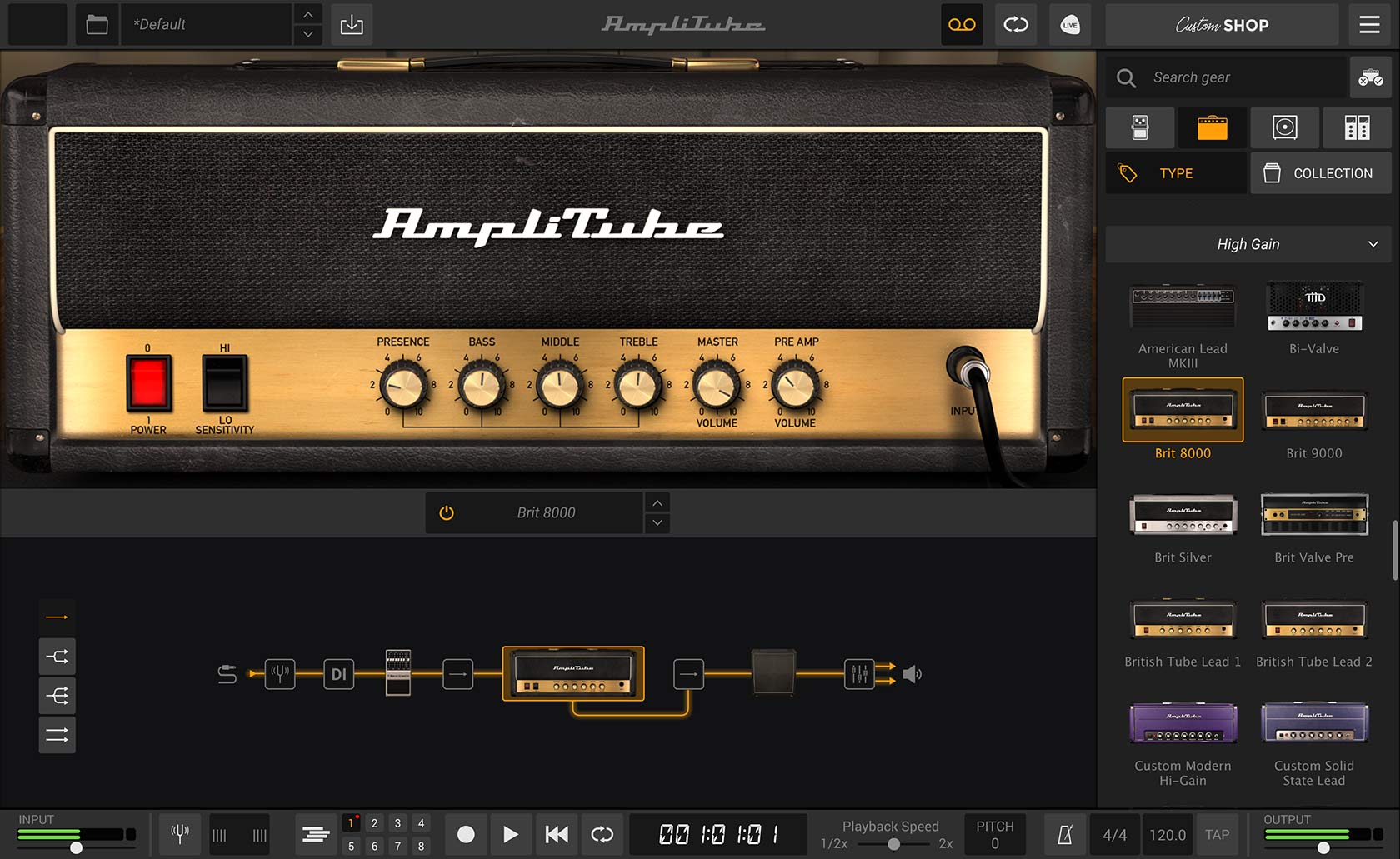 ---
AmpliTube 5 — step up to the modern player's ultimate tone studio
While AmpliTube gear sounds absolutely amazing in AmpliTube Custom Shop, it will sound even better with all the new and improved tone-tweaking features inside of AmpliTube 5 — features like the Freely Configurable Signal Chain and a re-designed Cabinet section to name a few.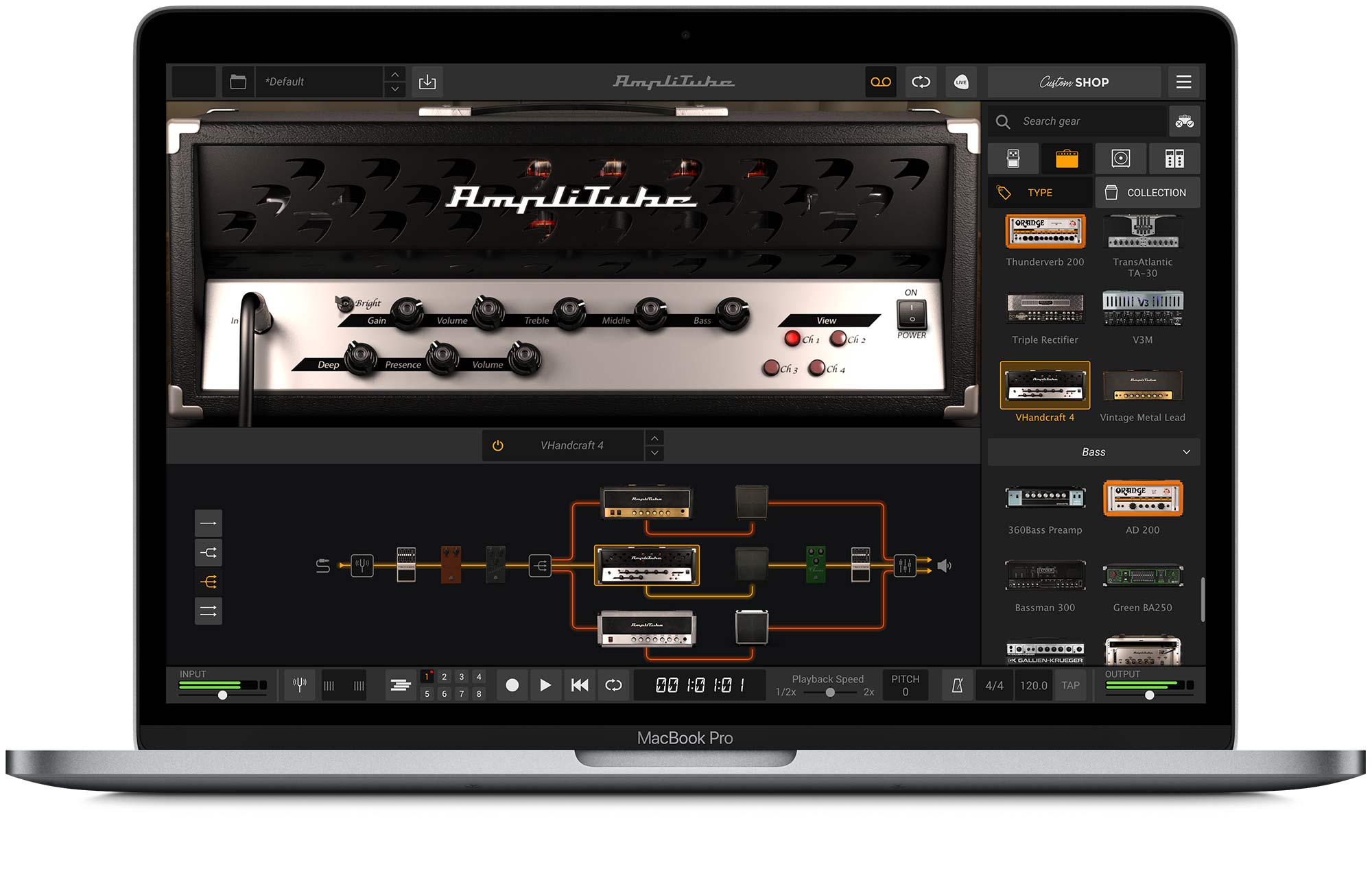 Freely Configurable Signal Chain
AmpliTube 5 features a new, completely customizable gear chain. Beyond mono & stereo, AmpliTube 5 now supports wet-dry-wet configurations and other advanced series & parallel routing.
The overall chain now supports up to a massive 57 simultaneous models across Stomps, Racks, Amps and Cabs. And setup is a breeze - just drag & drop any model into place, to build or re-position even the most complex rigs in seconds.

New Cabinet Section with VIR™ Technology
AmpliTube 5 premieres a re-engineered Cabinet section with all-new DSP. IK's new Volumetric Impulse Response (VIR™) uses 600 IRs per speaker, 1,200 IRs for a 2-speaker cab and 2,400 IRs for a 4-speaker cab, capturing a massive 3D array of mic placement options, plus all the interactions between speakers, cabinet and floor for a completely true-to-life sound.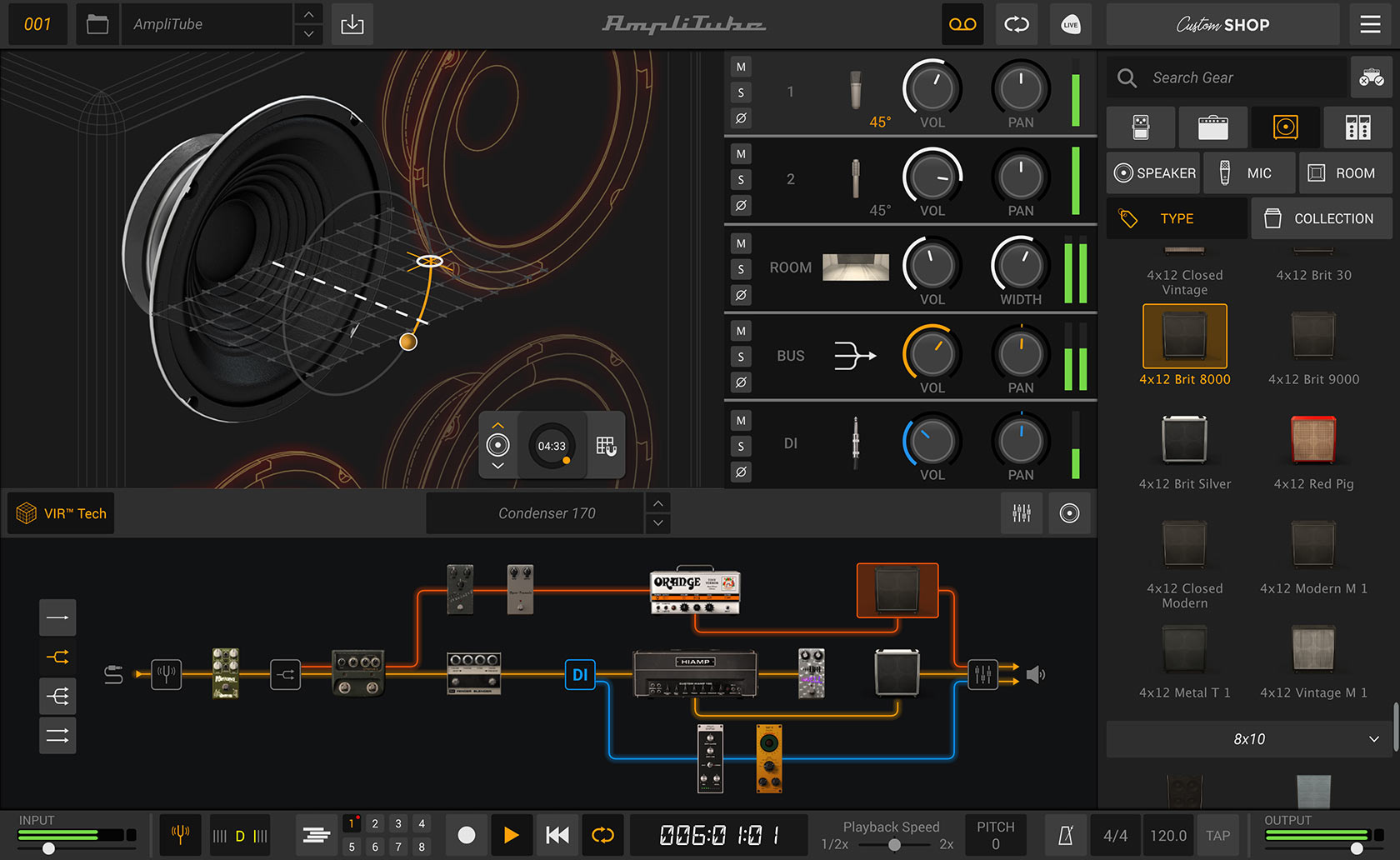 Track your creativity
As a standalone application, AmpliTube 5 also features an integrated 8-track recorder, plus a 4-track looper for quickly capturing your ideas as they come to you. And, of course, you can mix and match your favorite gear with any and all of the new AmpliTube 5 models to create your own one-of-a-kind tones.
If you haven't already, now's a great time to leap ahead with AmpliTube 5.
---
System Requirements
AmpliTube is a 64-bit application and requires a 64 bit CPU and Operating System.
Mac® (64-bits)
Minimal: Intel
®
Core
™
2 Duo, 2 GB of RAM (4 GB suggested), Mac OS X 10.7 or later.
Supported Plug-in formats (64-bit): Audio Units, VST 2, VST 3, AAX.
Windows® (64-bits)
Minimal: Intel
®
Core
™
2 Duo or AMD Athlon
™
64 X2, 2GB of RAM (4 GB suggested), Windows
®
7, Windows
®
8 or Windows
®
10. Requires an ASIO compatible sound card.
Supported Plug-in formats (64-bit): VST 2, VST 3, AAX.
Internet connection is required as all of the Custom Shop operations are web based.

You may also be interested in: