You're currently on:
AmpliTube Joe Satriani
Shredding with the Alien
now in AmpliTube Custom Shop
Surfing. Flying. Shredding. For over 30 years, the soaring melodies, amazing soundscapes and soulful technique created by Joe Satriani have inspired countless musicians and pushed the limits of rock guitar. From his very first solo EP to his work with supergroup Chickenfoot, Joe somehow keeps one foot in the blues and one in the stars.
vailable in a convenient desktop app and plug-in for your DAW, AmpliTube Joe Satriani replicates 3 amps, 3 cabinets, and 5 stompbox effects, all carefully modeled and loaded with presets, all under the supervision of the man himself. Whether you're looking for his most iconic sounds or for inspiration on your own musical journey, AmpliTube Joe Satriani gives you unstoppable momentum.

Straight from Professor Satchafunkilus
IK worked meticulously with Joe to capture his go-to gear and favorite settings to get the secrets behind some of his most iconic sounds.
From Joe's signature Marshall® amp to his personal stompboxes, this collection includes iconic gear from the '70s, 80's, '90s and beyond. Hear what a dream studio rig can do when in the hands of a master.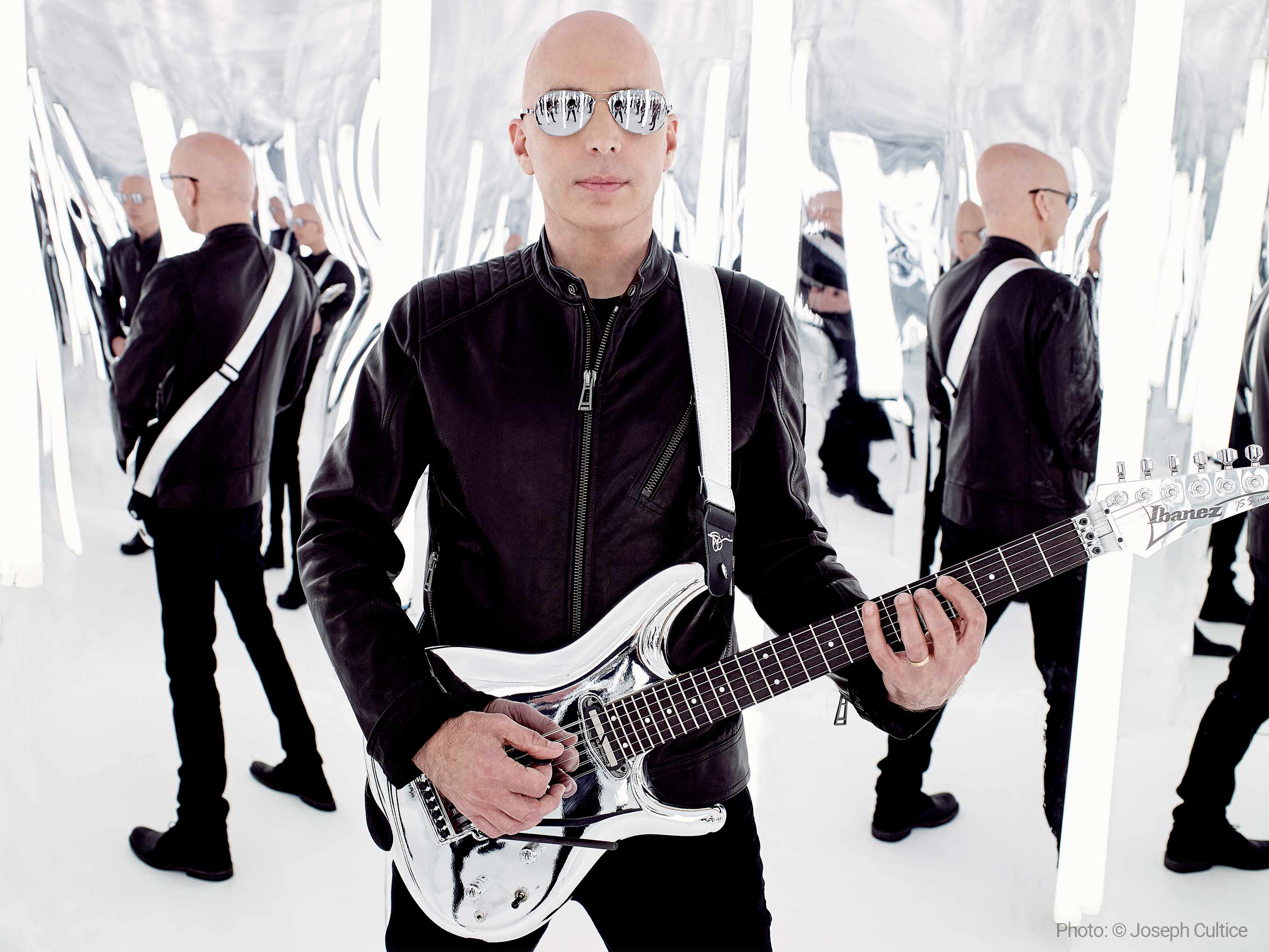 What's included in AmpliTube Joe Satriani
AmpliTube Joe Satriani features 11 brand new models including 3 amps, 3 cabinets and 5 stomps. With models based on Joe's signature Marshall® JVM410HJS, a completely re-modeled Peavey® 5150, a Scholz® Rockman™, plus a range of classic pedals from Fulltone™, BOSS® and more, it's a massive gear collection that's simply not of this earth.
Satch VM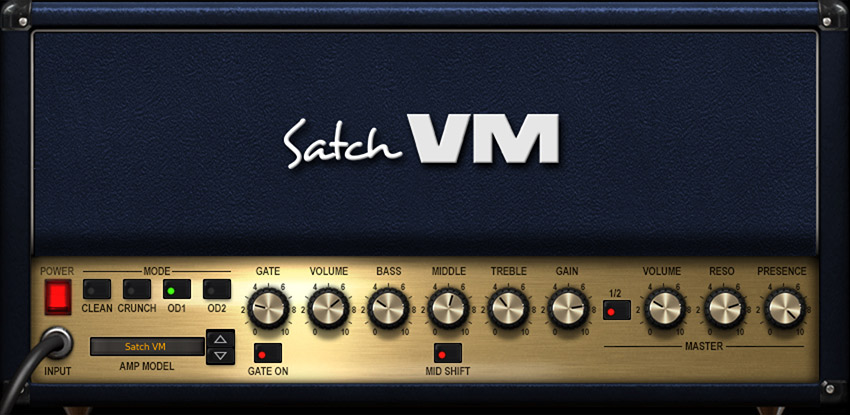 SJ50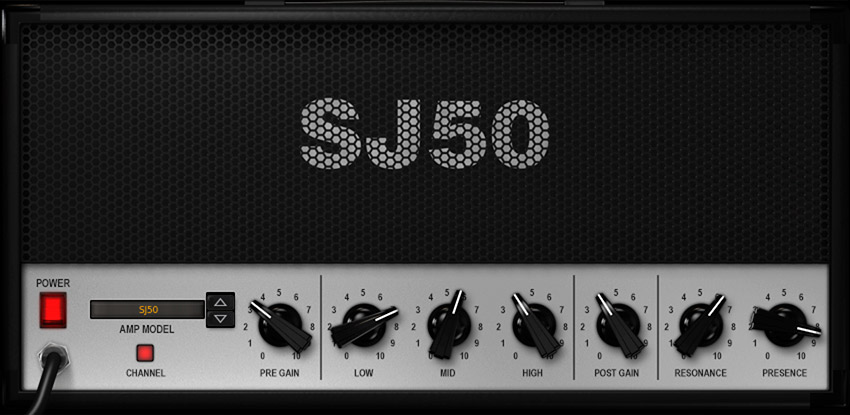 Boston 100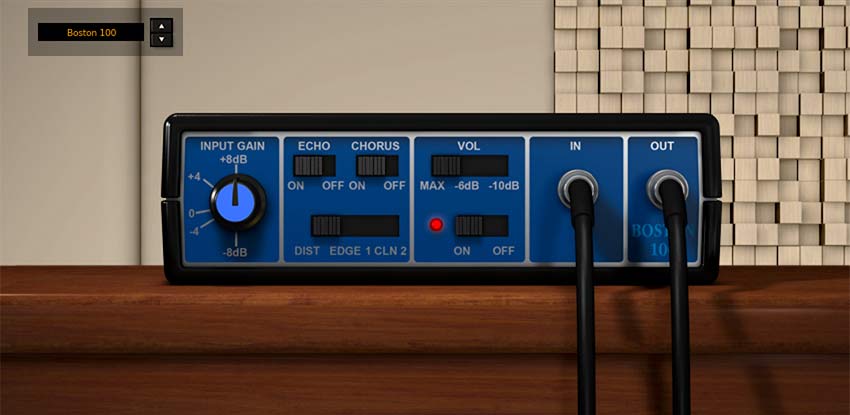 3 Amplifiers
Satch VM
Based on the Marshall® JVM410HJS, this versatile four-channel amp offers incredible tones possibilities. Customized to Joe's unique design, this amp offers three modes per channel, along with independent noise filters and re-biased presence & resonance controls.
SJ50
Based on the Peavey® 5150, this legendary amp was originally a signature model for Eddie Van Halen, but its iconic sound became soon the staple tone of many hard rock and heavy metal artists, including Joe Satriani himself.
Boston 100
Based on the Tom Scholz Rockman® X100, this early amp sim has long been used in the studio by Joe thanks to its unique take on late 70's rock sound as typified by Boston, with 4 different amp settings and Chorus and Echo effects.
3 Cabinets
Satch Green
'69 Marshall® cabinet with 4 x12 20 watt greenbacks Celestion speakers
Satch 60
Marshall® 1960B cabinet with 4 x12 G12T-75 Celestion speakers.
Boston Cab Sim
Based on the cabinet emulation section of the Rockman X100.
Satch Green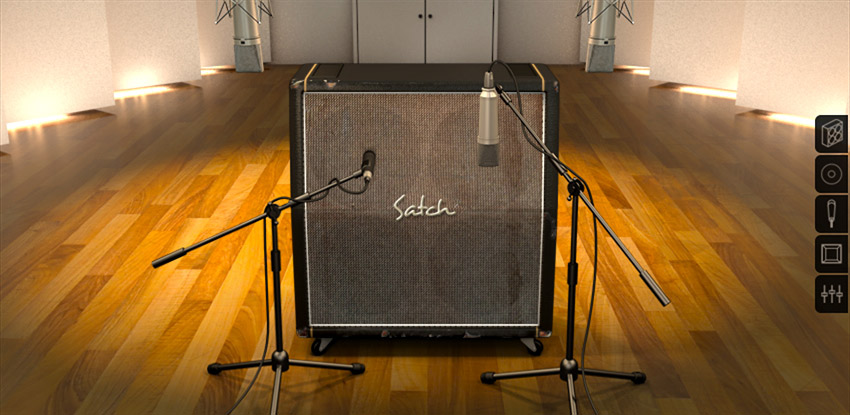 Satch 60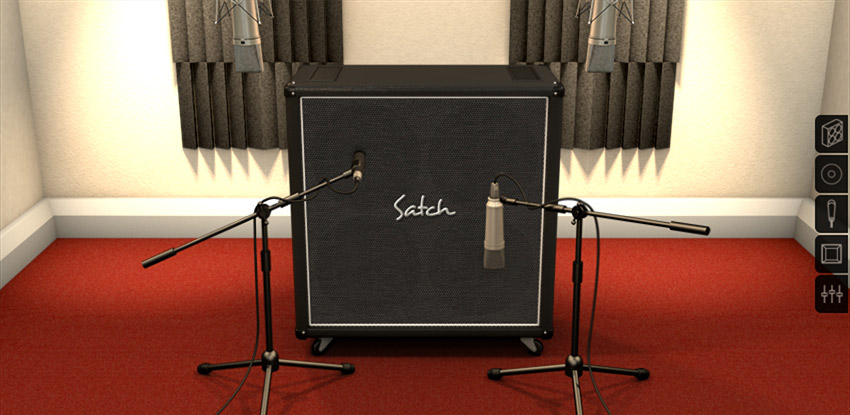 Boston Cab Sim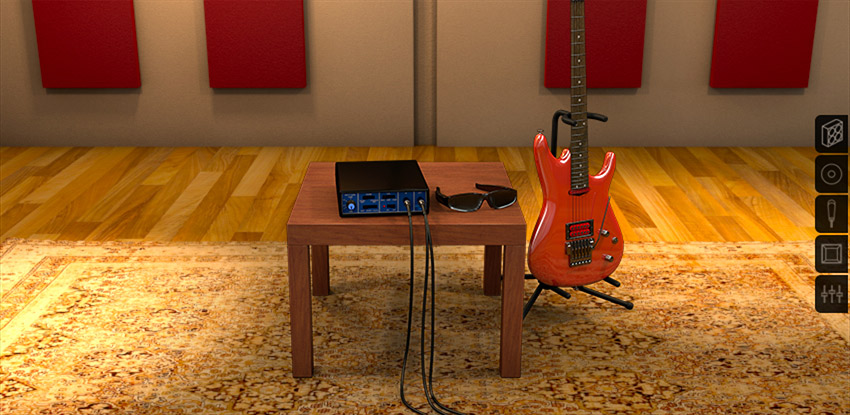 ---
5 Stompboxes
Satch Wah
Based on the Vox® Big Bad Wah, offering two inductor coils each with their own voicing, plus an extra gain drive and normal or 535-type sweep.
Satch Distortion
Based on Joe's personal BOSS® DS-1, an early '80's Japanese-made unit, this legendary distortion unit is one of the most recognizable pedals ever made.
Satch Overdrive
Based on an early '80s Japanese-made BOSS® OD-1, this overdrive pedal has long been a standard for '70s and '80s classic and hard rock.
Tube Overdrive
Based on Joe's personal Chandler® Tube Driver, this overdrive pedal offers generous distortion thanks to its onboard 12AX7 valve.
Satch Octave
Modeled on the Ultimate Octave pedal from Fulltone®, a versatile update of the famous Octavia fuzz with a "Fat / Bright" switch for two different distortion & octave characters.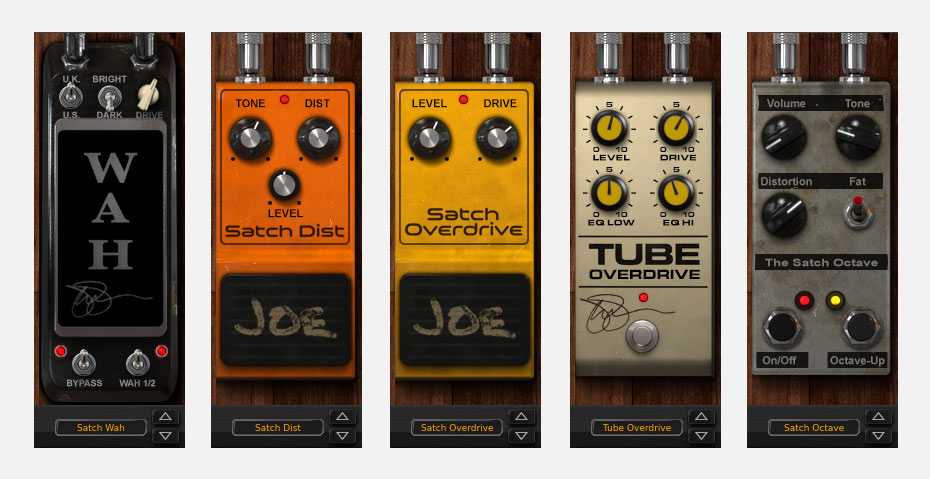 Groundbreaking Modeling Technology
For the AmpliTube Joe Satriani, we used our latest Dynamic Interaction Modeling™ to deliver the highest level of ultra-realistic sound when modeling Joe's gear. The product of 20 years' experience modeling analog gear, DIM™ models the behavior of EVERY component in the circuit all the way down to its smallest nuance and character. IK models have set the industry standard evidenced by our co-branding recognition from the most influential partners in the industry such as Fender®, Ampeg®, Orange®, Soldano® and many more.
Applied to Joe Satriani's rig, the result is the same sound and feel you'd get from the real gear as he used in the recording studio and live in concert.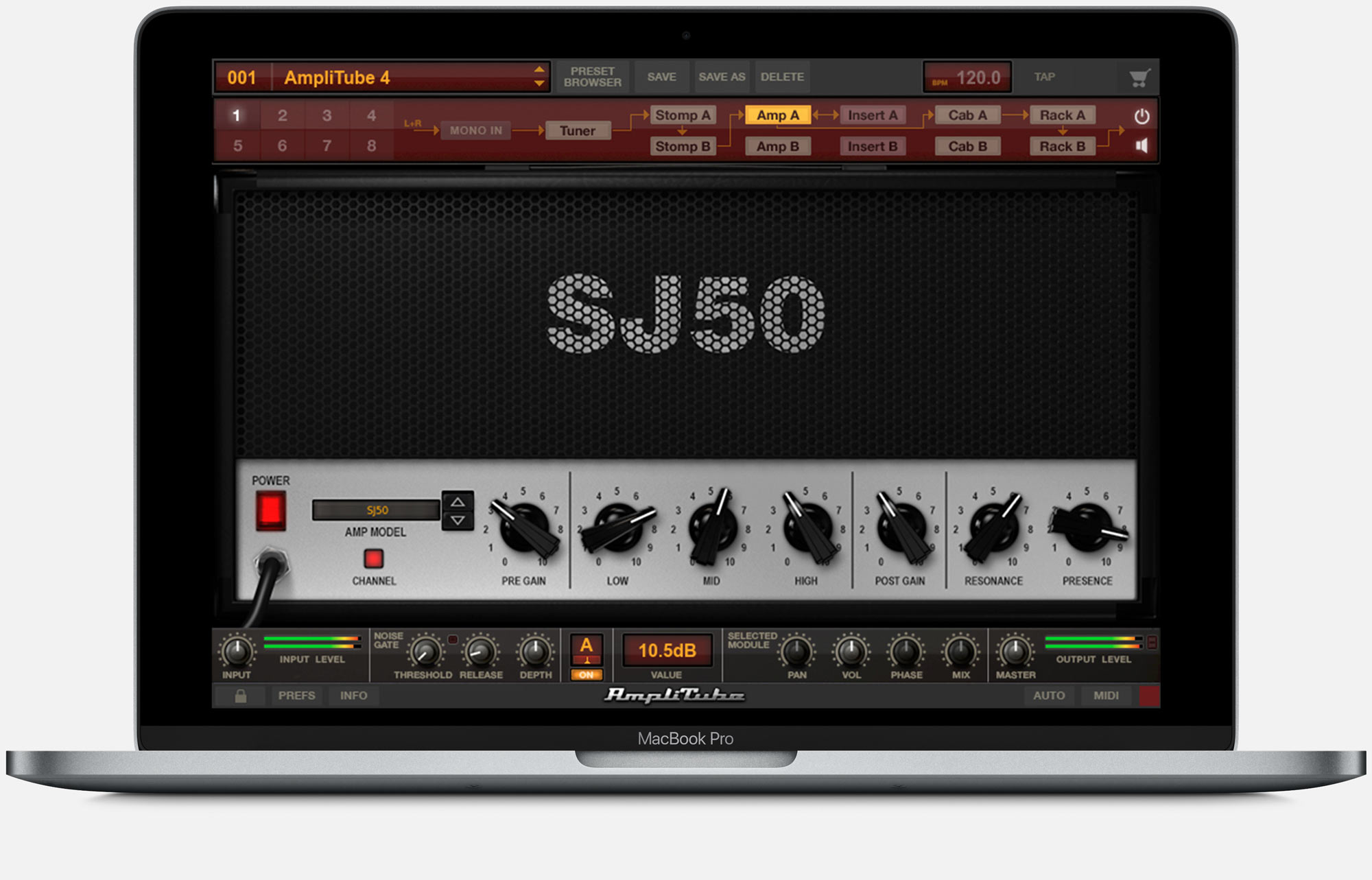 A Time Machine of tone… for free
The AmpliTube Custom Shop is a free software package for your Mac or PC that includes a complete guitar dual signal chain; tuner, pedalboard, amplifier, cabinet, microphone and rack effects section. It comes with 24 pieces of gear and access to our unique online virtual music store where you can purchase the AmpliTube Joe Satriani models either a-la-carte or as a complete collection. You can even create almost any rig you can dream up combining AmpliTube Joe Satriani gear with the universe of gear available to try or buy in Custom Shop.
When used as a standalone application, AmpliTube Custom Shop features a 4-track recorder section and a song-player for easy play-along capabilities. The SpeedTrainer function allows you to slow down the audio so you can learn Satch's signature licks note for note without affecting the pitch.

Specs
Industry-standard sound with DSM™ (Dynamic Saturation Modeling) and VRM™ (Volumetric Response Modeling) technologies offer the most realistic emulation of real world gear and the best sounding models
Perfect as a plug-in for studio recording and mixing in any Mac/Win DAW, native compatibility with 64-bit applications and operating systems
Also perfect for live performance thanks to the standalone version with instant preset switching
Highest supported Sampling Rate: 96 kHz
DAW automation and BPM synchronization
5 separate modules
Rig of up to 12 stomps, 2 Amp heads + 2 Cabs + 2 x double mics and 8 rack effects can be configured in up to 8 serial/parallel configurations
Two movable microphones allow you to mic the cabinet exactly like in real world studio and live environment
Stereo signal path makes it suitable for any type of instrument including drums, keyboards, vocals and more
Perfect integration with IK's range of audio interfaces and floor controllers allows for instant recording and performing in the studio or on stage with full programming at the software level
2-track built-in multitrack recorder with DAW-like features enables you to quickly capture ideas or even record a small band in the standalone application without the need to open a DAW and with the convenience of AmpliTube superior quality audio processing
Imports any Wav, Aiff, sd2, Apple Caf, Flac, MP3 audio file (Standalone version)
SpeedTrainer for speeding up/slowing down imported tracks without affecting the pitch – the perfect tool for practicing and improving your instrument skills or learning your favorite riffs and solos (standalone version)
System Requirements
AmpliTube is a 64-bit application and requires a 64 bit CPU and Operating System.
Mac® (64-bits)
Minimal: Intel® Core™ 2 Duo, 2 GB of RAM (4 GB suggested), macOS 10.7 or later.
Supported Plug-in formats (64-bit): Audio Units, VST 2, VST 3, AAX.
Windows® (64-bits)
Minimal: Intel® Core™ 2 Duo or AMD Athlon™ 64 X2, 2GB of RAM (4 GB suggested), Windows® 7, Windows® 8 or Windows® 10. Requires an ASIO compatible sound card.
Supported Plug-in formats (64-bit): VST 2, VST 3, AAX.
Internet connection is required as all of the Custom Shop operations are web based.