You're currently on:

One giant leap for ampkind
Legendary guitar/bass gear on your Mac/PC
Captures the sound, feel and vibe of over 400 of the most sought-after guitar & bass gear ever.
Developed with top brands & artists
Official gear from icons like Fender®, Mesa/Boogie®, Orange®, Slash, Brian May, Joe Satriani and many more.
Covers the entire signal chain
Stomps, amps, cabs, speakers, mics, rooms and rack FX all in one interface, all routed the way you want.
All-in-one recording & performance studio
With an 8-track recorder + DAW, looper, tuner, practice tools and live features all in one.
Powerful recording in your favorite DAW
Works as an AAX / VST / AU plug-in to create killer guitar tracks anywhere.
The most realistic tones ever
IK's DIM™ and VIR™ technology ensures AmpliTube nails the tone and feel of every piece of gear like never before.
What's new in AmpliTube 5
All new signal chain & routing freedom
An all-new drag & drop signal chain supports up to 57 simultaneous models, series / parallel routing and blended DI signal for unprecedented creative freedom.
New Cabinet section with VIR™ technology
Powerful new "Volumetric Impulse Response" radically transforms all 100+ cabinets in AmpliTube 5 with over 143,000 impulse response measurements in all.
Custom IR loader
Load, tilt and re-size your own impulse responses in place of any cabinet.
New Mixer with built-in effects
A new mixer lets you easily blend multiple cabs, mics and DI, with 19 new mixing effects, include some from T-RackS 5 to add a final studio sheen to any track.
New Gear
129 brand new models, including 2 new stomps, 5 acclaimed amps, 2 new rooms, 19 new rack FX and over 100 completely re-captured cabinets.
Totally re-designed Custom Shop
Adds a more modern, easy-to-navigate design, and allows users to demo and unlock gear faster than ever.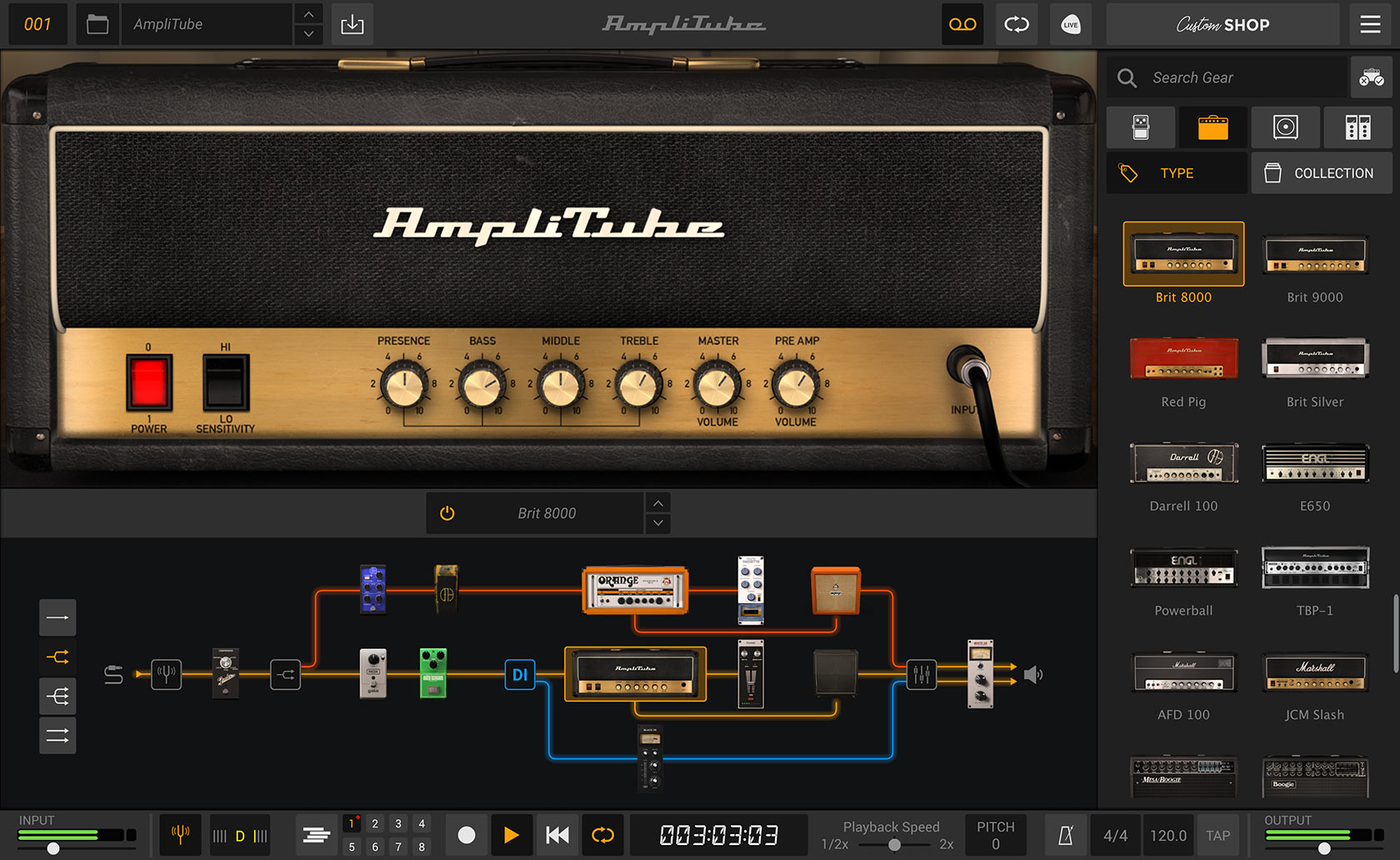 Choose the version of AmpliTube 5 that's right for you
AmpliTube 5 CS
Your free entry into the world of AmpliTube, with 39 pedals, amps, cabs, speakers, racks, mics & rooms.
AmpliTube 5 SE
Unlock the power of AmpliTube 5 with 77 models covering all the "must-have" gear.
AmpliTube 5
Super-charge your tone with over 170 gear models.
AmpliTube 5 MAX
Go all-in. Over 400 gear models, including:
Fender® Collection 1 & 2
AmpliTube SVX 1 & 2
AmpliTube Orange®
AmpliTube Mesa/Boogie®
AmpliTube Slash
AmpliTube Jimi Hendrix™
AmpliTube Brian May
Dimebag Darrell CFH Collection
AmpliTube Joe Satriani
Fulltone® Collection
AmpliTube Leslie®
---
Home of the Legends of Tone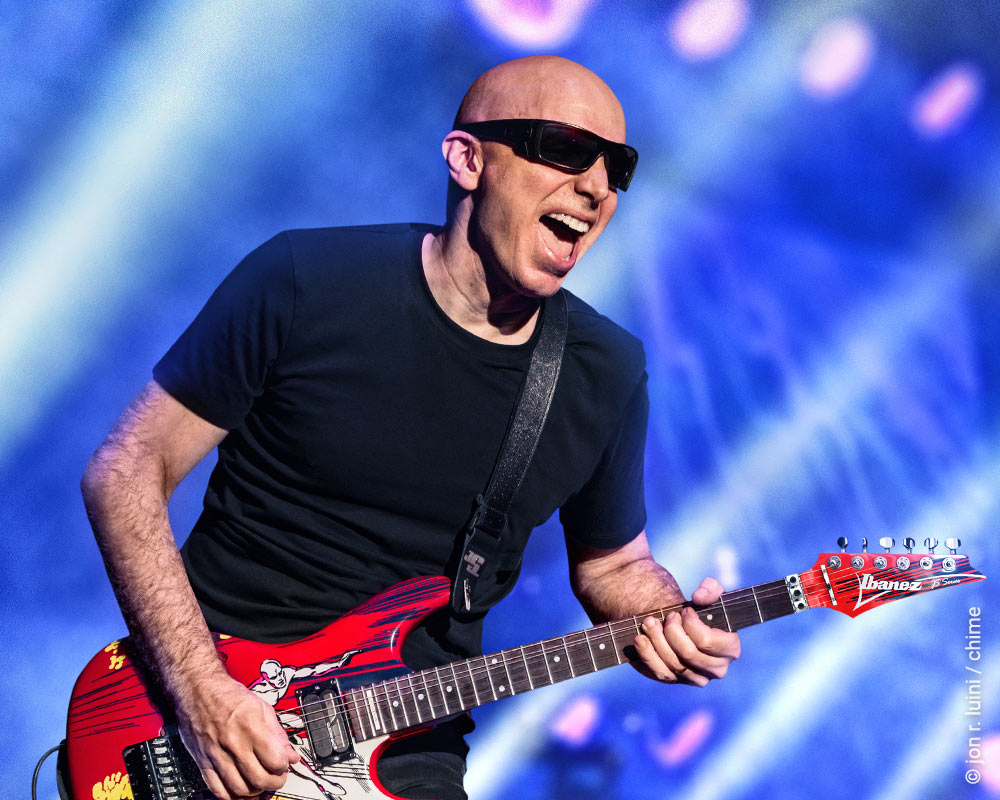 AmpliTube
Joe Satriani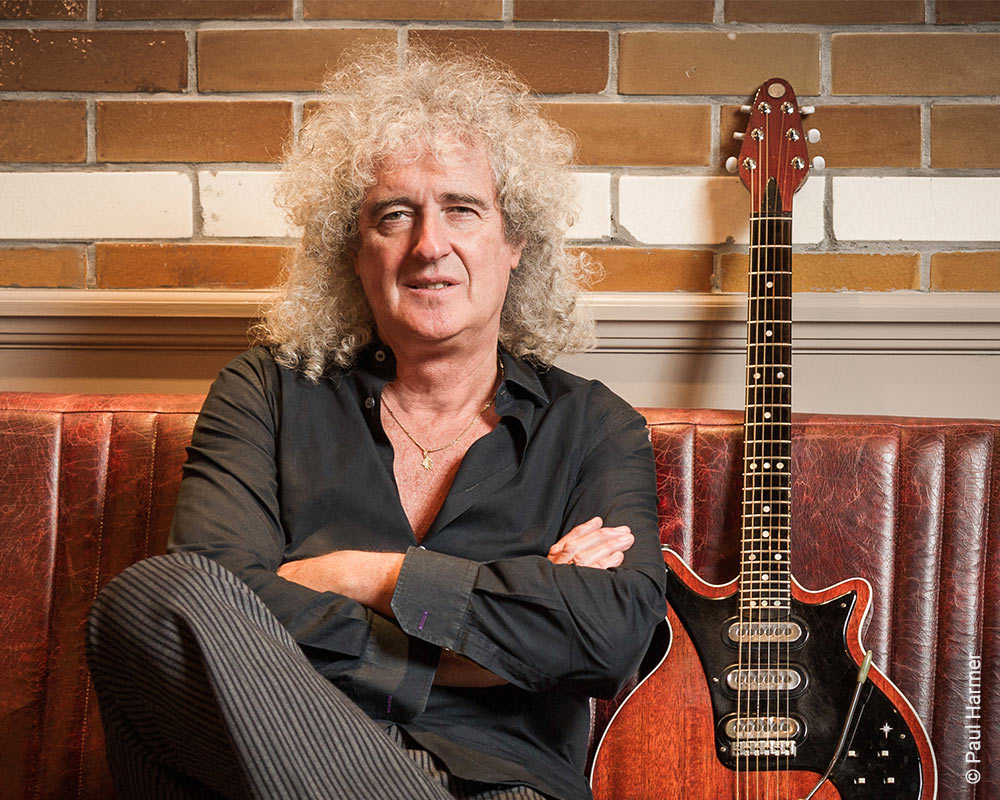 AmpliTube
Brian May
AmpliTube
Slash
Dimebag Darrell
CFH Collection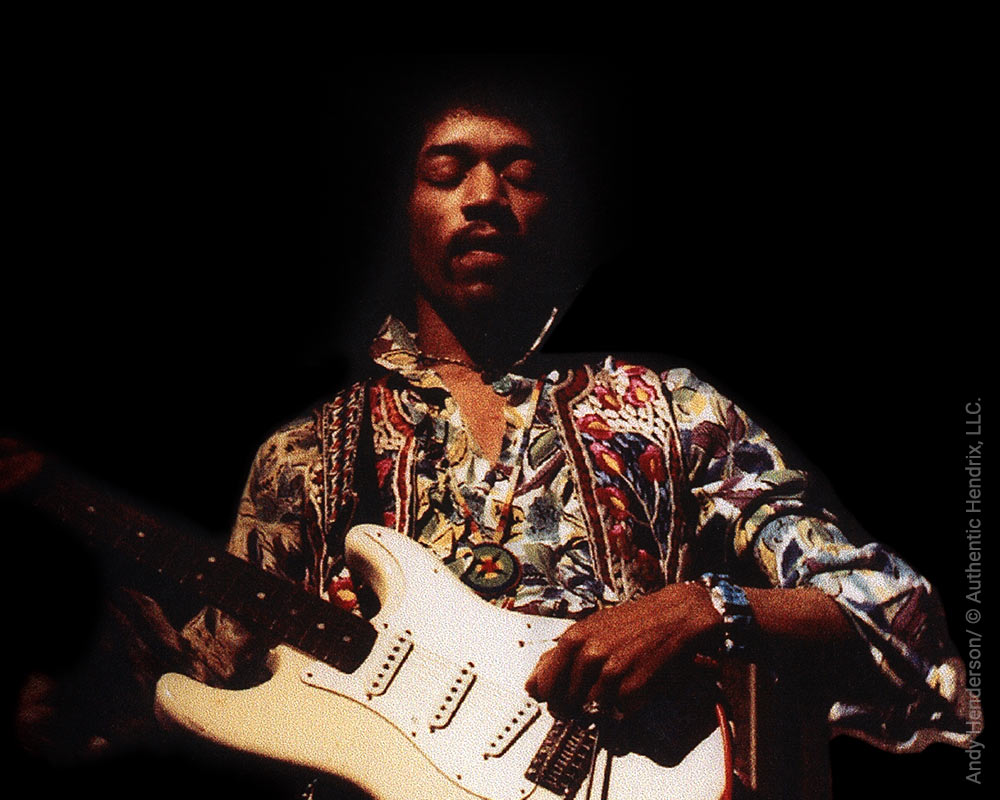 AmpliTube
Jimi Hendrix
Anniversary
The highest standard of accuracy and realism
Forged by 20 years of research and collaboration with the industry's top brands and artists, IK's Dynamic Interaction Modeling™ captures every nuance of each gear model. And AmpliTube 5 premieres our Volumetric Impulse Response™ engine, leveraging over 600 distinct impulse responses per speaker to set a new standard in cabinet sampling.
Over 400 gear models, right at your fingertips
AmpliTube 5 offers the industry's widest selection of stomps, amps, cabs, speakers, mics, and rack FX. Mix and match to your heart's content to duplicate any tone with stunning authenticity or forge your own unique sonic combinations.
Play, practice and record with powerful tools
AmpliTube 5 offers powerful tools whatever your goals. With an 8-track recorder with integrated DAW and mixer, it's the ideal musical scratch pad; an advanced looper for songwriting or jamming, high-precision UltraTuner, stage-ready Live Mode and much more, AmpliTube 5 offers a powerful collection of tools.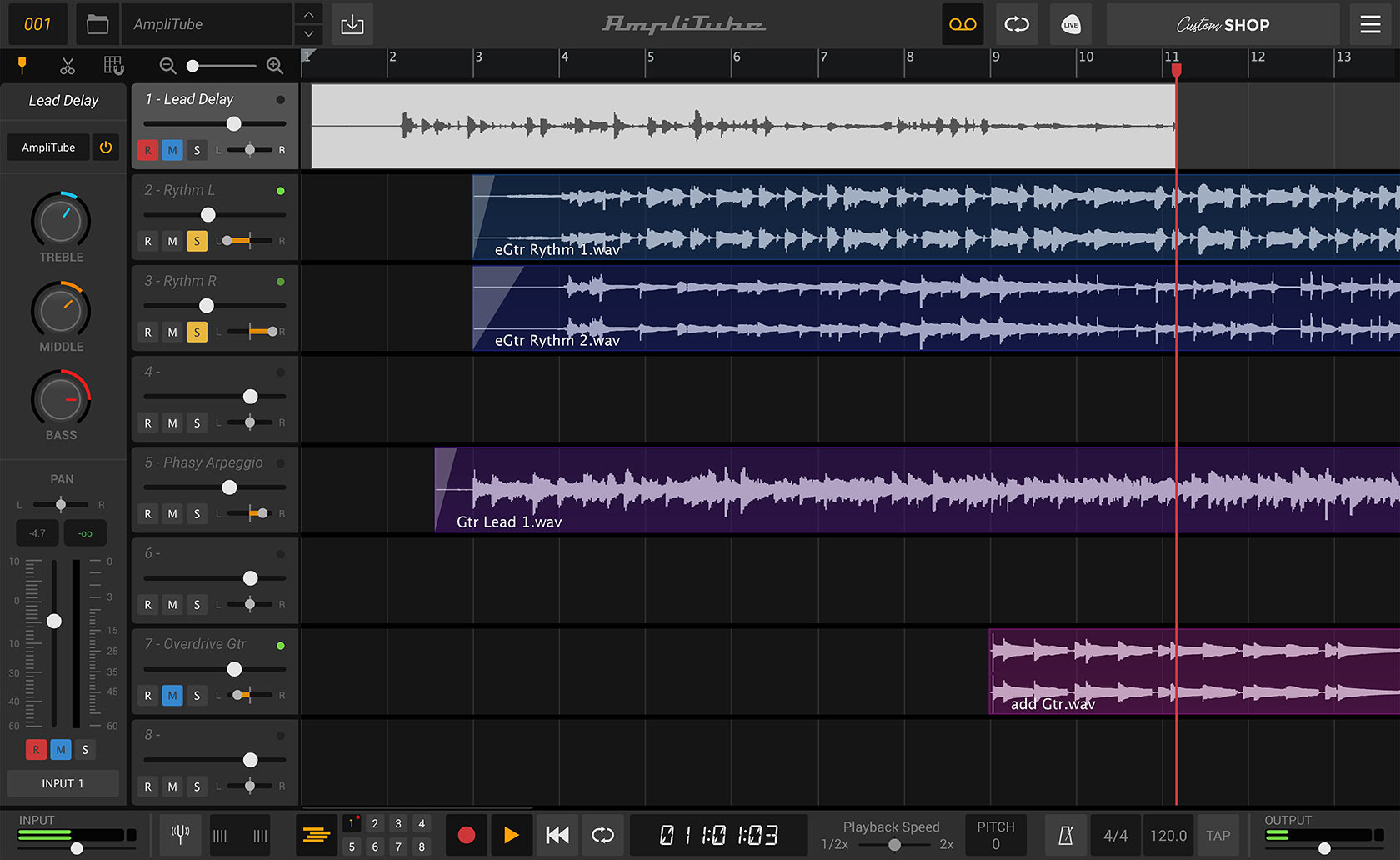 Specs
Fully redesigned Graphical User Interface
Re-sizable display
New VIR™ Volumetric Impulse Response cabinet engine
Up to 2,400 impulse responses per cabinet
New impulse response loader
Fully redesigned power amps section with new impedance matching
Improved chains with custom routing options
Expanded rig with up to 57 simultaneous FX
Over 400 gear models
New effects derived from T-RackS
Industry-standard sound with DSM™ (Dynamic Saturation Modeling) and VRM™ (Volumetric Response Modeling) technologies for Hyper-Realistic emulation of real world gear and the best sounding models
Dynamic Response Modeling provides real amp response and feel — models dynamic relationship and interaction between power amp and speakers, plus physical and harmonic interaction between individual speakers, cabinet and room construction and mics
Perfect as a plug-in for studio recording and mixing in any Mac/Win DAW, native compatibility with 64-bit applications and operating systems
Also perfect for live performance thanks to the standalone version with instant preset switching via MIDI control
Highest supported Sampling Rate: 96 kHz
DAW automation and BPM synchronization
Two movable microphones allow you to mic the cabinet exactly like in real world studio and live environment
Replace individual speakers in cabinets (12" speaker models)
31 individual speaker models available with more added to Custom Shop
Stereo signal path makes it suitable for any type of instrument including drums, keyboards, vocals and more
Massive database of presets with multiple guitar and bass oriented tags and keywords, advanced search function and more
Perfect integration with IK's range of audio interfaces and controllers such as iRig AXE I/O, iRig Stomp I/O, iRig HD, iRig Pro, iRig 2 allows for instant recording and performing in the studio or on stage with full programming at the software level
8-track built-in multitrack recorder and DAW enables you to quickly capture ideas or even record a full 8-track composition in the standalone application without the need to open a DAW and with the convenience of AmpliTube superior quality audio processing
Multi-Track Looper for capturing and layering ideas quickly and easily
Export loops to hard drive and import into the DAW section, import audio to track 1 in looper for playing over backing track loop
Imports any Wav, Aiff, sd2, Apple Caf, Flac, MP3 audio file (Standalone version)
SpeedTrainer for speeding up/slowing down imported tracks without affecting the pitch – the perfect tool for practicing and improving your instrument skills or learning your favorite riffs and solos (standalone version)
Expandable via the new redesign built-in AmpliTube Custom Shop feature with gear from the world's top manufacturers and artists
Universal upgrade is available to anyone and any previous version of AmpliTube — Restore gear from previous purchases via the Custom Shop
System Requirements
AmpliTube is a 64-bit application and requires a 64 bit CPU and Operating System.
Mac® (64-bits)
Minimal: Intel® Core™ 2 Duo (Intel Core i5 suggested), 4 GB of RAM (8 GB suggested), macOS 10.10 or later. 3 GB of hard drive space.

Requires an OpenGL 2 compatible graphics adapter.

Supported Plug-in formats (64-bit): Audio Units, VST 2, VST 3, AAX.
Windows® (64-bits)
Minimal: Intel® Core™ 2 Duo or AMD Athlon™ 64 X2 (Intel Core i5 suggested), 4 GB of RAM (8 GB suggested). Windows® 7 or later. 3 GB of hard drive space.

Requires an ASIO compatible sound card.
Requires an OpenGL 2 compatible graphics adapter.

Supported Plug-in formats (64-bit): VST 2, VST 3, AAX.
Internet connection is required as all of the Custom Shop operations are web based.
You may also be interested in: