You're currently on: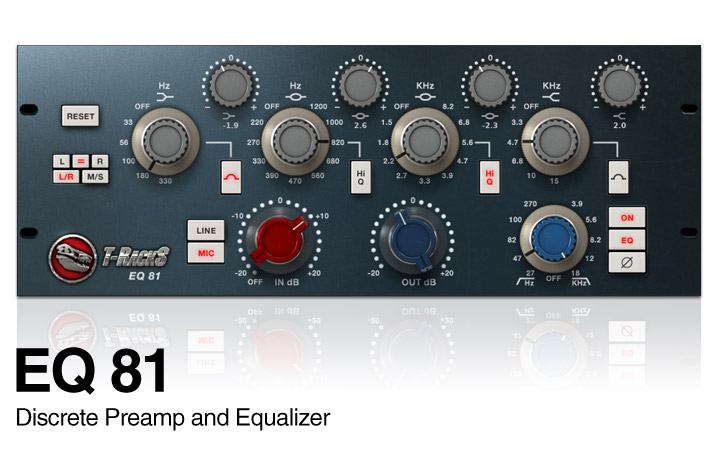 A Legend Reborn
The T-RackS EQ 81 delivers that legendary British warmth and tone with a few twists. The EQ 81 is based on another classic piece of hardware whose character was instrumental in shaping the sound of many hit songs, the EQ 81 can be considered the evolution of its older brother, the EQ 73.
However, there are a few twists that make the EQ 81 capable of delivering a voice of its own. The key here is in the versatility of the EQ section, sporting four independent bands (high / low shelving, plus two midrange peaking filters) rounded out by high and low pass filters this module is particulary useful when a more precise intervention on a track is needed, still maintaining tone and organic, analog warmth in the signal path.

Midrange bands can be switched to high Q for even more selective interventions while the two outer shelving bands can be switched to peaking mode, in case more articulate tone shaping on the frequency spectrum is necessary.
As in the EQ 73 special attention to detail was paid to the matching of the EQ curves which make this EQ so natural and musical sounding. However, we went a step further: the nature and beauty of these designs resides in the interaction of the preamp circuit with the EQ section so we made sure the behavior of the model was as faithful as possible to the original in this regard, a feature that no other emulation of this classic has taken into account and that makes the EQ 81 (and EQ 73 as well) a step ahead of the pack.
There is virtually no audio source this EQ isn't capable of enhancing — midrange critical sources like vocals, acoustic or electric guitars, will benefit from the extended EQ capabilities, where the key frequencies are precisely tailored to always deliver musical results.
Obviously given its complete feature set the EQ 81 is at home on any source track like drums, bass, piano and strings. The low shelving band delivers fullness and punch without ever sounding boomy, high shelf adds air and shine and the midrange is so sculpted and precise that the track will fit in the mix while still maintaining its focus, clarity and 3D image.
---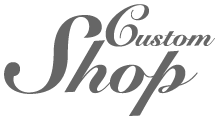 The Custom Shop
This audio processor module is part of T-RackS CS "Custom Shop" Mixing and Mastering Plug-In Collection. With T-RackS CS you can:
install all of the available modules at once
directly access Custom Shop online store from the module for immediate trial or purchase
try out any processor for a full 14 day trial period
purchase any module with credits (via Custom Shop) or currency (via Custom Shop or IK online store)
Specs
Fully compatible with Mac OS X (Universal Binary), and Windows (XP / Vista / 7 / 8)
Supported Plug-in formats: VST, RTAS, AAX, and Audio Units
Works within the T-RackS CS Standalone application
High-quality oversampling
High-precision and high-transparency digital processors
Accurately analog-modeled vintage classic devices
Full-latency compensation support
Supports sampling rates up to 192 kHz
DSM™ and SCC™ proprietary IK technologies for extremely accurate digital models of analog hardware devices
Native compatibility with 64-bit applications and operating systems
System Requirements

Mac® (64 bit CPU, 32 or 64 bit Mac OS)
Minimal: 1.5 GHz Intel processor, 1 GB of RAM, Mac OS X 10.6 or later.
Supported Plug-in formats: Audio Units, VST, RTAS, AAX (32 and 64-bit).
Note: on 64 bit systems, the plug-in also works in 32 bit compatibility mode.

Windows® (32 and 64 bit)
Minimal: Intel® Pentium 4® 2.4 GHz or Intel® Core™ Duo or AMD Athlon™ 64,
1 GB of RAM, Windows® XP, Windows® Vista, Windows® 7 or Windows® 8.
Supported Plug-in formats: VST, RTAS, AAX (32 and 64-bit).
You MUST be connected to the Internet as all of the Custom Shop operations are web based.


You may also be interested in: