You're currently on:

SampleTank MAX
All the sounds you want, all the sounds you need and then some!
Now put the power of a fully-loaded 52 GB SampleTank sound and groove workstation into all of your recordings for one low price
An entire universe of sound at your fingertips.




MAX: SampleTank 3 plus 22 additional instrument libraries
There's a vast universe of sounds out there that's ready to be explored.
SampleTank MAX
for Mac/PC gives you complete, open and unrestricted access to an absolutely massive 52GB library of instruments, loops, MIDI patterns and more. SampleTank MAX gives you a palette with beautiful samples of just about every single instrument ever created from acoustic to electric, ethnic to electronic and beyond.
With SampleTank MAX, you get SampleTank 3 and 22 SampleTank 3 Custom Shop Instrument Collections.
Over 52 GB of samplesOver 4,600 instruments with 21 instrument categoriesOver 7,400 drum, percussion and full construction-kit loopsOver 3,500 MIDI patterns
Quite simply, SampleTank MAX is the most complete version of the ultimate sound and groove workstation ever released. And, what's more, it gives you all of this sonic flexibility for one incredibly low price that's
70% off
what it would cost if you were to buy each of the instrument collections in this all-inclusive bundle individually.
Included sounds
It's called "MAX" for a reason: SampleTank MAX comes with the full version of SampleTank 3 plus all the following 22 Instrument Collections:
Alan Parsons Imperial Grand
Art Deco Piano
Brandenburg Piano
American Acoustic
Billy Cobham Drums
Cinematic Percussion
Future Synths
Hugh Padgham Drums
Neil Peart Drums
Terry Bozzio Drums
Chillout
Deep House
Drum'n'Bass
Hardcore
Indie Dance
Minimal
Techno
Trance
Nanotube
NRG
Power Up
The Grid

SampleTank MAX has you covered no matter what genre of music you create from jazz to techno, country to pop and more — it's all here, in one place, just waiting to help you make your next masterpiece.
Maximum creativity
SampleTank 3's universe of sounds is already pretty big. But SampleTank MAX's library is astronomically huge. Its
52GB
library comes with
over 4,600 instruments
that incorporate the main SampleTank 3 collection as well as those in the SampleTank 3 Custom Shop Instrument Collections. You can harness your creativity and explore the music of your mind by using its 3 sophisticated sampling engines,
10 filter types
,
55 high-quality effects
and comprehensive
16-channel DAW-style recording tools
that have made SampleTank 3 such a popular product among musicians, composers and other discerning producers across the world If you can think of a sound in your head, you can probably find it in SampleTank MAX. And if you can't, you can use advanced features to quickly and easily design the sounds of your dreams.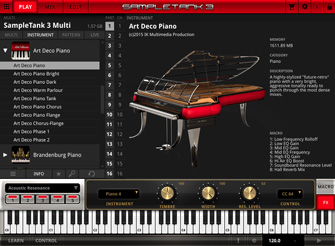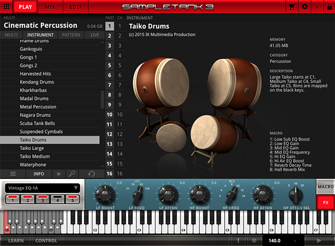 Ready when you are
SampleTank MAX works as a standalone sound and groove workstation for your Mac/PC, and it can also be used as a 64-bit AAX, VST or Audio Units plug-in inside your DAW of choice. As a workstation, it provides you with a 16-channel multi-part interface with easy layering, an integrated MIDI player and a mixer that you can use to compose directly inside SampleTank itself.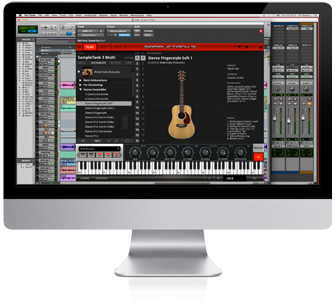 plug-in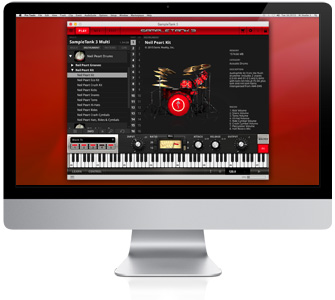 standalone
SampleTank MAX is also part of the Total Studio MAX Bundle — the complete collection of IK software MAX titles for the studio.
Specs
SampleTank MAX
Works as a multi-platform plug-in and as a Standalone application
Content structured in Instruments, Multis and MIDI Patterns
Fully compatible with Mac OS X and Windows
Supported plug-in formats: AAX, VST, and Audio Units
16 part multitimbral
16 individual stereo outputs
Info view with specific information and 3D icon for each instrument
Mix view and full mix parameters control
Live mode for instantaneous sounds loading, organized in set lists and songs
Expandable instrument library via the Custom Shop
Pad interface lets launch patterns, loops or single notes seamlessly from iRig Pads or any MIDI controller
55 studio quality effects
Part Range Controls allows for creating splits and layers
Edit view for in depth editing of all synth engine parameters, independently for all the elements or articulations that are included in the instrument
Instrument browsing
BPM syncable time-based effects, audio loop instruments and LFOs
Four play modes including mono legato with portamento.
Zone switch allows to edit individual key-zones for the selected sound elelement or articulation
Multi Articulation and Key Switch instrument control
Easy to use assignable MIDI control to any parameter with MIDI Learn
Instrument and Multi saving
Convenient Search function for Instruments, Multis and Patterns
Compatible with all previous "Powered by SampleTank" sound modules and sounds (can import all previous sounds and Combis)
3 Synth Engines
STRETCH™
Pitch-Shift/Time-Stretch
Resampling
Effects list
Full Amps
: American Vintage T, Amp Combo, British Tube Lead 2, Jazz Amp 120, Modern Tube Lead, SVT Classic
Amp Components
: Cabinet, Preamp, Tone Control
Distortion
: Overscream, Distortion, Crusher, Overdrive
EQ and Dynamics
: Black 76, Model 670, White 2A, Vintage EQ-1A, Compressor, Parametric EQ, EQ Comp, Limiter
Modulation
: Chorus C1, Opto Tremolo, Electric Flanger, Rotary Speaker, Uni-V, Small Phazer, AM Modulation, Multi Chorus, Chorus, Phaser, Env Flanger, Tremolo, Flanger, FM Modulation
Reverb and Delay
: Acoustic Resonance, Tape Echo, Hall Reverb, ConvoRoom, Plate Reverb, Reverb, Ambience, Reverb Delay, Delay, Spring Reverb
Filters / Other
: Piano Lid, Stereo Imager, Auto Pan, Multi Filter, LFO Filter, Phonograph, Env Filter, Slicer, Lo-Fi, Wah
4 Play Modes
Poly
Mono
Legato 1
Legato 2
Sounds
Over 52 GB of included sounds
Over 4,600 instruments with 21 instrument categories
Over 7,400 drum, percussion and full construction-kit loops
Over 3,500 MIDI files
---
System Requirements
SampleTank is a 64-bit Plug-in and requires a 64 bit CPU and Operating System.
Mac® (64-bit)
Minimal: Intel® Core™ 2 Duo, 4 GB of RAM (8 GB suggested), Mac OS X 10.7 or later. 34 GB of hard drive space.
Supported Plug-in formats (64-bit): Audio Units, VST 2, VST 3, AAX.
Windows® (64-bit)
Minimal
: Intel
®
Core
™
2 Duo or AMD Athlon
™
64 X2, 4 GB of RAM (8 GB suggested), Windows
®
7, Windows
®
8 or Windows
®
10. 34 GB of hard drive space. Requires an ASIO compatible sound card.
Supported Plug-in formats (64-bit)
: VST 2, VST 3, AAX.
You may also be interested in: