You're currently on:

Bring the sound of classic consoles into your productions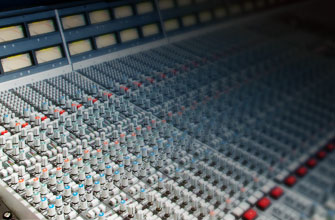 Many of the most famous large-format consoles are British in origin, and this collection lets you tap into the processors and channel strips of those classic mixers. The processors in this collection offer a powerful and flexible toolkit to the mixing engineer, putting the sound and power of revered large-format analog mixing consoles in a convenient DAW format. Analog sound comes in two flavors: 80's vintage from British Channel, or modern high-definition with White Channel. In addition, you get a spot-on emulation of the most popular bus-compressor of all time.
British Channel

British Channel has all of the character of the console that started the revolution, which was the de-facto standard used in countless rock and pop hits from the '80s and '90s (and still is a killer tool today in may top-level studios). Designed for tonal control, the precision and trademark sound of its 4-band EQ let you shape any track to fit in the mix. This tone monster's "split personality" allows you to take full advantage of either of the two EQ circuits (Black or Brown), which come from two different models of the console, and offer different frequency ranges and curves. Hi- and Lo-pass filters add even more control to rule out unwanted frequencies
White Channel

White Channel is the modern counterpart of British Channel, and features extended bandwidth and a pristine sound that helped define countless R&B hits from the '90s to the present. As with British Channel, the power of this channel strip resides in the complete set of features that top off its toneful EQ. The compressor and gate/expander will make dynamics control of each track easy and precise, with unmatched routing flexibility, because the dynamics section can be placed pre or post EQ. The input/output section can be used to drive the dynamics section harder, letting you create some pretty wild compression effects.
Bus Compressor

Bus Compressor provides an accurate emulation of the 2-bus compressor that's probably been used more than any other in professional studios. The original unit was found in the same two consoles that British and White Channel are based on, and is the "not so secret weapon" used by countless professionals to give their mixes that "magic touch." Strapping it across the stereo bus of your DAW instantly turns your mix...into music. Just a slight touch of gain reduction at low to mid ratios lets you access the famous "glue effect." Bus Compressor can also be used to hit hard as the situation calls for it, whether in heavily squashed parallel compression applications or straight-on submixed drum tracks.
Gorgeous tone, in a DAW or on its own
You can open T-RackS modules as single plug-ins inside your DAW, or under an integrated plug-in shell that can host up to 12 modules at a time in 8 plug-in slots, and create complex signal chains.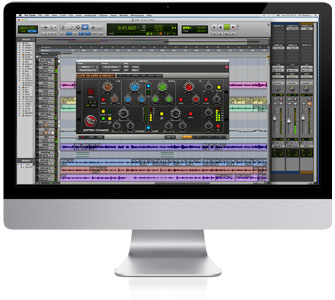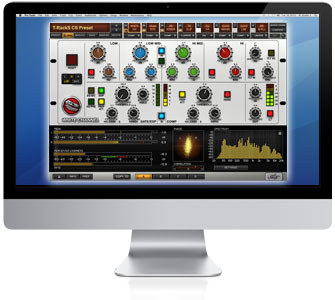 If you'd prefer, you can run T-RackS as a standalone application. If you have IK's ARC System 2, when you open T-RackS in standalone mode, the ARC processing will be seamlessly integrated into the signal chain.
---
Features
3 processors
Modules can be opened under T-RackS shell or as individual plug-ins
Custom Shop functionality lets you purchase additional modules from inside the program
Complete built-in metering section with Peak, Perceived Loudness, Phase, and RMS meters, plus a Spectrum analyzer with Peak, RMS and Averaging indicators
Standalone integration with ARC System 2 processing
All processors available as individual plug-ins
64-bit native support
32-bit 192 kHz support
High-fidelity oversampling for high-quality audio processing through the entire signal path
SCC™ technology coupled with IK's unique DSM™ technology provides the most realistic software emulation of vintage gear to date
Extremely easy to use, with style-based presets, full chain visualization, one-click single module or chain bypass, "compare" function and more
What's new
32- & 64-bit AAX Compatibility. Will run in Pro Tools 11 and under AAX in Pro Tools 10
Quad Series processors including Quad Comp, Quad Lim, Quad Image, and De-Esser
The new British Channel, an incredibly accurate emulation of the dynamics and EQ section of a channel strip from one of the most legendary mixers of all time
Custom Shop feature, which can be turned on from within T-RackS, lets you browse, audition, and purchase new modules from our ever-expanding collection
Future-proof your studio with Custom Shop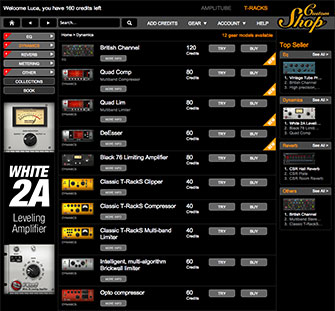 | | |
| --- | --- |
| Variant | 1 |
| Specials | Jan 10, 2018 |