You're currently on:

Massively flexible
The beauty of the approach lies in the fact that it's highly effective for sculpting vocals to suit any style of music. Between the 3 compressors you can add focus, grit, warmth, weight, clarity – whatever vintage or modern sound best suits the mood and vibe of the music.
Take it from the master
T-RackS Joe Chiccarelli Vocal Strip includes a wide variety of presets from Joe himself, saving you precious time and making it easy to get amazing results. Mix with them right out of the box or use them as springboards to develop your own custom presets. Along the way you'll gain valuable insight into the mind of a mixing master and learn how he uses his signature signal chain to achieve specific results.
With T-RackS Joe Chiccarelli Vocal Strip, it's like having Joe by your side, helping you produce better recordings faster. Vocals no longer compete with instruments, but all work together to make each song a winner.

The power of T-RackS
Like all T-RackS plug-ins, T-RackS Joe Chiccarelli Vocal Strip offers you two ways to work: as a single plug-in, or inside the T-RackS 5 shell.
The T-RackS shell offers a unique, modular system with up to 16-processor chains, series & parallel routing, easy A/B/C/D comparison, up to 192 kHz / 32-bit floating-point processing and much more, in both a plug-in and stand-alone mastering application.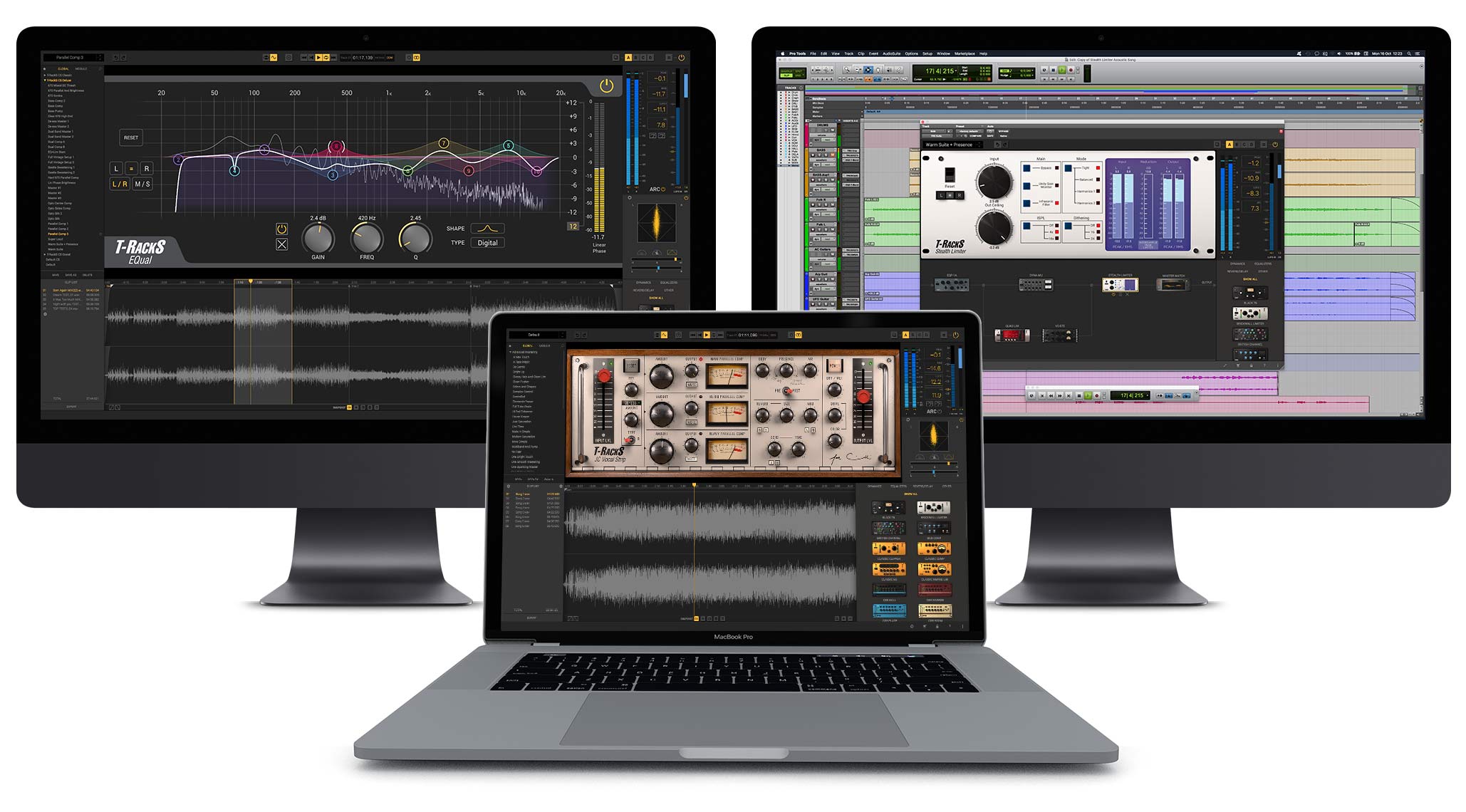 Unparalleled vocal processing
Joe Chiccarelli's complete vocal chain in a single plug-in
Exact models of 3 iconic compressors working in parallel
Unique analog parallel workflow offers incredible versatility
Includes optimized de-esser, EQ and custom effects section
Works for all music genres and vocal styles
Includes a variety of specifically designed presets
A part of the T-RackS Custom Shop
Use as a single plug-in or part of the T-RackS 5 Shell
64-bit native support
32-bit 192 kHz support
T-RackS Custom Shop integration
Specs
Works within the T-RackS CS Standalone application and as plug-in
High-quality oversampling
High-precision and high-transparency digital processors
Accurately analog-modeled vintage classic devices
Full-latency compensation support
Supports sampling rates up to 192 kHz
DSM™ and SCC™ proprietary IK technologies for extremely accurate digital models of analog hardware devices
Native compatibility with 64-bit applications and operating systems
System Requirements
T-RackS 5 is a 64-bit application and requires a 64 bit CPU and Operating System.
Mac® (64-bits)
Minimal: Intel® Core™ 2 Duo, 4 GB of RAM (8 GB suggested), macOS 10.10 or later.
Supported Plug-in formats (64-bit): Audio Units, VST 2, VST 3, AAX.
Windows® (64-bits)
Minimal: Intel® Core™ 2 Duo or AMD Athlon™ 64 X2, 4 GB of RAM (8 GB suggested), Windows® 7, Windows® 8 or Windows® 10. Requires an ASIO compatible sound card.
Supported Plug-in formats (64-bit): VST 2, VST 3, AAX.
NOTE: EQual processor requires an OpenGL 2 compatible graphics adapter.
Internet connection is required as all of the Custom Shop operations are web based.
You may also be interested in: