You're currently on: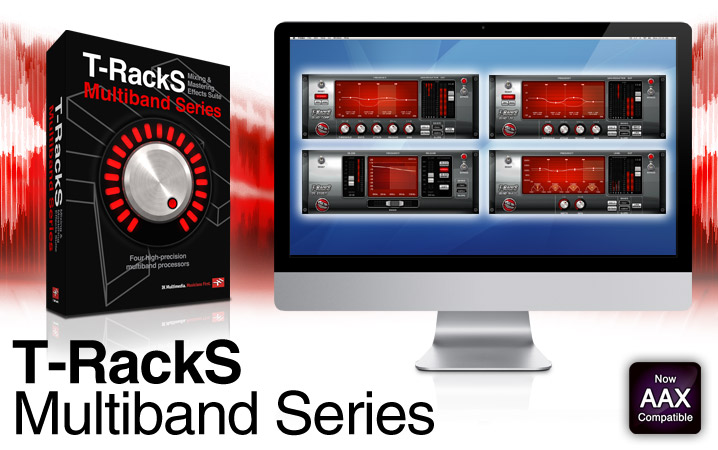 Divide and conquer your audio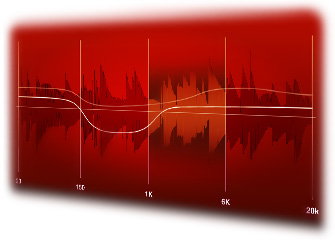 Controlling the full frequency spectrum is no easy task. Sometimes you need specialized tools that allow more flexibility than you get with a standard EQ. The T-Racks CS Multi Series groups four dynamics processors, each capable of splitting the audio program into user-defined frequency bands and precisely processing them. The result is continuous control of the entire track or mix, actually combining EQ and dynamics. Multiband processors are particularly handy in mastering applications where you want to adjust a less-than-perfectly mixed track in selected areas of frequency and time, but leave the rest of the spectrum untouched.
Quad Comp

As suggested by its name, Quad Comp is a multiband processor that incorporates up to four fully featured compressors of the Opto type, each one operating on a separate, user-definable frequency band. The ability to compress each band separately allows you to tame unwanted peaks in a selected portion of the audio spectrum, only if and when a set threshold is exceeded. The possibility to set compression ratio and time constants independently for each band gives you extreme flexibility and precision. Solo and mute buttons make it easy to audition how the compressor is working on a selected band.
Quad Lim

Quad Lim is the limiter version of Quad Comp, which, according to the limiting principle, has a fixed, infinity-to-1 ratio. Time constants and makeup gain are user definable for increased control. As with Quad Comp and the other Multi Series processors, you can adjust the slope of the filter that splits the frequency bands, so that dynamics control is broader or sharper, depending on your needs. As an additional layer of control, Quad Lim features a master brickwall limiter that can be engaged to avoid overshoots.
Quad Image

Combining the concept of M/S (Mid Side) matrix processing of the stereo field with multiband architecture, Quad image effectively allows control over the stereo width of each frequency band. Don't be fooled by its simple control set — this is one powerful processor. By judiciously adjusting the width of each band, you not only can fix technical issues in a mix, but get creative, as well. For instance, you could focus the midrange in the center while making the highs or lows super wide, thus adding impact and "wow factor."
De-Esser

De-essing is also known as "frequency dependant compression," but whatever you call it, the idea is to control excessive sibilance (exaggerated "s" sounds), which can be particularly problematic on vocal tracks. By enabling up to three frequency bands, De-Esser lets you to process certain frequency areas more than others. The dedicated control set also allows you to precisely tailor the operating mode, and audition the de-essing action or the part of the audio spectrum the processor is working on. Although primarily used on vocal tracks, De-Esser is also handy for taming other sources with excessive high-frequency content, like overly bright hi-hats and crash cymbals.
Gorgeous tone, in a DAW or on its own
You can open T-RackS modules as single plug-ins inside your DAW, or under an integrated plug-in shell that can host up to 12 modules at a time in 8 plug-in slots, and create complex signal chains.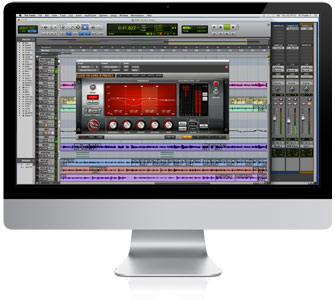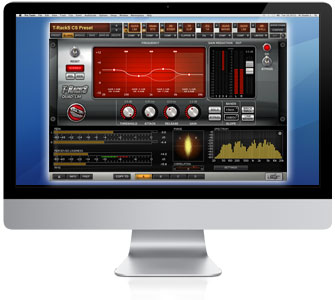 If you'd prefer, you can run T-RackS as a standalone application. If you have IK's ARC System 2, when you open T-RackS in standalone mode, the ARC processing will be seamlessly integrated into the signal chain.
---
Features
4 processors
Modules can be opened under T-RackS shell or as individual plug-ins
Custom Shop functionality lets you purchase additional modules from inside the program
Complete built-in metering section with Peak, Perceived Loudness, Phase, and RMS meters, plus a Spectrum analyzer with Peak, RMS and Averaging indicators
Standalone integration with ARC System 2 processing
All processors available as individual plug-ins
64-bit native support
32-bit 192 kHz support
High-fidelity oversampling for high-quality audio processing through the entire signal path
SCC™ technology coupled with IK's unique DSM™ technology provides the most realistic software emulation of vintage gear to date
Extremely easy to use, with style-based presets, full chain visualization, one-click single module or chain bypass, "compare" function and more
What's new
32- & 64-bit AAX Compatibility. Will run in Pro Tools 11 and under AAX in Pro Tools 10
Quad Series processors including Quad Comp, Quad Lim, Quad Image, and De-Esser
The new British Channel, an incredibly accurate emulation of the dynamics and EQ section of a channel strip from one of the most legendary mixers of all time
Custom Shop feature, which can be turned on from within T-RackS, lets you browse, audition, and purchase new modules from our ever-expanding collection
You may also be interested in: