You're currently on: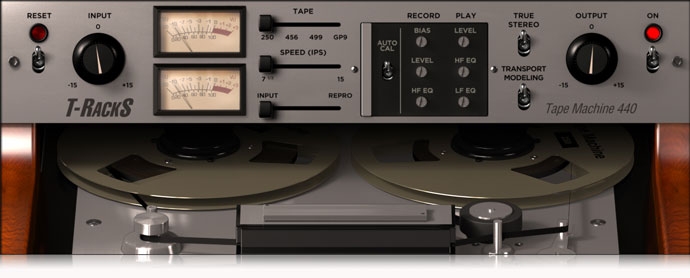 T-Racks Tape Machine 440
Ultra-realistic virtual analog tape machine plug-in based on the Ampex 440B
The allure of tape machines is easy to understand – that iconic sonic signature that's been heard on countless classic albums. Warmth, subtle high-end sweetening, and above all the gentle saturation and compression that seamlessly glue your tracks together – it's all yours in the T-RackS Tape Machine 440.
The Tape Machine 440 is modeled on the iconic Ampex AG440B stereo recorder. The 440 series dates from the late 1960's and delivers a typical, unmistakably soulful color that made this his-torical mixing and mastering machine into a legend.
This machine became the standard for stereo mix-downs since it offers a rounded, solid bass and a silky presence on highs and upper mids, leaving your mixes… finished! Pass your session through the 440, and hear your mix become a record!
Using a careful mix of convolution and physical modeling, the Tape Machine 440 re-creates the complex interplay of effects that are happening in the analog audio tape recording process, down to the finest detail. From the sonic character of the tape formula, to the movement of the tape over the machine heads, every detail is captured with life-like accuracy.
Add warmth and character, low-end weight, ear-pleasing high end and glue your tracks togeth-er with this true-to-life slice of recording history.
4 magic formulas
The Tape Machine 440 lets you choose from 4 different tape formulations, each with its own unique harmonic character:
- 250: Modelled after the 3M/Scotch 250 tape
- 456: Modelled after the Ampex 456 tape
- GP9: Modelled after the Quantegy GP9 tape
- 499: Modelled after the Ampex 499 tape
Comprehensive controls
Each Tape Machine plug-in offers controls over tape speed, head selection, record bias, and other common controls, as well as exclusive features like "true stereo" to re-create the subtle differences between left and right on a real analog machine, and IK's powerful new transport modeling, which captures the realistic wow and flutter of each machine.