You're currently on:

Any one of these four classics could be your main squeeze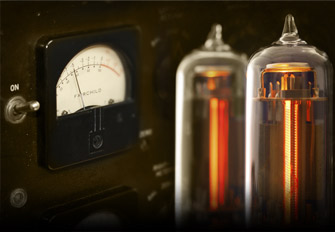 The compressor is the most frequently used signal processor in the studio, and has been throughout the history of recording. Compressors have been used both to control the dynamic range of individual tracks and full mixes, and to achieve creative effects — many of which ended up becoming integral parts of the sound of hit songs and even entire musical styles.
The Vintage Compressors Collection includes some of the T-RackS series' most iconic and sonically pleasing compressor modules, in a complete package that's well suited both for mixing and mastering.
These modules are timeless classics; at the same time each one uses a different and unique method to achieve compression — so they all sound different, in addition to sounding great.
Black 76

Based on what is probably the most widely used compressor of all times for mixing duties, the 1176 Limiting Amplifier. FET (Field Effect Transistor) electronics are at the base of the sidechain circuit in this unit, and one of its peculiarities is a lightning-fast attack time, making it an ideal choice for percussive sources. On kicks or snare drums, it's almost "mandatory" to have one patched in. Nonetheless, it's at home on practically any source, from bass to acoustic guitars to vocals and more. The Black 76 model accurately reproduces the behavior of the original, down to the "all buttons in" mode for crazy compression effects, and is the perfect choice to give "personality" to any track that needs it.
White 2A

This processing is based on the legendary Teletronix LA-2A, considered to be the "magic" compressor — one that you find on the "money channels," like lead vocals or lead instruments. The way it achieves compression is a work of art. The original hardware is based around a photo optical cell working together with a light-dependant resistor. This, and the tube-based electronics give it a warm, gentle and consistent compression, which is almost invisible at low settings —with more character and harmonics added as the signal gets more compressed. White 2A behaves exactly like its hardware sibling, with the same simplicity of controls, to achieve the "magic." It's most commonly used on vocals, but it can be applied on any source needing controlled compression and a subtle warm touch.
Vintage Tube Compressor/Limiter Model 670

Based the Fairchild™ 670, often referred to as the "Holy Grail" of compressors. The T-RackS version, which resulted from a painstaking analysis of the original hardware, reproduces all the features that made the Fairchild the first modern, Variable MU, tube-based limiter. These include a tube signal path, the possibility to control dynamics of L and R channels or Lateral and Vertical components of the audio spectrum separately (the latter very useful for M/S processing in mastering jobs), and its particular time constants. Simply place it on the stereo bus of your DAW, and it will impart to your track that euphonic sound that only real great processors can produce.
Opto Compressor

As its name implies, this processer bases its gain reduction on an optical photocell design, which features a light source and a light detector. These types of components add a defined character to a track, making it sound larger than life, musical, and precisely imaged. This model incorporates the features an "ideal" optical compressor should have, where the non-linearities and distortion in the signal path totally nonexistent. As a result, it's very often the first call on sources like vocals, drums or bass when there is the need for a very "tight image" and control without coloration.
Gorgeous tone, in a DAW or on its own
You can open T-RackS modules as single plug-ins inside your DAW, or under an integrated plug-in shell that can host up to 12 modules at a time in 8 plug-in slots, and create complex signal chains.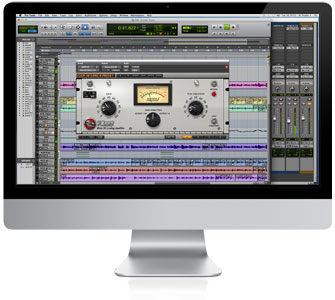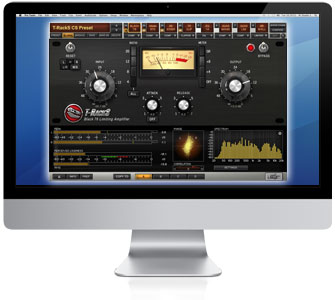 If you'd prefer, you can run T-RackS as a standalone application. If you have IK's ARC System 2, when you open T-RackS in standalone mode, the ARC processing will be seamlessly integrated into the signal chain.
---
Features
4 processors
Modules can be opened under T-RackS shell or as individual plug-ins
Custom Shop functionality lets you purchase additional modules from inside the program
Complete built-in metering section with Peak, Perceived Loudness, Phase, and RMS meters, plus a Spectrum analyzer with Peak, RMS and Averaging indicators
Standalone integration with ARC System 2 processing
All processors available as individual plug-ins
64-bit native support
32-bit 192 kHz support
High-fidelity oversampling for high-quality audio processing through the entire signal path
SCC™ technology coupled with IK's unique DSM™ technology provides the most realistic software emulation of vintage gear to date
Extremely easy to use, with style-based presets, full chain visualization, one-click single module or chain bypass, "compare" function and more
What's new
32- & 64-bit AAX Compatibility. Will run in Pro Tools 11 and under AAX in Pro Tools 10
Quad Series processors including Quad Comp, Quad Lim, Quad Image, and De-Esser
The new British Channel, an incredibly accurate emulation of the dynamics and EQ section of a channel strip from one of the most legendary mixers of all time
Custom Shop feature, which can be turned on from within T-RackS, lets you browse, audition, and purchase new modules from our ever-expanding collection
| | |
| --- | --- |
| Variant | 1 |
| Specials | Jan 10, 2018 |