You're currently on: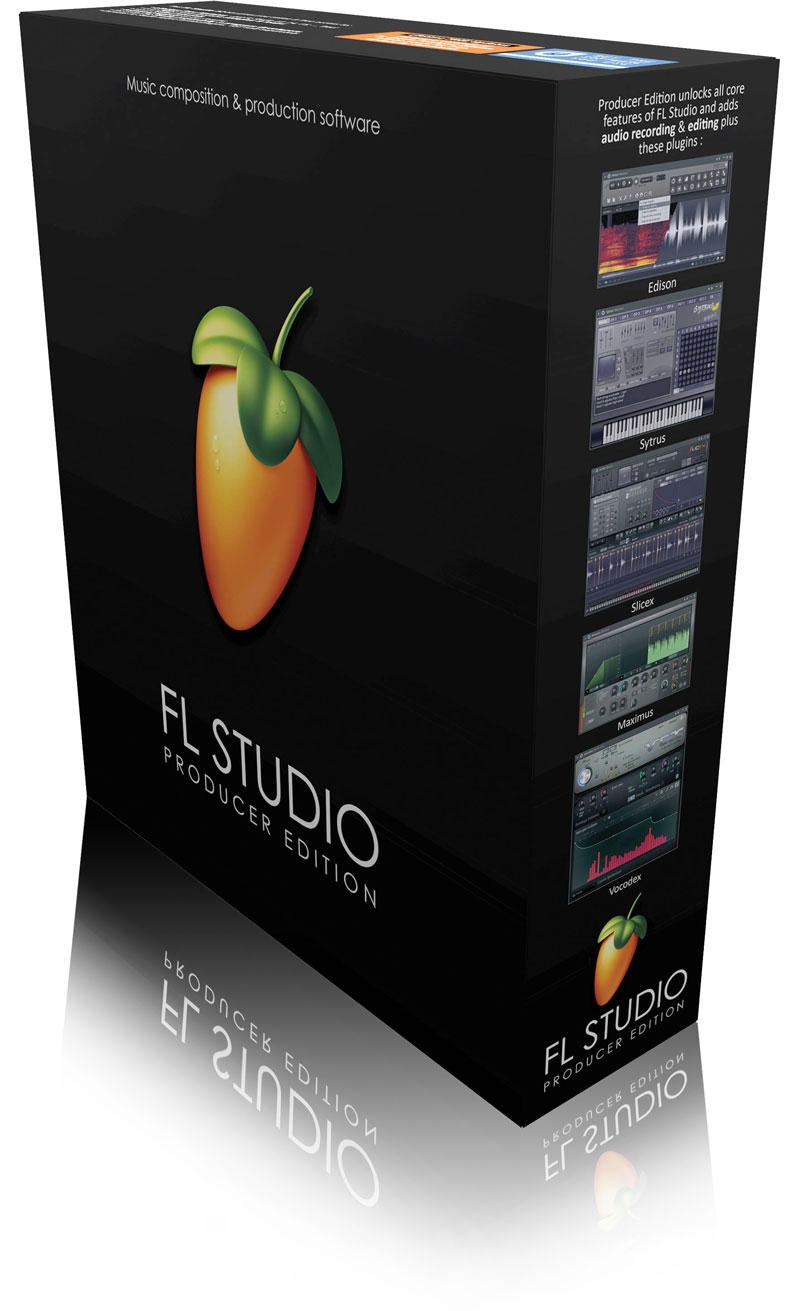 FL STUDIO 20
FL Studio 20
is out now for
Windows
and
macOS
!
MAC USERS, FL STUDIO FOR MACOS/OS X IS NOW IN PUBLIC BETA.
FL Studio is now a native macOS/OS X 64-Bit Application: You can test the features listed above using the Beta installer here. Customers, please drop into the Beta Test forum and let us know what you think.
Signature Bundle is a 'bundle' including Producer Edition + a limited collection of our 'signature' plugins. It's the cost effective way to get your hands on some of our best gear. If you already own plugins in the Signature Bundle, the Image-Line shop will automatically deduct these from the price.
FL STUDIO 12.5 PRODUCER EDITION
Producer Edition
provides the highest level of program functionality for FL Studio.
What you can do with Producer edition
Producer edition rounds out FL Studios capabilities with 1. Comprehensive audio recording and manipulation capabilities. 2. Audio and Automation Clips.
Full audio recording and post-production. Producer edition allows you to record external and internal audio. Record up to the maximum number of simultaneous audio tracks your computer and audio interface (soundcard) can support.
Access to the Playlist Pattern, Audio and Automation Clips for arranging, chopping, stretching, time-shifting any Audio, Notes and Automation.
Use the flexible Automation Clip based automation to overlay audio, notes in the Playlist and hand-draw/edit point & curve based splines.
With the addition of audio-focussed plugins such as Edison, Slicex and Vocodex to help you chop, loop and perform audio in creative ways.
Synthmaker, a modular synthesizer and effects creation environment with unlimited potential.
Producer Edition includes
:
All Fruity Edition features plus...
Audio recording from external sources.
Direct-to-disk recording & offline rendering of Mixer tracks.
Audio Clips with waveform view & support for cue points.
Automation Clips with editable envelopes and LFO mode.
+ Edison - integrated audio editor/recorder.
+ Slicex - loop slicer & re-arranger.
+ Vocodex - advanced vocoder.
+ Synthmaker – advanced everything!
Lifetime free updates to Producer Edition by download.
Notable new features
Updated Editions with more value – FL Studio Fruity edition gains Automation Clips. Producer edition gains Sytrus & Maximus. Signature Bundle gains Harmless, Newtone, Gross Beat and Pitcher. Existing owners also get these great additions.

Vectorial UI – FL Studio is now 100% vectorial allowing it to be used on 4, 5 or even 8K monitors with pin-sharp fidelity.

Mixer – Completely redesigned mixer, dynamically resizable with 6 layout styles plus 3-user configurable docking panels (left, centre and right) for track management. Multi-fader selection and adjustment. Improved mixer track grouping. Multi-touch support. 10 FX slots per track. Many new multi-track routing automated options. Enhanced grouping and submix functions. The dedicated 'Send' channels have been replaced with general purpose send tracks and added to the overall track-pool.

Updated plugins – 3xOSC, Edison, Formula Controller, Peak Controller, Keyboard Controller gain vectorial UIs. Envelope Controller (8 articulators, Mod X/Y envelopes & vectorial UI), Send (can now send to any mixer track & vectorial UI), Hardcore (new tube distortion effect & convolution based cabinet simulation), Patcher (Plugins open outside patcher. Auto patcherizing of existing plugins & multi-touch support). Fruity Convolver new impulse library by Soundiron. Finally, the Channel Settings are now integrated into the Wrapper.ZGameEditor Visualizer – Loads all popular video formats and gains 4K+ rendering.

Piano roll – Time markers added for labelling and looping purposes. Auto-zoom can now be switched off in the General Settings. Stamp tool replaces chord tool and allows users to click in chords from a selector. Macro to find overlapping notes.

Playlist – Drop multiple stems or Audio Clips on the Playlist from any Windows file browser.

Browser – Improved layout with user configurable category tabs (name and icon). The default categories include Files, Plugins and Current Project providing key content at a glance. Improved file management with Right-click delete options for most content.

Multi-touch support – Multi-touch has been extended to Mixer functions, Channel settings and Control Surface. Swap between Windows Multi-touch and FL Studio Multi-touch modes.

Improved 32 & 64 Bit VST plugin support – The wrapper has been redesigned to improve stability and compatibility. The FL Studio Plugin scan tool now allows unlimited VST search locations and quick favoriting.
WHAT ABOUT
FL STUDIO 12?
FL Studio 12 totally reworks the user interface and adds exciting new features you have been asking for.
WHAT YOU CAN EXPECT
NEW & UPDATED FEATURES

Fully reworked scalable interface
- Any screen size or resolution you use, FL Studio will always fit
Multi-touch
–
Multi-touch capability extends to the Mixer.
Browser
– New category tabs and the ability to delete content on right-click
Channel Menu
- The Channel Options Menu have moved from the Toolbar Menus to the Channel rack.
Channel settings
- Have been integrated into the Plugin Wrapper (no more Channel settings pop-up).
Pattern Menu
- The
Pattern Menu
has moved from the Channel rack to the Toolbar Menu and Pattern Selector.
Piano roll
- Piano roll Auto-zoom can now be deselected from Settings > General > Auto zoom in piano roll
Playlist
- Multiple drag and drop for audio files onto Playlist (from a Windows file browser).
Stepsequencer
- Step sequences are now interchangeable with Piano rolls.
VST Plugins
- VST plugin installation & discovery improved and simplified.
Fruity Formula Controller
- Updated, new UI.
Fruity Envelope Controller
- Updated, 8 Articulators, Mod X/Y env, Smart Knobs, New UI.
Fruity Keyboard Controller
- Attack smoothing, new UI.
Channel Rack
Updated Browser
Piano roll
Multilink to Controller
ALL
DETACHABLE
Put any window, even the top menu bar where you like on the screen.
FL Studio 12 allows you to detach all windows of the program.
Step sequencer can be detached from main window.
Redesigned
CONTROLLERS & FEATURES
Keyboard Controller
Envelope Controller
Formula Controller
MIDI Out
MULTI-TOUCH SUPPORT
to the Next Level
Use FL Studio 12 with a multi-touch monitor and do more with your fingers. Why not replace your mixer controller with a touch screen.
Use the Dashboard plugin to create your own customized controllers on the fly.
You may also be interested in: