You're currently on: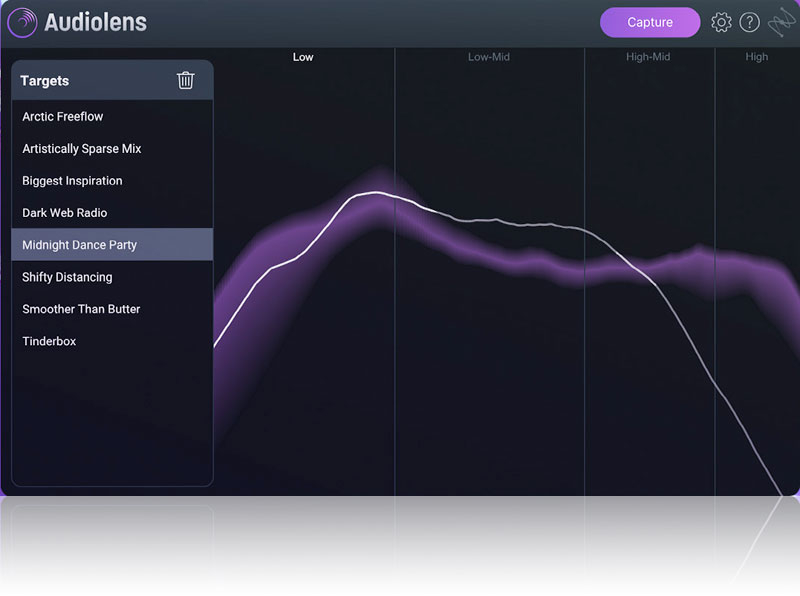 Audiolens
Reference audio from anywhere
STRAIGHT FROM THE SOURCE
Simply reference from streaming
Meet the new Audiolens desktop app which makes track referencing and comparison easy by analyzing audio from any streaming platform or audio source. Build your personal library of reference tracks that you can access anytime to compare against your own mixes or masters.
How to use Audiolens
If you own Ozone 10 or Neutron 4, Audiolens makes the perfect companion app by sharing your saved reference track tonal profile to the AI Assistants, allowing you to easily match a reference. Match any master with ease.
COMPARE AUDIO
The lens that listens
The new Audiolens desktop app makes track referencing and comparison easy by analyzing audio from any streaming platform or audio source. Play your chosen audio through the selected output of your device and the application will collect data on key sonic characteristics, helping you to visualize, compare, and match your favorite reference tracks and sounds.
TARGET LIBRARY
Save your faves
Save the tonal data of your references to your Audiolens Target Library to build a personal catalog of reference track data that you can access anytime. Name your tracks so you can quickly find the sounds you want to match, and compare tonal balance profiles with ease. The Target Library talks to Ozone 10 and Neutron 4, automatically populating your references to those plug-ins if you have them.

USE WITH OZONE 10
Match any master
Audiolens will automatically populate saved referenced targets to your Ozone 10 Target Library so you can visualize how your master stacks up to your chosen reference. Run the AI-powered Master Assistant to match the tone, dynamics, and width profiles of the desired track to your own master, and dial in additional adjustments using the Assistant View.

USE WITH NEUTRON 4
Intelligent mixing, faster
Audiolens will automatically populate saved reference targets to your Neutron 4 Target Library where they will be analyzed by Neutron's Assistant. You can then quickly match characteristics within the mix of your own track, whether that's adding some thump to your bass, crisping up your snare, or making hi-hats sizzle. Further customize your sound by using the Assistant View to dial in your mix elements.
About Referencing
Producers and engineers use track referencing during music production, mixing, and mastering. Referencing is the process of comparing the dynamic range and character of your song to songs of a similar genre and style to your desired sound. A reference track's dynamic range and sonic character can be used to communicate the sound you're aiming for in your mix or master. Reference tracks are also a way to develop musical vocabulary that will help communication when you're working on a song with other people.
Introducing Audiolens, Your New Track Referencing Companion
Introducing Audiolens, the new desktop app that transforms your track referencing workflow by analyzing audio from any streaming platform or audio source, allowing you to match the audio within your own mixes and masters. Get it for free for a limited time!
How to Use Reference Tracks in a Mastering Session
Learn how to effectively use reference tracks in mastering using Audiolens and Ozone's various features—from classic track referencing to AI-powered referencing with Master Assistant.
Reference Tracks: 5 Songs for Mixing and Mastering
In this Reference Tracks series edition, iZotope staff share five songs to listen to when you're mixing and mastering.
Better together
Audiolens can be used on its own to compare and collect references, but when paired with Ozone 10 or Neutron 4 it unlocks the capability to easily match your chosen references.
Ozone 10 Standard
Achieving a professional master is faster than ever with Ozone 10. Instantly match the sound of your favorite chart-topping hits and reference files using the new Master Assistant, maximize loudness with the new Magnify Soft Clip, and improve mono with the new Recover Sides.
Ozone 10 Advanced
Achieving a professional master has never been faster or more personalized than with Ozone 10. Balance with the new Stabilizer Module, add punch with the new Impact Module, and match the sound of your favorite chart-topping hits with the new Master Assistant. Deliver superior sounding releases with Ozone 10.
Neutron 4
M1 Apple silicon native support
Assistant View
Target Library with Custom referencing
Trash Mode with 4 new waveshapes
Tame button for dynamics preservation
Music Production Suite 5 Universal Edition
Music Production Suite 5 Universal Edition includes the new Ozone 10 Advanced, RX 10 Standard, Neutron 4 mixing suite, surround reverbs with Stratus 3D plus Symphony 3D by Exponential Audio, and Brainworx Creative Mixing Set.
System Requirements
Operating Systems:
Mac: macOS Big Sur (11.0) - macOS Monterey (12.4.x) *
Windows: Windows 10 - Windows 11
* Supported on Intel Macs & Apple silicon Macs (Apple M1 chips) in Rosetta 2 and native.
Referencing workflow and target library operates with the following products:
Ozone 10 Elements, Standard and Advanced

Neutron 4 and Neutron 4 Elements
Current Neutron 4 and Ozone 10 owners should make sure they are on the very latest versions by updating the products in Product Portal.
You may also be interested in: