You're currently on: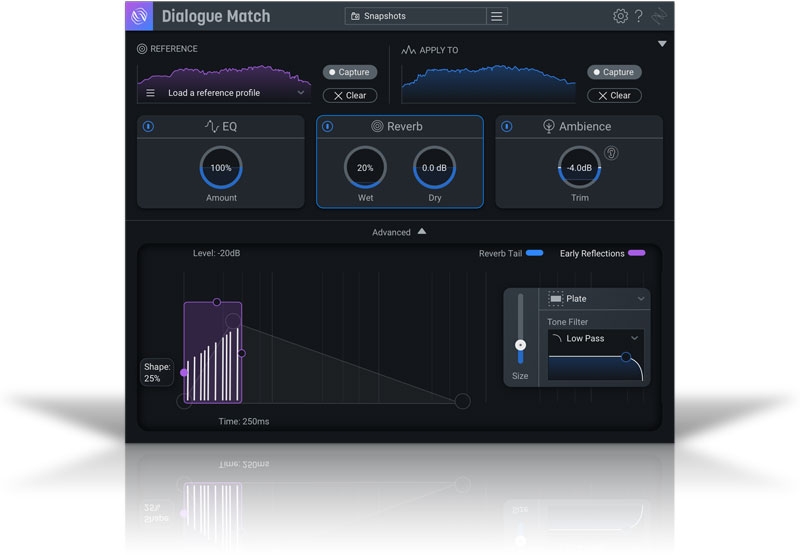 iZotope Dialogue Match Crossgrade from any Standard or Advanced Product


EXCLUSIVELY FOR PRO TOOLS
Dialogue Match
Match sonic profiles for dialogue and ADR
A REVOLUTION IN DIALOGUE EDITING
The makers of RX bring you the next indispensable tool for post production. Keep your audience in the moment with seamless dialogue recordings.
Tailor-fit dialogue tracks to your scene
Dialogue Match is a Pro Tools AudioSuite plug-in that learns the reverb, EQ, and ambience data of a dialogue recording. It can then apply the profile to any other dialogue recording, giving your scene audio consistency across multiple environments.
The Dialogue Match story
In 2019, we added the complete Exponential Audio product line of reverb plug-ins to our collection of audio software. Working with Exponential Audio founder and renowned reverb expert Michael Carnes, we set out to cure the headache of fitting multiple dialogue recordings to a single scene, even when captured with different microphones and in different spaces. Enter Dialogue Match.
Dialogue Match doesn't just introduce all-new reverb matching technology; it also combines our EQ and ambience matching tech with the superb engineering and sound quality of Exponential Audio reverbs. The result is a tool that extracts the environmental profile from one recording, and applies it directly onto another using the Exponential Audio reverb engine, reducing hours of tedious audio editing to mere seconds.
Dialogue Match is just the first example of what's possible through the iZotope/Exponential Audio collaboration. With Michael Carnes as a part of our team dedicated to pushing the boundaries of digital audio production, we're poised to deliver even more powerful and inspiring software innovations for music and post production.
How Dialogue Match works
Capture the profile of your Reference file
Capture the profile of the file that needs editing
Tweak your effect settings and render
Why Dialogue Match?
Quickly match lavaliers to booms
Add the space and ambience of a boom mic to the clarity and articulation of a lavalier without compromising on audio quality.
Automatically get ADR to sit in the mix
Studio-recorded dialogue performances can now instantly have the on-location sound to suit your production.
Match localized audio to production
Apply the sonic profile of original dialogue to foreign language dubs in order to quickly complete localization projects.
What people are saying
"When I record ADR, I can quickly process the recordings to match the work track and give clients an instant representation of what the final dialogue may sound like. No more guessing. All of iZotope's proven technology in one easy to use plug in—yet, with the power to fine tune to perfection. Another must-have in your arsenal!"
Jason Oliver
ADR Mixer and Dialogue Editor, Warner Brothers Studios
(Black Panther, Mad Max: Fury Road, Wonder Woman)
"Dialogue Match is an amazing breakthrough for post production audio. We now have a way of seamlessly matching EQ, reverb, and ambience of ADR to existing production recordings. This takes all the guesswork and time out of mixing ADR into existing production. It's a huge timesaver. You can't even tell what is ADR now, it blends so perfectly with production. This is a serious game changer."
Doug Mountain
Dialogue Editor
(The Walking Dead, Catch-22)
"Dialogue Match gives me more matching control than ever. Having the EQ, reverb, and ambience modules in one window together with the ability to manipulate them all individually is a real timesaver. I also love being able to capture profiles and save them so I don't always have to go hunting for a character from a previous scene that I need to match into again. There are just so many cool new features!"
Sherry Klein
Re-Recording Mixer
(New Amsterdam, Queen of the South, The Passage)
Read about Dialogue Match
Introducing Dialogue Match
iZotope has created a brand-new tool that will revolutionize dialogue editing and ADR workflows. Introducing Dialogue Match.
I Have RX, So Why Do I Want Dialogue Match?
If you work with dialogue, your workflow will benefit from both RX and Dialogue Match. Learn how to use these two powerful tools in tandem to tackle your next project in record time.
The Making of Dialogue Match
Matching reverb on dialogue tracks is challenging and time-consuming. Learn why we created Dialogue Match to address this post production issue.
Get Dialogue Match
Get Dialogue Match invidually, or in a bundle.
Dialogue Match
Using all-new reverb, ambience, and EQ matching technology, Dialogue Match applies the reverberant sonic attributes of one recording directly onto another, giving your scenes environmental and spatial continuity in seconds.
Post Production Surround Reverb Bundle
Use the revolutionary new reverb matching technology of Dialogue Match to duplicate your audio's sonic profile, or create natural or character-filled spaces all your own with Stratus and Symphony.
RX 7 Advanced Reverb Bundle
RX 7 Advanced Reverb Bundle includes RX 7 Advanced to repair damaged audio, Dialogue Match to integrate dialogue into the scene environment, and Stratus to add realistic reverb to your productions.
RX Post Production Suite 4
Includes RX 7 Advanced, Dialogue Match, Neutron 3 Advanced, Stratus 3D, Symphony 3D, Insight 2, RX Loudness Control, 250 sound effects from Pro Sound Effects, and Groove3 video tutorials
System Requirements
Operating Systems:
Mac: OS X 10.9.5 Mavericks–macOS 10.14 Mojave
PC: Win 7–Win 10

NOTE: Dialogue Match does not yet support Catalina. We plan on having support for this product in the near future. Compatibility testing for macOS 10.15 Catalina is ongoing. For now, we recommend that users refrain from updating to maintain support eligibility. Please watch this page for updates.
Plugin Formats:
AAX AudioSuite* (64–bit) only

Supported Hosts:
Pro Tools 11.x and later*

* Dialogue Match is only available as an AudioSuite for current versions of Pro Tools for offline processing. It is not currently supported for use in Media Composer, or any host application other than Pro Tools 11 or later.