You're currently on: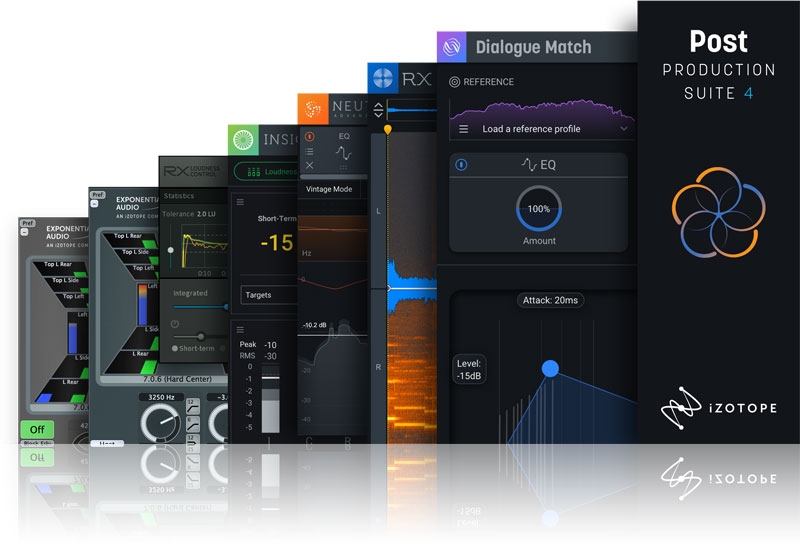 iZotope RX Post Production Suite 4 Upgrade from RX 7 Advanced
RX Post Production Suite 4
Next-generation post production tools
RX 7 Advanced
Dialogue Match
Neutron 3 Advanced
Stratus 3D by Exponential Audio
Symphony 3D by Exponential Audio
Insight 2
RX Loudness Control
Groundbreaking post production tools you'll use in every session
RX Post Production Suite sees a major upgrade in version 4. With powerful new dialogue, mixing, and reverb tools, you'll be ready for any post production job.
The most powerful software suite for post—ever.
RX has been the industry leader in audio repair for years, and Post Production Suite 4 only adds to its legacy. The revolutionary new Dialogue Match, mixing powerhouse Neutron 3 Advanced, and multichannel Stratus 3D and Symphony 3D reverbs join RX 7 Advanced, Insight 2, and RX Loudness Control to bring you the most comprehensive post production software package on the market.
Why bundle with iZotope?
Industry-leading technology at an unrivaled price break
Bundling software is the best way to get the most for your money.
Audio tools assembled for any project, any genre
iZotope bundles ensure that you'll have all you need for any project.
Access to future upgrades and exclusive discounts
We strive to reward your support with better deals on new products.
What people are saying about products in RX Post Production Suite 4
"RX allows me to deliver the cleanest overall finished product, saving interviews and location sound that would have otherwise been unusable."
Eric R. Fischer
Mix Engineer
"Dialogue Match is an amazing breakthrough for post production audio. We now have a way of seamlessly matching EQ, reverb, and ambience of ADR to existing production recordings. This takes all the guesswork and time out of mixing ADR into existing production. It's a huge timesaver. You can't even tell what is ADR now, it blends so perfectly with production. This is a serious game changer."
Doug Mountain
Dialogue Editor
(The Walking Dead, Catch-22)
"I'm thrilled to see two of my favorite audio developers coming together, and very excited to see what kind of brilliant new toys and tools come out of it! iZotope and Exponential have both been on the leading edge of audio software for years and I find myself using both their products in literally every single mix that I do."
Will Files
Sound Designer
(Deadpool, Star Wars - The Force Awakens, Stranger Things)
Read about Products in RX Post Production Suite 4
Why Upgrade to Post Production Suite 4?
Post Production Suite 4 offers powerful and effective tools you'll use in every session, whichever version of Post Production Suite you're coming from. Learn what's new.
The Pro Sound Effects in iZotope RX Post Production Suite 4
Explore the curated selection of sound design building blocks in Pro Sound Effects' The Odyssey Collection: Design Elements library, included in Post Production Suite 4.
Introducing Dialogue Match
iZotope has created a brand-new tool that will revolutionize dialogue editing and ADR workflows. Introducing Dialogue Match.
RX Post Production Suite 4
Includes RX 7 Advanced, Dialogue Match, Neutron 3 Advanced, Stratus 3D, Symphony 3D, Insight 2, RX Loudness Control, 250 sound effects from Pro Sound Effects, and Groove3 video tutorials