You're currently on: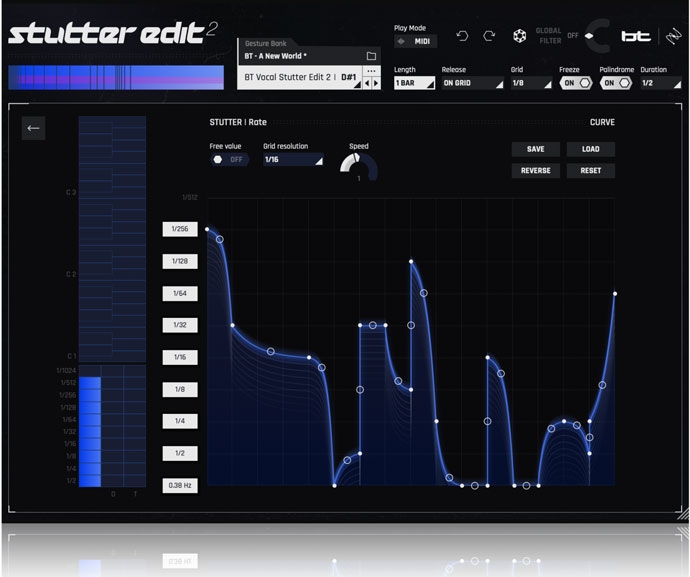 CREATE INSTANT STUTTER EFFECTS
Stutter Edit 2 lets you create the famous "stutter" editing effect with one button to slice and dice your samples, tracks, and mixes. Fire off rhythmic gestures, sweeping filters, glitchy effects, or everything at once.
MIDI-controlled rhythm and pitch
With Stutter Edit 2, adding movement to your mix has never been easier. Explore new features like Auto Mode, insane new effects modules, and the Curve editor.
Take control of your sound
Inject new colors and textures into your music with new effects modules and limitless possibilities with the new curve editor.
Dozens of new banks and gestures
New presets designed by BT deliver a wealth of effects, ideas, and sounds right at your fingertips:
"Experimenting is the greatest thing about Stutter Edit 2. It's an absolute wormhole of power and inspiration. It's the one thing you need in your toolbox for exciting, modern, ear candy edits for the master and individual tracks."
One plug-in, endless inspiration
From wild stutter edits to sweeping filters, Stutter Edit 2 has everything you need to take your track from demo to done.
Why Stutter Edit 2?
Hours of editing with a single keystroke
Instantly create complex rhythmic effects with the new Auto mode. Fire off effects on the fly or use a MIDI controller to access dozens of gestures with the touch of a key.
Get creative with insane new effects
A new Reverb, Comb, and Chorus module join a suite of 11 insane effects that can move in time with your mix. Combine your stutter edits with aggressive distortion, auto-pan effects, pitch-bent reverb, and much more.
One-of-a-kind sounds via the new Curve editor
Click any slider in Stutter Edit 2 to edit its unique curve. Control the timing of your pans, stutters, gates, distortions, and more to create truly mind-bending effects. Every parameter is your playground!
Features
(New!) Auto Mode & MIDI Setup
Stutter Edit 2 is a "playable effect"—it must be "triggered" in order to do anything to your audio. Now you can trigger gestures instantly with the new Auto mode, which lets you trigger your gestures with one button. You can also use a MIDI keyboard to tell Stutter Edit 2 when to trigger, letting you "perform" your effects like an instrument.. Whether you're adding ear-candy to a mix or jamming live onstage, Stutter Edit 2 will fit seamlessly into your workflow.
Using Auto mode lets you trigger any gesture with one button, great for quickly auditioning gestures, or for when you need a little instant gratification in your mix
Using MIDI mode lets you control Stutter Edit 2 with a MIDI keyboard. Setup is a breeze, with a built-in help screen that detects your day and gives step-by-step instructions
(New!) Banks and Gestures
Stutter Edit 2 includes hundreds of new Gestures (presets) designed by BT and iZotope. When a gesture is triggered, you can turn your audio into a short rhythmic idea, or a drawn out, evolving soundscape. Gestures come in Banks which map automatically to your MIDI keyboard so you can trigger different gestures at will. Before diving into Stutter Edit 2's controls, be sure to explore the different Gestures—even the most basic Banks can totally change your audio!
Hundreds of *new* gestures designed by BT and iZotope's expert sound design team. Get gestures for every use case, from cinematic swells to funky breakbeats
The Bank system organizes gestures into different use cases, so you can easily find the right gesture for your production.
Stutter & Buffer
At the heart of Stutter Edit 2 are the Stutter and Buffer controls, letting you blur the lines between melody, rhythm, and sound. Stutter Edit 2 cuts or "buffers" your audio up into razor-sharp slices and plays them back at different speeds. Set a slower stutter for funkier grooves, or create edits so fast that they turn into pitch. Set a Range and make the edits speed up, slow down, or both at once.
Stutter controls how many slices of your audio play back with your gesture, and how fast.
Buffer controls what sections of your audio Stutter Edit 2 stores and plays back.
Deep customization options let you control Rate, Quantization, and more to keep your edits in time with your session.
(New!) Time Variant Modifiers
Set a Range for any effect in Stutter Edit 2 to make it morph and change in time with your gesture. Time-Variant Modifiers can be added to any parameter to control how and where within the range the effect plays back. Customize your TVMs with the Curve Editor to easily create unique moving effects. Not sure what curve to use? Just select from one of 12 premade curves and start experimenting!
The Curve Editor lets you control the movement of the effect as you play your gesture back. Choose a premade curve or draw your own!
Set a Range and Time-Variant Modifier (TVM) to create insane moving effects, from sweeping filters to pumping reverb tails and more.
Expand the Curve Editor window for more detailed control. Load and Save your own curves, or choose from 12 premade curves.
New gestures, more rhythms
From simple trap patterns, cinematic sweeps, transitions, and everything in between, Stutter Edit 2 comes packed with new gestures designed by BT and iZotope's expert sound design team. Use Auto mode to audition gestures to find the perfect match, and then plug in your MIDI controller to automatically map gestures to your keys so and fire off any combination of gestures.
System Requirements
Operating Systems
Mac: High Sierra (10.13) – macOS Catalina (10.15)
PC: Windows 8 – Windows 10
Plugin Formats
AU, AAX, VST2, VST3. All plug-in formats are 64-bit only.
Supported Hosts
Logic Pro X, Live 9.7–10, Cubase 9.5–10.5, Pro Tools 12–2020, FL Studio 20, Studio One 4, REAPER 6, Reason 11, Bitwig Studio 3, Cakewalk by Bandlab, Digital Performer 10.
You may also be interested in: