You're currently on: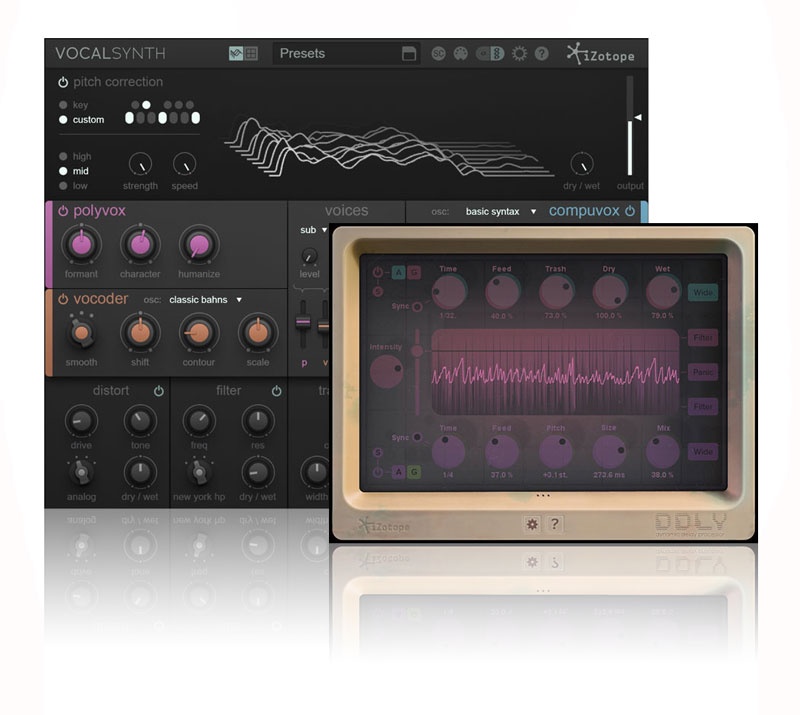 Ready for a transformative vocal experience? With VocalSynth, iconic vocal sounds from decades past and the wild vocal sounds you've only heard in your head are finally within reach.
Manipulate your voice to create electronic vocal textures, robot sounds, computerized harmonies, vocoder and talkbox effects, thick octaves or doubles, and everything in between.
Unique vocal effects have driven hit songs and launched careers. It's time for your vocals to stand out, too.
Key Features
Four vocal engines: Get robotic vocals (Vocoder), organic harmonies (Polyvoice), glitchy digital speech (Compuvox), and singing synthesized sounds (Talkbox).
Specialized vocal effects: Add edgy or tasteful distortion, filters, speaker convolution modeling, beat-repeating madness, and wide stereo delays.
Pitch correction: Correct off-key notes in your vocals with real-time pitch correction with natural-sounding results.
Streamlined voice generation: Add harmonies, octaves, or unisons in Auto mode, or get the exact harmony voicings you want.
Presets: Quickly access classic sounds you've known and loved, plus distinctive new combinations of all four vocal engines.
Your favorite vocal sound or your next favorite
Gripping vocals can drive a track from great to epic. Quickly find that unique sound you've been looking for—or experiment and uncover a wild vocal treatment you never even knew you wanted!
Access to ALL THE SOUNDZ!!!!!
Carefully designed presets unlock iconic vocal sounds like hardware vocoders, classic talkbox, vintage computer voice chips, or formant and pitch-shifting effects. Plus, Global Presets combine all four engines and the effects modules, opening the door to the next new sounds.
From one voice, many
Build your backing choir from just a lead vocal. VocalSynth can create additional voices to fill out a composition and add depth and impact to your chorus or bridge. Introduce pitch and timing inconsistencies to make more human and natural sounds.
It's not hard to skip the hardware
Traditional vocoders and talkboxes are tricky pieces of hardware (and PVC tubing!) to master. VocalSynth gives you quick access to the classic sounds, with less sweat and no drool at all.

Vocoder
Achieve the vocal sounds of the Beastie Boys, Coldplay, or James Blake—without a headache—with this complete, powerful vocoder.
Quickly choose between a range of classic hardware and modern digital vocoder sounds.
Three modes: Smooth, Vintage, and Hard.

Talkbox
Sound like Daft Punk, Tupac, or Dr. Dre—no learning curve or slobbery PVC tubes needed!
Emulate an old school Talkbox to make a synthesizer or any side-chained instrument "talk" like you.
Three modes: Dark, Classic, and Bright.

Polyvox
Create organic harmonies built from your voice with this polyphonic pitch shifter.
Give vocals more "oomph" by building a group of backup singers that sound as natural or as computerized as you want.
Get a whole Heap of totally crazy pitch-shifted superhero sounds for your voice.

Compuvox
Computer voice effect modeled after the handheld talking and teaching toys of the '80s.
From Skrillex and Diplo to Radiohead and Kraftwerk, get a range of glitchy digital vocals effects.
Pull out the breathy "spookiness" from the voice.

Auto or MIDI voice generation
In Auto mode, just sing and VocalSynth will add voices to create chords, octaves, or doubles. In MIDI mode, play your optimum melody or harmony on a keyboard and VocalSynth automatically shifts your voice to those notes.

Automatic Pitch Correction
Pitch correction lets you do anything from subtle, reasonable correction to more extreme pitch-shifting effects. Push it to the extreme and recreate robotic vocals like those made popular by Cher, T-Pain, and Kanye West—or even wilder!

Distort
A wave-shaping distortion with custom tones designed to enhance VocalSynth's re-synthesis engines. The distortion module is great for either subtle overdrive or gnarly, harsh, high-gain distortion. It's loud, it's noisy, it's great.

Filter
Filtering is a simple but effective way of adding character to your vocal. VocalSynth's Filter includes New York for warm and buttery '60s-style filtering effect, Scream for resonant filtering and aggressive peaks and overdrive, or the Combo filter that combines both flat High-Pass and Low-Pass filters in a single sweepable control.

Transform
The hand-picked convolution speaker models bring out the full character of VocalSynth's re-synthesis engines. Dial in amp convolutions and speaker emulations to enhance space and realism or find common special effects like telephone or radio voice. Choose the right space for your vocal.

Shred
An evolution of iZotope's beat-repeating technology, just turn it up and immediately achieve the glitchy, funky dance track sounds you've been after. Shred takes part of the buffer and repeats it in interesting ways that add rhythmic range to your vocal-processing arsenal.

Delay
VocalSynth's Delay is a wide stereo delay with just a bit of filtering for flavor. The Delay creates exciting spatial effects with panning movement, great for adding interest to an otherwise steady vocal track.
VocalSynth System Requirements
VocalSynth runs as a plug-in within your digital audio workstation. VocalSynth is not a standalone application.
Operating system requirements
Mac: OS X 10.8, 10.9, 10.10, 10.11
System Recommendations:
VocalSynth may require higher CPU resources when running every module at sample rates of 96 kHz or higher. At these sample rates, we recommend:
2.8 GHz Intel Core i7 (or comparable)

VocalSynth's Wave-meter requires a graphics card that supports Open GL 2.0
Plug-in formats
AAX (64-bit), AAX AudioSuite (64-bit), RTAS (32-bit), DPM AudioSuite (32-bit), VST2, VST3, and Audio Unit.
Plug-in host compatibility
Pro Tools 10.3.1, Pro Tools 11.3.1, Pro Tools 12.4, Ableton Live 9.5, Logic Pro X, Cubase Pro 8.5, REAPER 5.11, Studio One 3.1.1, FL Studio 12.2 and more
DDLY Dynamic Delay
Don't delay, delay today
DDLY Dynamic Delay responds to your track's musical dynamics to create versatile and intriguing delays. It's a one-of-a-kind effects plug-in that delays the signal differently depending on the character of the sound, without turning your track to aural mud. Adjust the threshold to split your signal based on transients, then send it down two separate analog or granular delay paths.
Get a cleaner, more complex sound than a traditional full-signal delay plug-in with DDLY!
Features
Two delays in one
: DDLY analyzes your audio based on an adjustable threshold to determine what to send to the top delay and what to send to the bottom delay. Adjust the Intensity to affect how strongly the signal is split between the two—great for a punchy delay on the harder, transient crack of your drums and a shuffling delay on the main beat elements.
Customize your delay
: Both delays have two modes to choose from: Analog or Grain. Analog produces warm lo-fi delays with smearing and nostalgic degradation. Grain produces melodic, symphonic, and futuristic sounds for truly new soundscapes.
Responsive interface
: The interface of DDLY reacts to the material it's applied to for unique real-time visual feedback. As the knobs come to life, your sound gets cooler. Go ahead, get 'em all going!
Automatable
: DDLY can be set up with automation in your audio host, to engage the dynamic delay on your mix when you want it to and back off when you need the raw material to shine.
Get going with DDLY!
The best thing to do with DDLY is put on everything. Seriously — it's going to sound awesomer and awesomer the more you let it rip. But, even though you can play with it like crazy, it's not only a toy. DDLY has some serious and powerfully practical uses, too.
DDLY on drums
On a drum track, try setting DDLY to only add echo to the harder attacks of the kick and snare. You'll get that cool, echo effect without adding delay to the extra buzz from the snares or the room noise or a sloppy high hat that would make the mix sound muddy or crowded. Or dial in different delay patterns for the transients and the more constant energy of the performance, to keep the foundation in place and let the accents and flourishes bloom and soar.
DDLY on vocals
DDLY works great on vocals, too! Emphasize the full range of the vocal take with a subtle delay on the verse and a more intense delay on the bigger moments in the chorus. Instead of laborious studio setup with multiple mics and complex routing, DDLY lets you dial in unique performance-based delay effects quickly. No more canned, inflexible delay!
DDLY on INSANITY!
DDLY is not for the timid. The echoing wail of DDLY can ring and rattle and twist your insides. Yes, it can be extreme. Yes, it can go too far. But sometimes, too far is exactly how far you need to go. Push DDLY to the limits and see what you get. Make insane sounds, get complex delays, discover new horrors, and just try to get out alive.
DDLY on whatever you imagine
Any source with a strong dynamic range and expressiveness is a great candidate for DDLY, to build upon the dynamics rather than compress them. Try it on guitars to add delay and echo to only the loudest parts of a performance and not touch the more intimate moments. Try it on piano or synth tracks. Automate the delay over the course of your whole mix, to get intense on some sections and dial it back in others. Run wild! Be free!
You may also be interested in: