You're currently on: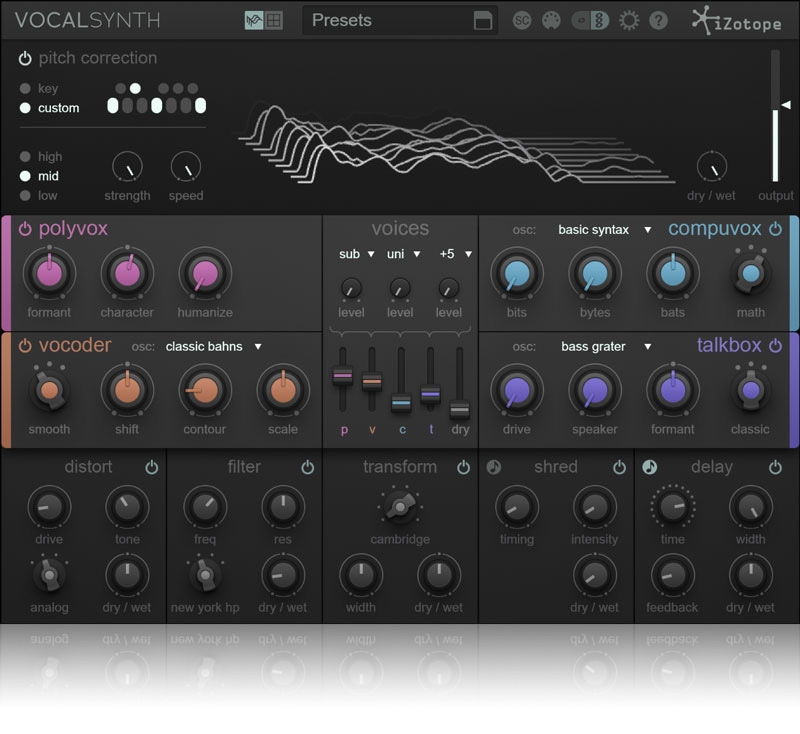 Order VocalSynth now and receive a free upgrade to VocalSynth 2 when it is released on May 23.
Ready for a transformative vocal experience? With VocalSynth, iconic vocal sounds from decades past and the wild vocal sounds you've only heard in your head are finally within reach.
Manipulate your voice to create electronic vocal textures, robot sounds, computerized harmonies, vocoder and talkbox effects, thick octaves or doubles, and everything in between.
Unique vocal effects have driven hit songs and launched careers. It's time for your vocals to stand out, too.
Sneak peek: VocalSynth 2
We've made improvements across the board in VocalSynth 2. We've added a new module, new and improved effects, deeper control and customization for every module, inter-plugin communication capabilities that work with Ozone 8 and Neutron 2, enhanced stereo processing functionality, and optimizations in sound quality and performance.
Here's a sneak peek at a few of the key features coming in the second version.
Biovox
A new module that models the physics and sounds of the human vocal tract. We used scientific modeling of a human vocal tract to develop this brand new module so you can adjust human vocal characteristics like nasality, vowel shapes, and formants for a smooth, textural vocal treatment. Biovox is great for adding character, breathiness, and shape for a little secret something you can't get anywhere else.
A stompbox playground
The effects section of VocalSynth 1 was a fan favorite. In version 2, we've added a much-requested feature: the ability to drag and drop to reorder modules. We've also revamped Shred for a better experience and added two brand new effects: Chorus and Ring Mod: a ring modulator that doubles as a unique tremolo-like effect.
Overall sonic improvements
VocalSynth 1 marked a milestone in vocal production processing: the ability to blend and shape multiple iconic vocal effects in parallel and create something entirely new. Over time, we heard from some users that they wanted deeper control of each module. For version 2, we've focused on improving sound quality and adding deeper control across the plug-in. With the addition of Advanced controls in all modules including including access to Vocoder band controls, per module Oscillator presets, and per module panning and filters, you'll have a new depth of control for a better sound, faster than ever.
Inter-plugin communication
For existing Music Production Suite, O8N2, Ozone 8, or Neutron 2 customers, we've added the ability to see VocalSynth 2 in Neutron 2's Masking Meter and Visual Mixer as well as in Tonal Balance Control. Get a comprehensive view of your production with all inter-plugin communication enabled across these connected iZotope products.
Key Features
Four vocal engines: Get robotic vocals (Vocoder), organic harmonies (Polyvoice), glitchy digital speech (Compuvox), and singing synthesized sounds (Talkbox).
Specialized vocal effects: Add edgy or tasteful distortion, filters, speaker convolution modeling, beat-repeating madness, and wide stereo delays.
Pitch correction: Correct off-key notes in your vocals with real-time pitch correction with natural-sounding results.
Streamlined voice generation: Add harmonies, octaves, or unisons in Auto mode, or get the exact harmony voicings you want.
Presets: Quickly access classic sounds you've known and loved, plus distinctive new combinations of all four vocal engines.
Your favorite vocal sound or your next favorite
Gripping vocals can drive a track from great to epic. Quickly find that unique sound you've been looking for—or experiment and uncover a wild vocal treatment you never even knew you wanted!
Access to ALL THE SOUNDZ!!!!!
Carefully designed presets unlock iconic vocal sounds like hardware vocoders, classic talkbox, vintage computer voice chips, or formant and pitch-shifting effects. Plus, Global Presets combine all four engines and the effects modules, opening the door to the next new sounds.
From one voice, many
Build your backing choir from just a lead vocal. VocalSynth can create additional voices to fill out a composition and add depth and impact to your chorus or bridge. Introduce pitch and timing inconsistencies to make more human and natural sounds.
It's not hard to skip the hardware
Traditional vocoders and talkboxes are tricky pieces of hardware (and PVC tubing!) to master. VocalSynth gives you quick access to the classic sounds, with less sweat and no drool at all.
Vocoder
Achieve the vocal sounds of the Beastie Boys, Coldplay, or James Blake—without a headache—with this complete, powerful vocoder.
Quickly choose between a range of classic hardware and modern digital vocoder sounds.
Three modes: Smooth, Vintage, and Hard.

Talkbox
Sound like Daft Punk, Tupac, or Dr. Dre—no learning curve or slobbery PVC tubes needed!

Emulate an old school Talkbox to make a synthesizer or any side-chained instrument "talk" like you.

Three modes: Dark, Classic, and Bright.

Polyvox
Create organic harmonies built from your voice with this polyphonic pitch shifter.

Give vocals more "oomph" by building a group of backup singers that sound as natural or as computerized as you want.

Get a whole Heap of totally crazy pitch-shifted superhero sounds for your voice.

Compuvox
Computer voice effect modeled after the handheld talking and teaching toys of the '80s.
From Skrillex and Diplo to Radiohead and Kraftwerk, get a range of glitchy digital vocals effects.
Pull out the breathy "spookiness" from the voice.

Auto or MIDI voice generation
In Auto mode, just sing and VocalSynth will add voices to create chords, octaves, or doubles. In MIDI mode, play your optimum melody or harmony on a keyboard and VocalSynth automatically shifts your voice to those notes.

Automatic Pitch Correction
Pitch correction lets you do anything from subtle, reasonable correction to more extreme pitch-shifting effects. Push it to the extreme and recreate robotic vocals like those made popular by Cher, T-Pain, and Kanye West—or even wilder!

Distort
A wave-shaping distortion with custom tones designed to enhance VocalSynth's re-synthesis engines. The distortion module is great for either subtle overdrive or gnarly, harsh, high-gain distortion. It's loud, it's noisy, it's great.

Filter
Filtering is a simple but effective way of adding character to your vocal. VocalSynth's Filter includes New York for warm and buttery '60s-style filtering effect, Scream for resonant filtering and aggressive peaks and overdrive, or the Combo filter that combines both flat High-Pass and Low-Pass filters in a single sweepable control.

Transform
The hand-picked convolution speaker models bring out the full character of VocalSynth's re-synthesis engines. Dial in amp convolutions and speaker emulations to enhance space and realism or find common special effects like telephone or radio voice. Choose the right space for your vocal.

Shred
An evolution of iZotope's beat-repeating technology, just turn it up and immediately achieve the glitchy, funky dance track sounds you've been after. Shred takes part of the buffer and repeats it in interesting ways that add rhythmic range to your vocal-processing arsenal.

Delay
VocalSynth's Delay is a wide stereo delay with just a bit of filtering for flavor. The Delay creates exciting spatial effects with panning movement, great for adding interest to an otherwise steady vocal track.
VocalSynth System Requirements
VocalSynth runs as a plug-in within your digital audio workstation. VocalSynth is not a standalone application.
Operating system requirements
Windows: 7, 8, and 10
Mac: OS X 10.8, 10.9, 10.10, 10.11
System Recommendations:
VocalSynth may require higher CPU resources when running every module at sample rates of 96 kHz or higher. At these sample rates, we recommend:
2.8 GHz Intel Core i7 (or comparable)
VocalSynth's Wave-meter requires a graphics card that supports Open GL 2.0
Plug-in formats
AAX (64-bit), AAX AudioSuite (64-bit), RTAS (32-bit), DPM AudioSuite (32-bit), VST2, VST3, and Audio Unit.
Plug-in host compatibility
Pro Tools 10.3.1, Pro Tools 11.3.1, Pro Tools 12.4, Ableton Live 9.5, Logic Pro X, Cubase Pro 8.5, REAPER 5.11, Studio One 3.1.1, FL Studio 12.2 and more
You may also be interested in: