You're currently on:

The Easy Way to Build a Song
Magix ACID Pro is the premier loop-based music creation software for PC. But that's not all it does — it's also a full-fledged multitrack recorder and MIDI sequencer. Capture audio with uncompromising 24-bit/192kHz sound quality. Harness your computer's full potential, thanks to powerful 64-bit architecture. Turbocharge your workflow with a modern, sleek, and inspiring interface. Beyond that, ACID Pro makes creating full arrangements a breeze with 16 virtual instruments, 13 effects plug-ins, and 9GB of ACIDized loops. You also get transparent time-stretching, by way of Zplane's élastique, state-of-the-art remix tools like Beatmapper and Chopper, and integrated CD burning and audio encoding. ACID Pro is song-building made easy.
Completely overhauled for unrivaled music creation
Turbocharge your workflow with an interface that's modern, sleek, and inspiring. Harness all of your computer's power to run large, system-intensive projects, thanks to powerful 64-bit architecture. You also get a sizable array of virtual instruments and effects plug-ins, along with 9GB of all-new ACIDized loops. At Sweetwater, we're impressed with all of the new features and improvements that Magix put into ACID Pro.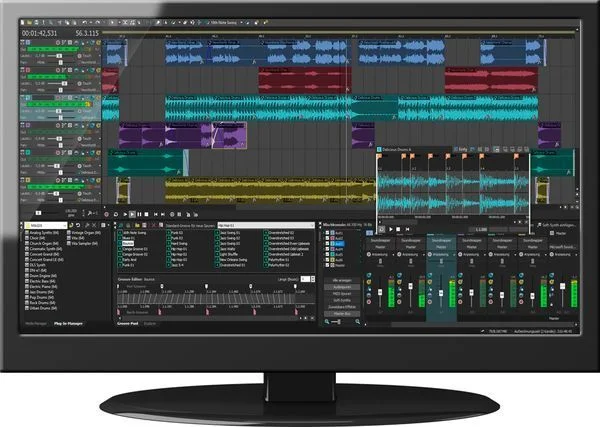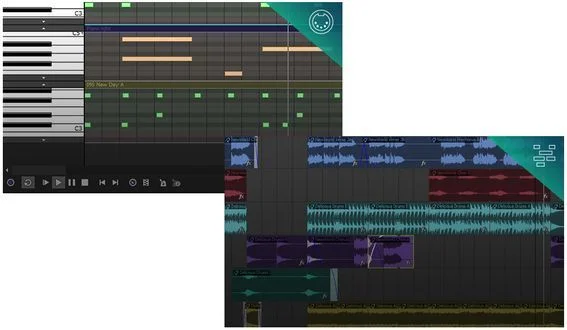 Pro-quality multitracking and MIDI
With uncompromising 24-bit/192kHz sound quality production live or in studio, ACID Pro has the features you need for maximum audio performance. Whether you're recording in the studio or creating MIDI-based studio sequences, ACID Pro is the optimal platform for reliable multitrack production. It's a MIDI powerhouse, too, with real-time MIDI processing and precise control over MIDI events. Use track envelopes to automate and modify MIDI controller data over time. You can also quantize MIDI in real-time, create drum patterns, edit MIDI event lists, and step record. With ACID Pro, you can freeze MIDI tracks that are routed to multiple soft synths and render them as WAV files to save CPU processing power and increase productivity during a session.
Mixing and editing
ACID Pro has a dedicated mixing console for a flexible and efficient recording environment. Specify routing, assign audio effects, and use external effects processors with tracks and busses. ACID Pro also supports control surface automation and channel tracking for devices such as the Mackie Control and Frontier Design TranzPort. The mixing console represents your project's audio files visually and provides additional routing options. This allows for a more flexible and efficient in-studio recording environment. The mixing console provides an integrated view of all tracks and buses in an ACID Pro project with the appearance of a traditional hardware-based mixer.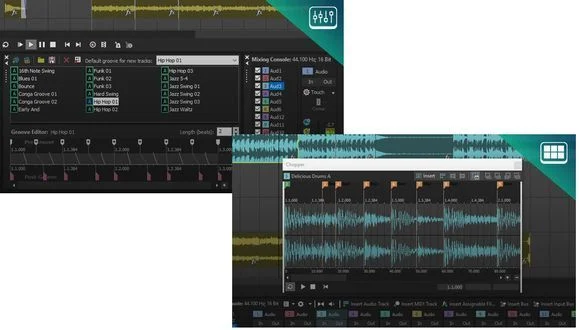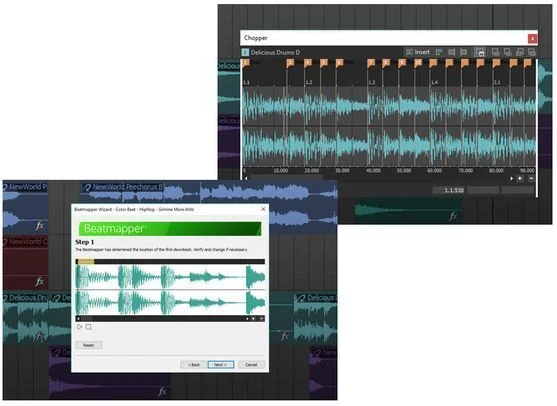 Loop-based creation
ACID Pro has all the core features found in previous versions: automatic pitch and tempo matching, real-time loop previewing, unlimited tracks, and ACID Pro's signature pick/paint/play interface. Transform loops and MIDI tracks into fresh, new sounds with powerful quantization tools. Use the Chopper window to create drum fills, stutters, and DJ-style effects. Remix songs with standard or multiple tempos with the Beatmapper remix tool. Further manipulate loops with real-time event reverse and freehand envelope drawing.
Included Virtual Instruments
Pop Drums
Concert Grand
Church Organ
Urban Drums
Electric Piano
Rock Drums
Drum Engine
Choir
Cinematic Synth
Analog Synths
Vintage Organ
Electric Bass
Jazz Drums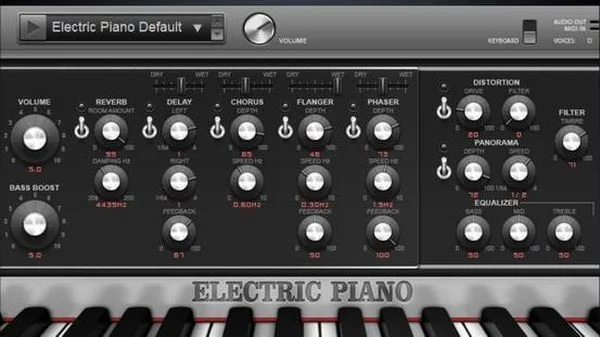 Included Effects
essentialFX Suite
eFX Gate
eFX Vocal Strip
eFX Compressor
eFX Tremolo Pan
eFX Chorus Flanger
eFX deEsser
eFX Phaser
eFX Tubestage
eFX Limiter
eFX Reverb
eFX Stereo Delay

am|mtrack SE
Vandal SE
Magix ACID Pro Features:
Loop-based music creation software with uncompromising 24-bit/192kHz sound quality
64-bit architecture harnesses all of your computer's power to run large, system-intensive projects
Turbocharges your workflow with a modern, sleek, and inspiring interface
Build large arrangements with unlimited audio and MIDI tracks
Includes 16 virtual instruments, 13 effects plug-ins, and 9GB of ACIDized loops
Real-time MIDI processing and precise control over MIDI events
Freeze MIDI tracks to save CPU processing power and increase productivity
Dedicated mixing console for a flexible and efficient recording environment
Supports automation and channel tracking for Mackie Control, Frontier Design TranzPort, and other control surfaces
Chopper window creates drum fills, stutters, and DJ-style effects
Beatmapper remix tool for remixing songs with standard or multiple tempos
Zplane élastique makes time-stretching totally transparent
Tech Specs
Software Type:
DAW
Platform:
PC
Upgrade/Full:
Full
Download/Boxed:
Download
Bit Depth:
64-bit
Format:
Standalone, VST2
Hardware Requirements - PC:
1GHz Multi-core Processor or higher, 8GB RAM recommended, 12GB drive space
OS Requirements - PC:
Windows 7 SP1 or later
Manufacturer Part Number:
11-33335
You may also be interested in: