You're currently on: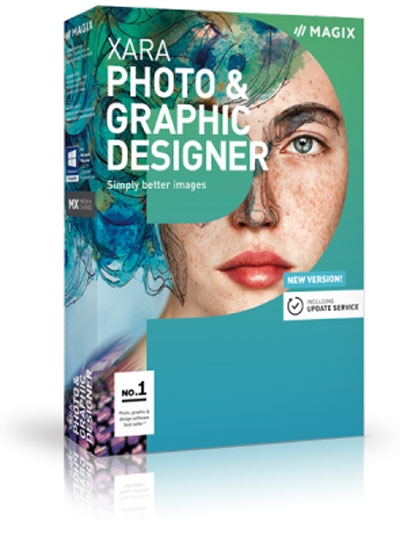 Xara Photo & Graphic Designer
Precise photo editing, creative drawing and professional design: Realize all your ideas with Photo & Graphic Designer – with just one software package! For this, you will find countless stock photos, graphics, layouts, photo filters and much more in the Online Content Catalog*.
Highlights
Photo editing: fast and precise
Graphic design: for professional layouts
Illustrations: Create logos & sketches
150+ effects and photo filters in the Online Content Catalog
Smart Shapes in the Online Content Catalog
Online Designer: Work collaboratively from anywhere
Update Service**
Get all new features for free for 1 year
Always get the latest version
Unlimited use of program
System Requirements
For Microsoft Windows 7 | 8 | 10
32-bit and 64-bit systems
All MAGIX programs are developed with user-friendliness in mind so that all the basic features run smoothly and can be fully controlled, even on low-performance computers. You can check your computer's technical data in your operating system's control panel.
Processor: 700 MHz
RAM: 512 MB
Graphics card: Onboard, minimum resolution 1280 x 600
Available drive space: 300 MB for program installation
Internet connection: Required for registering and validating the program, as well as for some program features. The program requires a one-time registration.
Supported import formats
Image: BMP, CUT, DCM, DCX, FAX, GIF, ICO, JPG/JPEG, JP2/J2C/J2K/JPX/JPF, MXB, PBM, PCD, PCT, PCX, PDF, PGM, PNG, PPM, PSD, RAS, SGI, TGA, TIF, XBM, XPM, WBMP, RAW, Illustrator AI, Illustrator EPS, CorelDraw 3 & 4 EPS, Freehand 3.0 EPS, Photoshop EPS, XAR
Raw data formats: arw, dng, cr2, crw, kdc, mrw, nef, orf, pef, ptx, raf, rw2, x3f
Others: ART, WEB, AFF, CDR, CDT, CMX, DRW, HTM, WMF, EMF, RTF, WIX, CPL, CorelDRAW PAL, Microsoft PAL, PaintShop Pro PAL, Adobe ACT, Adobe ACO, AVI, SWF, SVG
Supported export formats
Image: BMP, DCX, GIF, JPG/JPEG, PBM, PCD, PCT, PCX, PDF, PNG, PSD, RAS, TGA, TIF, Illustrator AI, Illustrator EPS, CorelDraw 3 & 4 EPS, Freehand 3.0 EPS, Photoshop EPS, XAR
Others: WEB, CMX, HTM, WMF, EMF, RTF, WIX, AVI, SWF, SVG
MINIMUM SYSTEM REQUIREMENTS
Microsoft® Windows® Vista® | 7 | 8 | 10
Intel® Celeron® or newer, or AMD® Sempron® or newer
Min 500MB of RAM
Min 300MB of available hard-disk space
You may also be interested in: