You're currently on: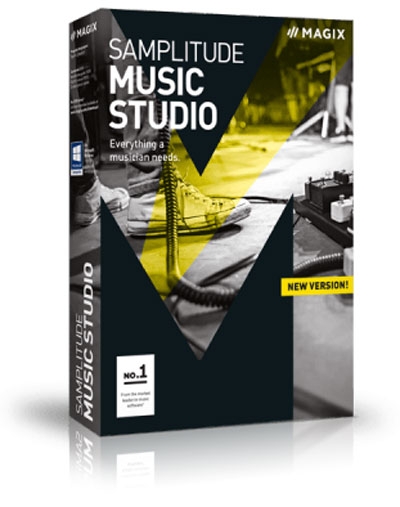 Samplitude Music Studio - Educational
ABOUT THIS SOFTWARE
Bring your music productions to life in the best possible quality. Samplitude Music Studio Steam Edition provides you with a complete professional solution for recording, composing, mixing and mastering your music.

New features
New: Cinematic Soundscapes, exotic instrument collection
New: Church Organ, virtual Italian organ
New: Concert Grand, virtual grand piano
New: Lead Synth, virtual synthesizer
New: Jazz Drums, acoustic drum set
New: Soundtrack Percussion, for grooves & rhythms
New: Thousands of sounds grooves from the genres of Jazz, Rock Pop, Movie scores, Latin and Ambient.


Tutorials:
Our introductory and tutorial videos can be found on our website in the Know-how section under online video tutorials. Artist interviews and background information in Magix audio blog.


Highlights
19 virtual instruments (pianos, guitars, synthesizers, drum machines)
Multitrack recordings in 24-bit/96 kHz studio quality
Notation help to display and print MIDI files
MIDI support: including MIDI Learn
64-bit & multi-core support, 32-bit floating point processing
Interfaces: VST3, VST2, ASIO, ReWire, MTC, MC
Timestretching and pitchshifting algorithms from zplane
Virtual Instruments
8 different drum machines
Percussion, electronic sets, complete rock drums, jazz drums and BeatBox 2 help you create the right groove for rehearsing, jamming or creating new songs.


4 virtual synthesizers
Create catchy leads, cinematic sounds, abstract audio worlds, euphoric sequences, grating basslines and oscillating pads with the Lead Synth, DN-e1, Revolta and Cinematic Synth.


A complete choir
The new virtual choir includes female, male and mixed voices and can be used in combination with the church Organ and Concert Grand to create elegant melodies.


Conduct three choirs
Operate and play an original sampled choir. All voices for female, male and mixed choirs are available in different presets and you can choose from various types of room tone.


Folk instruments
This great collection of traditional instruments is excellent for modern music production and improvising at the keyboard. The banjo, steel guitar, folk piano, percussion and folk bass instruments have been sampled and designed with great care.


Accordion
The virtual accordion adds a light, French sound to chilled out beats and traditional songs. It's the ideal instrument for making background music different and interesting.


Remix with the Vita Sampler
This sampler's got the groove. Develop your own sounds from audio files. Drag drop audio files into the sampler – cuts and pad assignments are made automatically.

Additional highlights
Mastering Suite
Balanced compression, precisely defined frequencies and the right volume, without affecting dynamics. The new Mastering Suite lets you create sounds for your music that are completely unique.


Free app
Use the free MAGIX Audio Remote app for starting and ending recording sessions in Samplitude Music Studio with your smartphone or tablet - even while you're at the piano or in the rehearsal room or sound booth.
You may also be interested in: