You're currently on: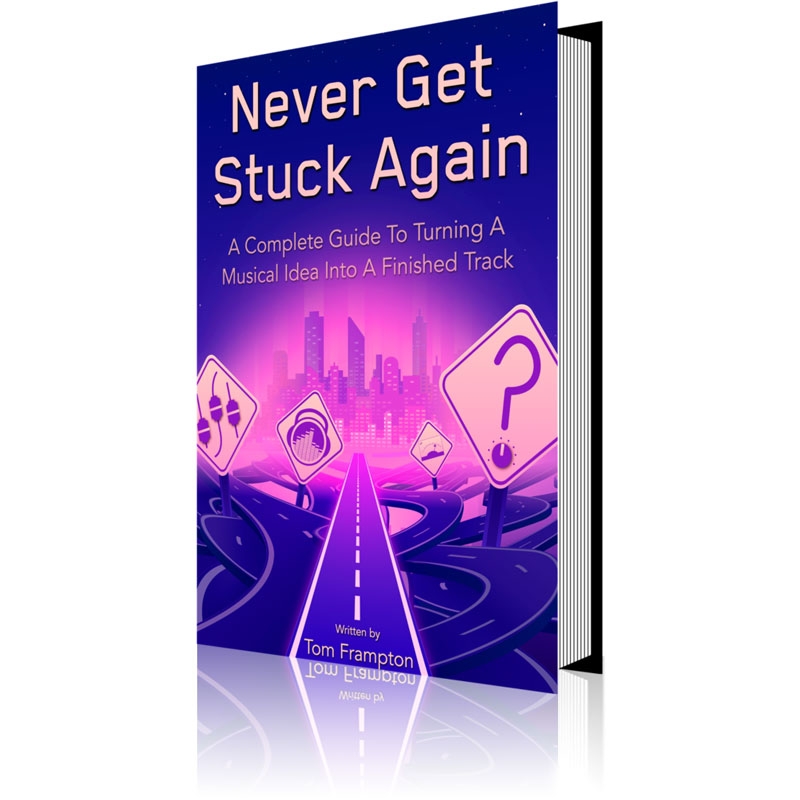 Never Get Stuck Again Free Chapter
A Complete Guide To Turning A Musical Idea Into A Finished Track
This free chapter of Lyrics and Vocals will provide you with a demonstration of what is available from the full version of Never Get Stuck Again eBook and Audio Book.
Finish More Tracks
Unable to understand why your track isn't working and not sure of the next step to take? This book will give you the information you need so you Never Get Stuck Again. A single resource that you can turn to for inspiration and techniques to help you finish more tracks to a higher standard.
Chapters in the Full Version
Establishing A Strong Musical Idea
Chord Progressions
Hooks & Melodies
Writing For Your Audience VS Writing For Yourself
Simplicity VS Complex
Repetition

Structure And Arrangement
Structuring Your Track
Arrangement
Limitless Environment

Building The Instrumental
Where To Start
Making Music
Creative Momentum
Recording Audio

Production Approach
Sound Choices & Vibe
Innovate
Creating Emotion
Keeping It Interesting

Lyrics And Vocals
Choosing The Words
Recording Vocals
Producing A Great Vocal

Collaborators
Working With A Vocalist
Working With Musicians
Working With A Producer
Working With Decision Makers

Getting A Solid Mix
Headroom
Levels And Balance
Noise Gates
EQing
Compression
Stereo Placement
Depth
Creating Context
The Bigger Picture
Technical Details

Taking The Mix To The Next Level
Musical Mixing
Mixing Low Frequencies Using
Reference Tracks
Magic Final Touches

Getting A Solid Master
Stereo vs Stem
Fundamentals Of Mastering
EQing And Shaping Your Master
Using The Limiter

Taking The Master To The Next Level
Musical Mastering
Making Sure The Master Sounds Better Than The Mix
Understanding And Using Loudness Range
SAVE thousands of $$$ compared to a good music production course...
What You Get With Your eBook
Immediate access to your PDF after purchase.
124 Pages of the authors MOST valuable information. Dozens of infographics to make complicated techniques and concepts easy to understand.
6 Cheatsheets to get fast results.
Production Timeline / Stereo Placement Cheatsheet / Structure Cheatsheet / Deconstructing A Mix Cheatsheet / EQ Cheatsheet / Songwriting Checklist.
For producers of all standards.
Get the fundamental principles perfect, then learn the intricate techniques that take your sound to the next level.
Audiobook for better retention.
Never Get Stuck Again, read by Tom Frampton. 2 Hrs 44 Mins Audiobook
Free Updates For Life.
Purchasers will receive any future editions of Never Get Stuck Again completely free of charge.
Read Anywhere.
Optimised for smartphone, tablet or computer / laptop screens.
About The Author
Tom Frampton is an audio engineer with one driving goal; to help music producers get the best possible results.
The past few years have been a whirl-wind for Tom. Mixing and mastering songs for thousands of clients, his plugins being used by tens of thousands and his blog read by hundreds of thousands. Every day presenting a new challenge, and a new opportunity to learn.
Hearing the music related struggles expressed by his clients and readers has positioned Tom perfectly to uncover unique techniques and workflows to help them create better-sounding mixes.
Tom wrote this eBook to compile and share all of his most valuable information into a single resource. Having been involved at every stage of the production process in various scenarios, he found there are some approaches that work brilliantly, and some that guarantee sub-par results.
Toms approach to music production, as defined in this book, has opened the door for him to release remixes on influential labels (BMG) and work with world-renowned artists (Tiesto, David Guetta, Calvin Harris, Niall Horan).
You may also be interested in: