You're currently on: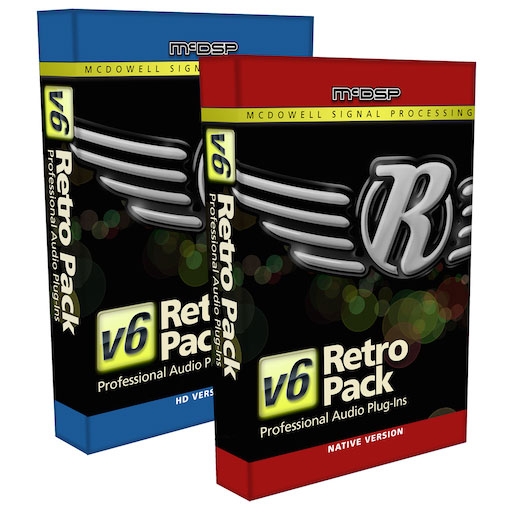 Retro plug-ins are originally styled and designed for the ultimate vintage audio vibe.
Retro Pack includes:
4020 Retro EQ

4030 Retro Compressor

4040 Retro Limiter

Pre-programmed McDSP green iLok
All Retro plug-ins use a new output stage topology to eliminate digital clipping at any output level and produce a smoother distortion characteristic. This feature is in addition to the analog saturation modeling that has made McDSP famous over the last decade. Retro plug-ins are a line of 'classics' that can live up to their own name without emulating something else.
In addition to the three full featured McDSP Retro plug-ins, Retro Pack also contains a pre-programmed McDSP Green iLok. Retro Pack is ready to plug and play right out of the box.
4020 Retro EQ
The 4020 Retro EQ is a four-band EQ and complimentary filter set. The HF and LF bands are shelving EQ, with two additional parametric EQs at the HMF and LMF bands. All EQ operates on a unique gain dependent variable slope/Q system for a vintage smooth sound with added intelligence for steeper responses at high gains.
4030 Retro Compressor
The 4030 Retro Compressor is a new dynamic range control topology coupled with a wet/dry mix control to balance compressed and uncompressed signals. An active attack and release design allows aggressive compression settings with minimal artifact generation.
4040 Retro Limiter
The 4040 Retro Limiter combines a look-ahead brick wall limiter function with several subjective treatments to make the limiting action subtle, and yet vintage.