You're currently on:

A UNIVERSE OF SOUND
KOMPLETE 11 ULTIMATE is the supreme music production suite – the ultimate resource for professional production, scoring, performance, and sound design. It's everything you need to create, with an unparalleled collection of 87 inspiring instruments and effects. Cutting-edge synthesizers, carefully sampled acoustic instruments, rich orchestral libraries, and innovative sound design tools, plus the world's leading sampling and synthesis platforms REAKTOR and KONTAKT. And you get it all at a small fraction of the combined cost of the individual products.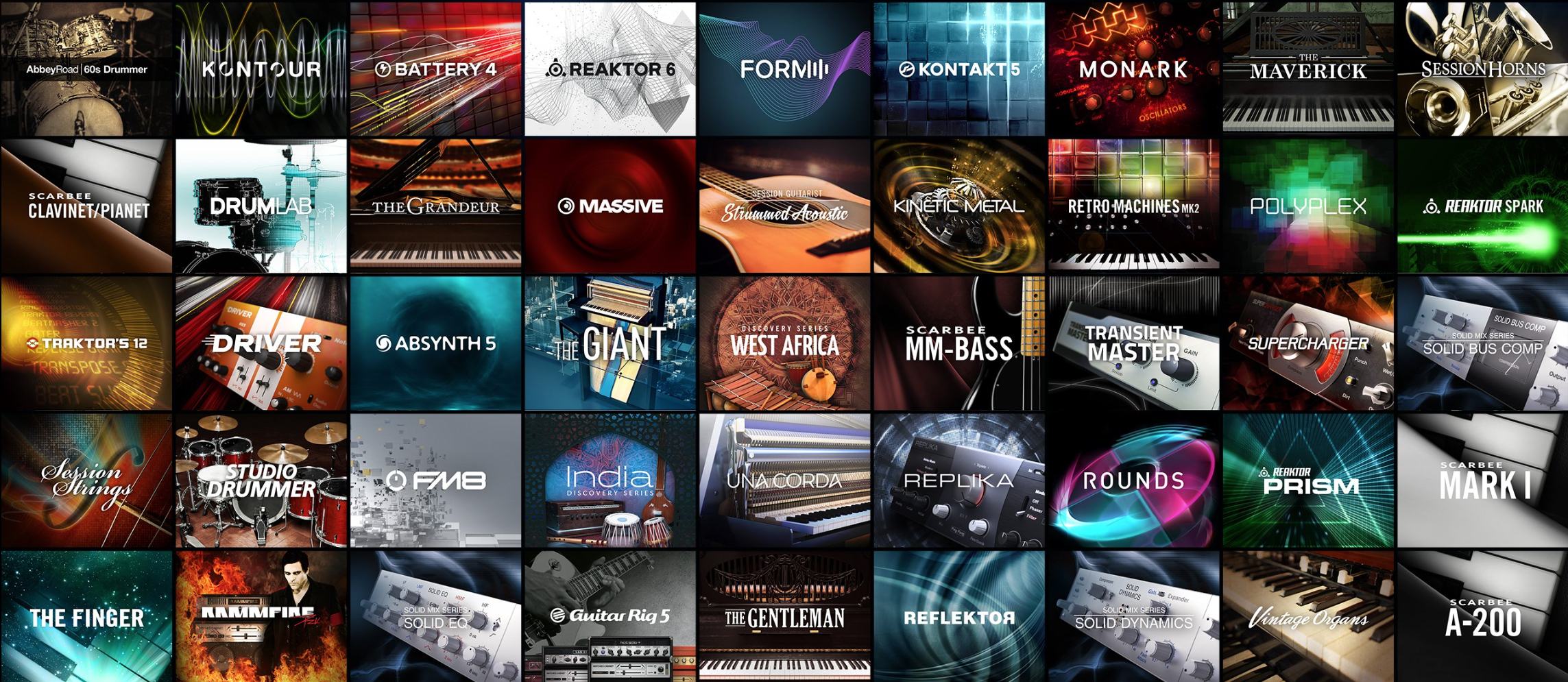 WHAT'S NEW
The latest KOMPLETE ULTIMATE adds 11 new instruments and effects to expand your sonic horizon and speed up creativity.
FORM
Creative synthesizer for transforming samples into anything you can imagine.
REPLIKA
Two studio-quality delays and a powerful diffusion algorithm in a sleek interface.
REAKTOR 6
The ultimate creative toolkit for the deep sound exploration.
UNA CORDA
A faithfully captured custom piano with one string per key.
INDIA
Superbly sampled instruments that deliver every nuance of traditional Indian music.
SESSION GUITARIST - STRUMMED ACOUSTIC
Perfectly strummed and recorded patterns, vivid sound, and real-time control.
INCLUDED PRODUCTS
SYNTHESIZED AND ELECTRONIC
FORM
Unique sample-based synthesizer with a refreshing approach to sound creation and an organic and powerful sound.
REAKTOR 6
The ultimate creative toolkit for deep sound exploration, featuring cutting-edge DSP and high-fidelity sound.
MASSIVE
The heavyweight synthesizer for fat basses and piercing leads – everything from creamy analog sounds to dirty, brute force audio.
MONARK
Monophonic synthesizer capturing every sonic nuance of the king of analog monosynths in spectacular detail – the holy grail of analog modeling.
ABSYNTH 5
Semi-modular, highly versatile synthesizer. Perfect for atmospheric pads, evolving soundscapes, and more.
FM8
The bright, lively sound of FM synthesis packed into a sleek user interface with innovative advanced features.
ROUNDS
A REAKTOR-based synth that combines digital and analog synth sounds with complex, sequenced sound-shifting capabilities.
KONTOUR
An innovative phase modulation synthesizer with expressive performance features that bring each note to life.
RETRO MACHINES MK2
16 coveted analog synthesizers and keyboards, lovingly sampled from the original instruments for thick, creamy, analog sound.
REAKTOR PRISM
Unique, responsive polyphonic instrument and effect, based on the innovative modal synthesis technology from REAKTOR.
REAKTOR SPARK
Stunningly dynamic synth sounds based on a unique REAKTOR ensemble developed by Native Instruments' founder Stephan Schmitt.
SAMPLED AND ACOUSTIC
KONTAKT 5
The world's leading sampler, with a vast instrument library and an advanced sampling framework.
UNA CORDA
The special sound signature of a custom-made contemporary piano with one string per key – sampled in intimate detail.
SESSION GUITARIST – STRUMMED ACOUSTIC
Your always-on-call session guitarist – perfectly strummed and recorded patterns, vivid sound, and real-time performance control.
DISCOVERY SERIES: INDIA
A vast library of traditional Indian rhythmic patterns and historic scales, designed for ultimate realism and adaptability.
KINETIC METAL
An inspiring, highly-playable instrument of unconventional metallic sources for ethereal textures and tonal percussion.
BATTERY 4
The 21st century drum sampler – the worldwide studio choice for drum sampling and creative beat production.
POLYPLEX
An eight-part drum sampler with extraordinary randomizing capabilities, creative layering, and near infinite tweakability.
THE GENTLEMAN
A classic upright piano that delivers balanced tone and a wide dynamic range, sampled from a vintage upright.
THE GRANDEUR
The rich, hyper-detailed sound of one of the world's most treasured concert grand pianos.
THE MAVERICK
An expressive vintage grand piano, sampled in meticulous detail for authentic tone and distinctive character.
DRUMLAB
A sonic laboratory for layering drums, combining pristine acoustic samples with a punchy electronic edge.
SESSION HORNS
10 instruments sampled in surgical detail, intuitively playable, and arranged for realistic, contemporary performance.
THE GIANT
The world's biggest upright piano – meticulously sampled for an intense, dynamic playing experience and cinematic sound design.
VINTAGE ORGANS
The sound of 5 classic organs: The Hammond B-3, C-3, M-3, Farfisa Compact, and Vox Continental II in one sample-based instrument.
DISCOVERY SERIES: WEST AFRICA
A collection of beautifully sampled percussion and melodic instruments from West Africa in a playable, polyrhythmic instrument.
STUDIO DRUMMER
Three premium drum kits, over 3,300 exclusive groove patterns and a detailed mix studio with high-end effects.
SESSION STRINGS PRO
An inspiring, playable instrument withntimate sound, intuitive workflow, and in-depth control.
SCARBEE MARK 1
The sound of an iconic 70s electric piano – beautifully sampled and perfectly preserved in all its analog brilliance.
SCARBEE A 200
A classic and highly versatile electric piano sampled to perfection with its entire dynamic range and character intact.
SCARBEE CLAVINET PIANET
Two legendary keyboards – expertly sampled and brimming with the unique character and funky feel of the originals.
ABBEY ROAD 60S DRUMMER
Exquisite vintage drums, with a typical tight, dry sound. Recorded at Abbey Road Studios, London.
ABBEY ROAD 50S DRUMMER
The authentic sound of the very early years of popular music, recorded at Abbey Road Studios, London.
SCARBEE MM-BASS
Classic 70s electric bass from Scarbee inspired by the sound of Bernard Edwards of Chic.
CREATIVE AND STUDIO EFFECTS
REPLIKA
Two professional quality delays and a powerful diffusion algorithm in a sleek, streamlined interface.
GUITAR RIG 5 PRO
The ultimate all-in-one guitar and bass solution with 17 amps, 54 effects, and more. Easy to use, with breathtaking sound.
SUPERCHARGER GT
The sound of modern tube compression taken even further with superior control, additional saturation, and sonic sculpting.
DRIVER
A versatile, creative distortion and filter effect. Take tracks from subtle filtering to all out mayhem.
TRANSIENT MASTER
An essential dynamics effect that enhances attack on drums and percussion, controls mix presence, and fixes problem recordings.
SOLID BUS COMP
More than a bus compressor. Use it on single channels, subgroups, or the master channel for consistently rewarding results.
SOLID DYNAMICS
Stereo compressor with gate and expander. A responsive, clean-sounding, works-on-anything effect for processing dynamic
SOLID EQ
A versatile, 6-band equalizer with switchable characteristics. May well become your new favorite EQ plugin
REFLEKTOR
Convolution reverb based on Zero Latency technology. Over 300 impulse responses deliver a range of creative reverb effects.
RAMMFIRE
Ground-breaking amp emulation based on Rammstein guitarist Richard Z. Kruspe's personal setup.
THE FINGER
An innovative multi-effects unit which can be played like a musical instrument. Derived from the live setup of Tim Exile.
TRAKTOR'S 12
12 studio-ready TRAKTOR effects for use with the free GUITAR RIG 5 PLAYER or GUITAR RIG 5 PRO.
SYSTEM REQUIREMENTS
Mac OS X 10.10 or 10.11 (latest update), Intel Core 2 Duo

Windows 7, Windows 8, or Windows 10 (latest Service Pack, 32/64-bit) Intel Core 2 Duo or AMD Athlon 64 X2

4 GB RAM (6 GB recommended for large KONTAKT Instruments)
10 GB free disk space (122 GB for complete installation).

An internet connection is required to install and activate the products in this KOMPLETE bundle. Once installed, all products can be used offline. Certain products may require additional free downloads. Changes in compatibility with third-party products may depend on restrictions Native Instruments cannot influence.
Stand-alone, VST, Audio Units, ASIO, Core Audio, WASAPI, AAX Native (Pro Tools 10 or higher)
10 GB free disk space / 122 GB for complete installation. Specific requirements vary depending on the individual program.
The applications alone require 6 GB free disk space, the whole library requires 116 GB on top. Note that the uncompressed library size is 155 GB. Most libraries are installed in a compressed form using advanced KONTAKT Lossless Sample Compression. They only expand to their full size during use and thus take up less space on your hard drive when inactive.
This product runs in demo mode after installation and must be activated before full functionality is available.
All products included within a single edition of a KOMPLETE 11 bundle are part of one user license and can only be used as a single entity. A maximum of three installations on three machines are allowed as long as only one installation is used at any given time. The individual products cannot be resold separately.
You may also be interested in: