You're currently on: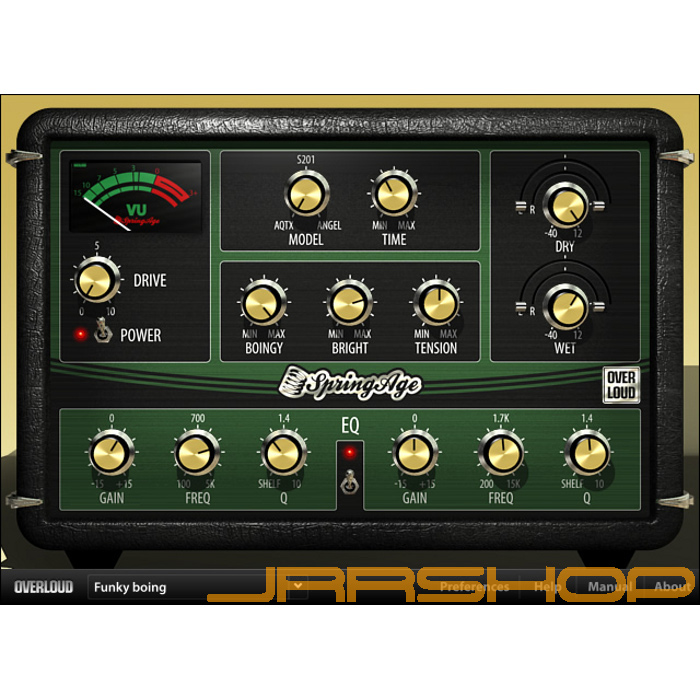 The Classic Sound of Spring Reverbs with Amazing Flexibility
The Best Spring Tone Ever
Overloud introduces the new reference for spring reverb emulation. Based on a mix of convolution and algorithmic technologies,Overloud's dual-modeling approach makes SpringAge extremely authentic and flexible.
If you have always wanted the precise tone and dynamics of a spring reverb in the convenience of a plug-in, then look no further.
With three spring models from the most revered and acclaimed vintage and modern spring hardware, SpringAge always delivers on any kind of instrument, whether guitars, vocals, or classic keyboards and synths. Your recordings will have that vintage and dynamic reverb tone that standard digital reverbs simply can't achieve.
Creative flexibility
With the SpringAge simulation engine, you can start from the original tone of the spring and creatively modify it by changing a number of response characteristics. You have the flexibility of an algorithmic reverb with the fidelity of a convolution-based reverb.
Model List:
AQTX is the most classic spring, pulling great tone from guitar and vocal tracks.

S201 is perfect for any keyboard, synth and lead instrument.

ANGEL really rocks with killer distortion and a deep spring effect.
Main Features:
Drive control let's you push the tube stage that drives the spring into saturation

Full control over any characteristic of the spring tone

"Boingy" knob controls the amount of the typical "boing" spring response to transients

Two band multifunction fully parametric EQ to perfectly shape the spring tone

Stereo mixing matrix of dry and wet signal for flexible spatial options

Ultra low CPU usage
You may also be interested in: