You're currently on: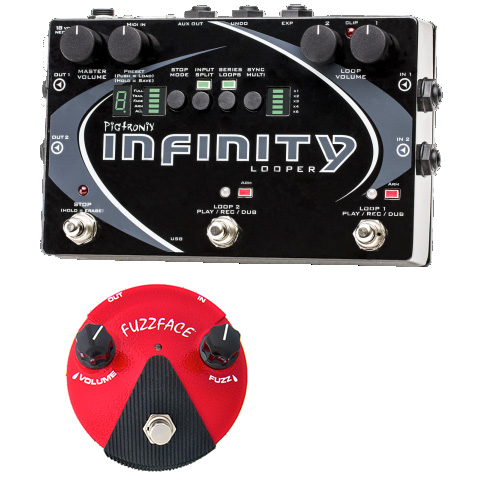 Pigtronix Infinity is the world's most musical looping pedal. Simple to operate, yet tremendously powerful and flexible, the Infinity Looper from Pigtronix sets a new world standard for latency-free looping. Our state-of-the-art looping platform provides instantaneous record, playback, dub, undo and redo, on two stereo loop pairs that can be configured in several ways. On top of superior speed and a unique, performance friendly feature set, Infinity Looper sounds downright incredible thanks to its discreet analog limiter stages, transparent analog pass-through and 24bit / 48kHz HD recording engine.
Infinity's innovative "SYNC MULTI" mode provides a multiplier function allowing the length of Loop 2 to be 1, 2, 3, 4 or 6 times the length of Loop 1. The two loops can also be run out of sync or even in SERIES, for verse / chorus song structures. Ninja style input split mode assigns Input 1 to Loop 1 and Input 2 to Loop 2, effectively allowing performers to record and overdub separate instruments on separate loops, into isolated amps simultaneously.
The Pigtronix Infinity also provides a long awaited AUX Loop output intended to send looped audio to stage monitors. This is especially helpful for drummers to hear and stay in time. An expression pedal jack for Loop Volume allows hands free control of the overall audio output. We thought of everything and kept only the F.A.T.
Midi input for beat clock sync causes loop start and stop points to obey Pro Tools or any other DAW / Sequencer that outputs Midi. The Infinity's USB access allows you to and transfer your music to a computer at full 24bit, 48kHz resolution for further mixing, mastering or immediate publication. We have also implemented audio upload with automatic format conversion, allowing you to upload virtually any digital audio file onto the Infinity Looper.
THE MUST HAVE PIGTRONIX for any musician. The Infinity Looper will inspire compositional depth and engaging performances; it is the ultimate practice and performance tool for every style of music.
FEATURES
2 Stereo Loops with Sync
Loop 2 Multiplier x1, x2, x3, x4, x6
Series or Parallel Looping Modes
9 loop presets + 1 blank canvas
24bit / 48kHz recording
Latency Free Looping
Analog pass through of clean tone
USB access to saved loops
Supports upload of virtually ANY audio format via USB
Input Split for recording separate instruments on each loop
Remote switch for Dub UNDO / REDO (erase / replace) last overdub
Supports 256 (or more) overdubs per loop
Aux Loop Out for Drum Monitor
Expression Pedal for Loop audio volume
Midi Beat Clock Sync
All commands are instantaneous
5 Stop Modes for flexible performance options
18VDC power supply included
USB-A to microUSB cable included
Chassis Size = 7.4" x 4.6" x 1.5"
FFM2 Fuzz Face Mini Germanium
Based on mid '60s Fuzz Faces with slightly mismatched germanium transistors
Legendary Fuzz Face tones in a pedalboard-friendly housing
Status LED, AC power jack & battery door
The Fuzz Face Mini pedal line features legendary Fuzz Face tones in smaller, more pedalboard-friendly housings with several modern appointments: true bypass switching, a bright status LED, an AC power jack and a convenient battery door.

The FFM2 Germanium Fuzz Face Mini is based on '66-'68 era pre-silicon Fuzz Faces famous for warm vintage fuzz tones provided by slightly mismatched germanium transistors.