You're currently on: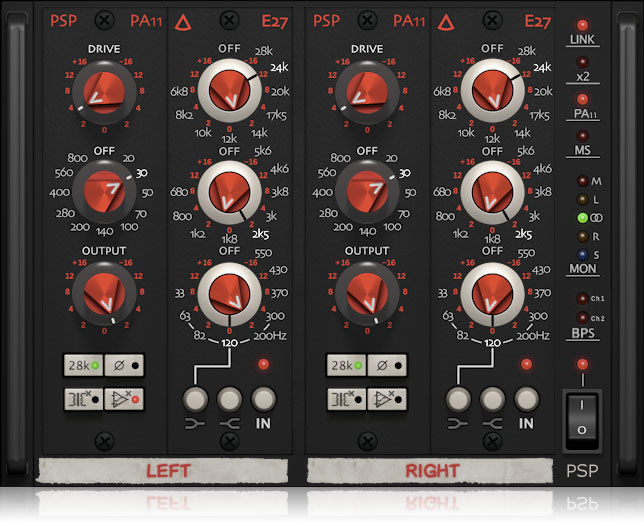 | | |
| --- | --- |
| | |
PSP E27 is a multistage equalizer plug-in (VST3, VST, AAX and RTAS for Windows; AudioUnit, VST3, VST, AAX and RTAS for Mac OSX) modeled after the analog equalizer E27 produced by Avedis Audio Electronics. E27 offers three-band equalization with nine selectable frequencies in a standard 500x package. This equalizer offers +/-16dB of boost/cut at musically selected frequency ranges and offers gentle saturation. Low and high filters can work in bell or shelf mode with a single click. E27 is suitable for both mixing and mastering. PSP E27 offers additional preamp stage for global level control. This EQ plug-in catches nonlinear behavior of analog devices.
PSP is the sole developer and manufacturer of the PSP E27. Functionality and sound of the PSP e27 have been approved by Avedis Audio Electronics. PSP is responsible for all customer support.
Customer Reviews
High performance, musicality, ease of use and simplicity are the key elements of the E27. Extended frequency response, smooth, sweet, proportional Q design add up to great sonic features making the E27 invaluable in every project that I used it on.
Sakis Anastopoulos, DigiSound Mastering, Australia
Very hardware sounding, very familiar sounding. The PSP E27 EQ shows that the line (or separation) between excellent sounding hardware, and beautifully accurate coding necessary to obtain that same musical hardware sound "in the box," is, for all intents and purposes, gone. In 2016, in the DAW, or out, especially with this PSP EQ, it's all the same now.
George Daly, music executive, video and music producer, The Cars, Janis Joplin, Carlos Santana, The Tubes, Tool
The PSP E27 is a beautiful addition to the PSP line. At its heart is a faithful recreation of the Avedis hardware EQ. But its true strength lies in additional functions like the PA11 preamp module and x2 mode, which allows you to layer two sets of E27 modules in a single instance. This goes above and beyond the hardware. When you add the ability to switch from L/R to M/S operation, this plugin really packs a punch!
Blake Eiseman, music producer, mixer and sound engineer, Usher, Justin Bieber, Janet Jackson, James Brown, Boyz II Men, Arrested Development
Once again PSP delivers something special: new EQ model - based on hardware that may not be familiar to everyone but delivers a superb sound the lovechild of a Neve/API
Steve Levine, Grammy Winning Producer, The Clash, Culture Club, Beach Boys, Motorhead, Ziggy Marley
The PSP E27 EQ sounds great! It has a certain warmth to it that does not sound digitally produced to my ears! The low end is huge & warm, yet not muddy at all! And the added 28K boost button is a nice addition as well! Brings a certain presence to a vocal even in a mastering situation!
Warren Sokol, Universal Mastering Studios, Hollywood, USA
Minimum System Requirements
PC
VST3
Windows x32 or x64 (7, 8 or 10)
VST3 compatible application
VST
Windows x32 or x64 (XP Service Pack 2, Vista, 7, 8 or 10)
VST 2.4 compatible application
RTAS
Windows x32 or x64 (XP Service Pack 2, Vista or 7)
ProTools LE 8.0.0 or ProTools TDM 8.0.0 (or later)
AAX
Windows x32 or x64 (XP Service Pack 2, Vista or 7 or 8 or 10)
Pro Tools 10 or Pro Tools 11 or Pro Tools 12 (or later)
Mac (intel)

AudioUnit
Mac OSX 10.6 - 10.11 or later
32 or 64-bit host application capable of running AudioUnit plug-ins with Cocoa view
VST
Mac OSX 10.6 - 10.11 or later
32 or 64-bit VST 2.4 compatible host application
VST3
Mac OSX 10.6 - 10.11 or later
32 or 64-bit VST 2.4 compatible host application
RTAS
Mac OSX 10.6 - 10.11 or later
ProTools LE 8.0.0 or ProTools TDM 8.0.0 (or later)
AAX
Mac OSX 10.8 - 10.11 or later
Pro Tools 11,12 or later
You may also be interested in: