You're currently on: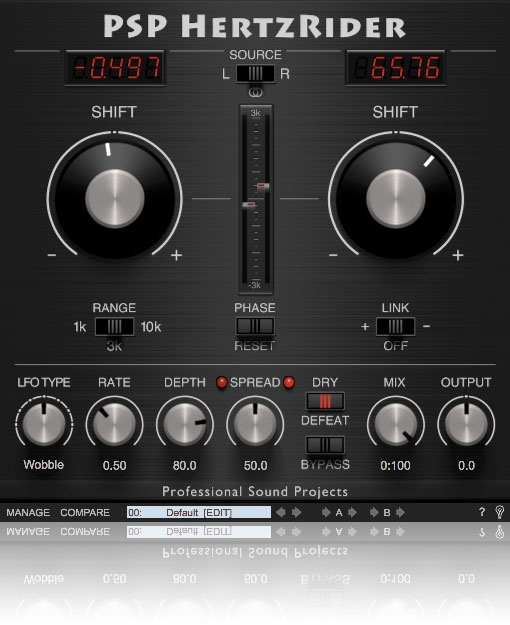 PSP HertzRider2
| | |
| --- | --- |
| | |
PSP HertzRider2 (frequency shifter plug-in) is the successor to the PSP HertzRider. It benefits from algorithm optimization and adds numerous significant new features. It's been designed to be as simple as possible, to take as few resources as possible, and to incur only a very slight (and frequency dependent) latency.
PSP HertzRider2 can be an incredible tool for tuning inharmonic sounds like snares, and for harmonic sounds it becomes a creative and crazy destructive tool. In addition to a wide range of shifting settings the algorithm contains an LFO (low frequency oscillator) to provide interesting modulation options allowing you to further creatively experiment with this tool.
Main Features
* high quality frequency shifting
* LFO control
* independent frequency shifting of left and right channel
New features in version 2:
* LFO synchro mode - synchronisation to musical note values referenced to an audio host's tempo setting
* Envelope Follower with side chain
* SideChain Bar with smooth mix between internal and external source
* More presets
Testimonials
Once again PSP has come out with a unique new plugin like no other. The more I use PSP HertzRider2 the more ideas pop in my head about even more ways to use it!
Alan Meyerson Grammy Winning scoring mixer and engineer
Dark Knight, Gladiator, Shrek, King Kong, Transformers, Sin City, the Pirates of the Caribbean ...
Minimum System Requirements
In order to run a plug-in in 30 day demo mode or activate the plug-in, you need an iLok user ID which you can create for free at www.ilok.com, and you need to install the free iLok License Manager application. A hardware USB iLok dongle is NOT required, however it is optional.


PC

VST3

• Windows x32 or x64 (7, 8 or 10)
• VST3 compatible application

VST

• Windows x32 or x64 (Vista, 7, 8 or 10)
• VST 2.4 compatible application

RTAS

• Windows x32 or x64 (XP Service Pack 2, Vista, 7 or 10)
• ProTools 8.0.0 (or later)

AAX

• Windows x32 or x64 (XP Service Pack 2, Vista, 7 or 10)
• Pro Tools 10, 11, 12 or Pro Tools HD 10, 11, 12 or Pro Tools 2018

All DAWs
Up to date iLok License Manager application installed
Mac

AudioUnit

• Mac OSX 10.8 - 10.14 or later
• 32 or 64-bit compatible host application

VST

• Mac OSX 10.8 - 10.14 or later
• 32 or 64-bit VST 2.4 compatible host application

VST3

• Mac OSX 10.8 - 10.14 or later
• 32 or 64-bit VST 3 compatible host application

RTAS

• Mac OSX 10.8, 10.9, 10.10 or 10.11
• ProTools LE 8.0.0 or ProTools TDM 8.0.0 (or later)

AAX

• Mac OSX 10.8 - 10.14 or later
• Pro Tools 10, 11, 12 or Pro Tools HD 10, 11, 12 or Pro Tools 2018

All DAWs
Up to date iLok License Manager application installed