You're currently on: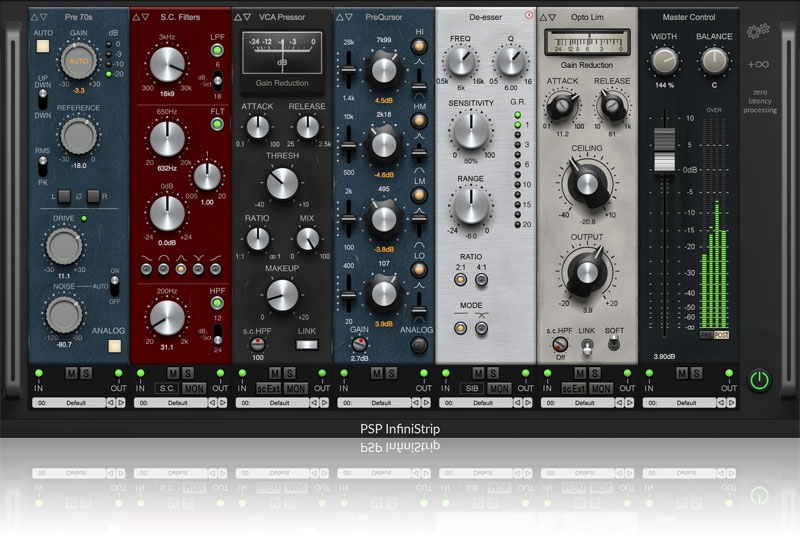 | | |
| --- | --- |
| | |
PSP InfiniStrip is an infinitely configurable channel strip plug-in (AAX, AudioUnit, VST, VST3, RTAS) based on 20 years PSP experience in developing HANDCRAFTED PLUG-INS for tracking, mixing and mastering. PSP InfiniStrip can be used for mixing, tracking or live streaming/broadcasting anywhere you need a great sounding and easy to configure channel strip, without having to worry about latency! That's right - you can configure PSP InfiniStrip with whatever modules you need and track through them with confidence that the plug-in isn't adding any latency at all to your recorded signal! ZERO LATENCY. FULL IMPACT.
Features
25 independent processors divided into 8 types of modules (preamps, filters, compressors, equalisers, limiters, dynamic modules [expander, ducker and gate], control and special modules) to create your custom channel strip.
7 dedicated "slots" for you to add one module from each type of processing modules, and 2 flexible insert slots for any module type.
Parameters matching. Swipe through different compressors, EQs without touching a knob. Look for your preferred colour and flavour.
3 different view modes (full, resizeable, and mini view mode) designed for different workflows and screen sizes.
External side-chain support for each module independently.
Includes both Mono and Stereo plug-in versions for different track types.
Zero latency processing.
Over 230 presets designed by top sound engineers from around the world.
Testimonials
I love it!

Alan Meyerson Grammy-winning scoring mixer (Mulan, Dark Knight, Gladiator, Shrek, the Pirates of the Caribbean ...)
This is a fantastic idea. A full channel strip with an assortment of audio flavours, all gain-matched so you can switch around them and really hear what the different modules are bring to your sound. And because it's made by PSP, the audio quality is as good as it gets. Can't recommend it highly enough.
Dom Morley Grammy-winning producer, mixer and engineer (Amy Winehouse, Mark Ronson, Nick Cave, Adele ...)
PSP surprised us with a "500 series / modular" wonder! The rack has preamps, eqs and side-chainable compressors from different eras, expander, gate, and a truly amazing side-chainable ducker! A VERY fast limiter, de-esser, and even a stereo widener. Even with all that, from what I noticed, they may be just scratching the surface with what's yet to come, because as the name implies, the possibilities are truly infinite! Ah, and the sound, as analog as we could expect from anything PSP. Amazing. Truly amazing.
Enrico De Paoli Grammy-winning engineer (Djavan, Marcus Miller, Ray Charles, Leonard Cohen ...)
The PSP InfiniStrip is an awesome plug-in with super fast workflow and great sound. It's incredibly versatile and I LOVE how it allows me to toggle thru different versions of each module and and keeps the settings, this makes it incredibly easy to compare EQs and compressors etc. Great job as usual guys!
Ian Boxill Grammy and Golden Glob-winning mixer and engineer (Prince, Quincy Jones, Tupac Shakur, Janet Jackson ...)
The PSP InfiniStrip has the perfect mixture of top rate analog gear sound quality with an intuitive & easily configurable GUI. … I love the 80s & 70s pre's, and who would have thought a 90s ADC pre would be desirable, -I had a snare track that had been recorded with a little too much of a vintage/gooey vibe that came back to life with the 90s pre. I could easily mix an entire album with just the InfiniStrip (along with a few verbs & delays).
John Kurzweg MultiPlatinum record producer and engineer (Creed, Puddle of Mudd, Eagle Eye Cherry, Godsmack ...)
PSP InfiniStrip it brings you in a new workflow experience thanks to the combination of my favourite PSP flavour in one killer plugin. Perfect for live mix and console feeling.
Jurij Gianluca Ricotti musician, composer & sound engineer (Andrea Bocelli, Ennio Morricone, Ariana Grande, Tony Renis ...)
I've already used PSP InfiniStrip and I absolutely love it. It is an amazing plugin. I love the modules, it is super easy to work with them and they sound amazing. You guys did a fantastic job.
Marcus Siepen guitarist, songwriter (Blind Guardian, Sinbreed, Demons & Wizards)
I absolutely love what you have done with this thing!
Ragnar Zolberg singer-songwriter and a multi-instrumentalist (Ragnar Zolberg, Pain of Salvation, Sign, Sonr Ravn)
It's taken over 7 years of painstaking research and development by the talented PSP team, but its really worth the wait ....this is a very powerful addition to any producers DAW set up.....and for those who like to track using plugins the BIG plus with infinity strip is the ZERO latency - it is a blessing I'm also thrilled to have been asked to contribute a few of my GOTO presets...enjoy!
Steve Levine producer, mixer and engineer (The Clash, Culture Club, The Beach Boys, Motorhead, Ziggy Marley ...)
It's FANTASTIC. Really beautifully laid out. Wonderfully practical application with a LOT of creative potential.

Vernon Reid guitarist, songwriter (Living Colour, Masque, Chocolate Genius, Inc ...)
Minimum System Requirements
In order to run PSP InfiniStrip in 30-day trail mode or activate it, you need an iLok user ID which you can create for free at www.ilok.com, and you need to install the free iLok License Manager application. A hardware USB iLok dongle is NOT required, however it is optional. You can activate the license in 3 separate locations, each of which can be either a computer or an iLok dongle (2nd generation or above). You can move these licenses at any time using PACE's iLok License Manager software.
PC
VST3
Windows 7 – Windows 11
64-bit VST3 compatible application
VST
Windows 7 – Windows 11
64-bit VST compatible application
AAX
Windows 7 – Windows 11
64-bit Pro Tools 11, 12 or Pro Tools HD 11, 12 or Pro Tools Ultimate
All DAWs
The latest iLok License Manager application installed
macOS Intel or macOS Silicon
AudioUnit
macOS 10.10 – macOS 12.01 Monterey
64-bit AudioUnit compatible host applicationf
VST
macOS 10.10 – macOS 12.01 Monterey
64-bit VST compatible host application
VST3
macOS 10.10 – macOS 12.01 Monterey
64-bit VST3 compatible host application
AAX
macOS 10.10 – macOS 12.01 Monterey
64-bit Pro Tools 11, 12 or Pro Tools HD 11, 12 or Pro Tools Ultimate
All DAWs
Up to date iLok License Manager application installed
VST and VST3 are trademarks and software of Steinberg Media Technologies GmbH. AAX and Pro Tools are trademarks or registered trademarks of Avid Technology, Inc. AudioUnit, OSX and macOS and macOS Silicon are trademarks of Apple Inc. iLok is a treadmark of PACE Anti-Piracy, Inc.
You may also be interested in: