You're currently on: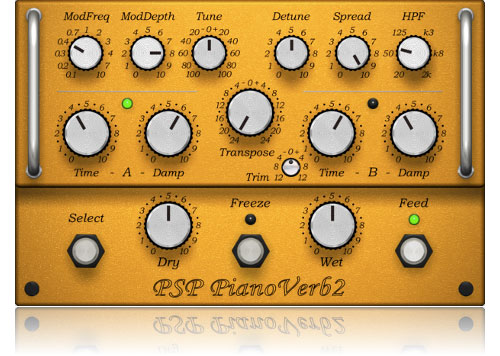 | | |
| --- | --- |
| | |
PSP PianoVerb2 is a redesigned and improved creative resonant reverb plug-in (VST, AAX and RTAS for Windows; AudioUnit, VST, AAX and RTAS for Mac OSX) plug-in based on our famous and beloved freeware plug-in PSP PianoVerb. Like the original PianoVerb it creates its unique sound with twelve resonant filters that mimic the behavior of piano strings. The ability to transpose, tune and detune the set of strings allow you to set up PianoVerb2 to deliver a wide range of reverberations ranging from traditional wide spread reverb to unique and unusual resonances. With the addition of a brand new modulation section and the ability to set up multiple settings of time and damping and decay freezing (via A/B comparison function) this little plug-in delivers amazing options for creative use. Add to that some other amazing new additions such as a high pass filter section, independent dry/wet controls and a reverb tail freeze control, and you can see just how PianoVerb2 has become a truly comprehensive and unique algorithmic reverb. Whenever you want to add some natural resonance to a weak piano track, vitalize your leading guitar with a bit of sustain or simply add a touch of a nice reverb to the selected track, PSP PianoVerb2 can do the job!
Testimonials
PSP PianoVerb2 is not really an upgrade from the previous free pianoverb but a powerful reverb plugin tailored & aimed at the piano ( although I've just tried it on guitars ). It can make even average piano sounds (real or sampled) sound magnificent, adding release, space and subtle pitch modulation to a static cold sound.
The really cool feature is the Freeze mode which captures a moment in time, but also has a "sound on sound" effect with each new note added to the freeze sound - very cool Indeed.
Steve Levine, Grammy Winning Producer, Chairman of The Music Producers Guild, London, UK
You could really go wild making highly unusual detuned and transposed reverberations that the others can't. Whatever you do with this, it will fill your ears. This is one very nice, and interesting plug in!
David A Israel, Smitematter.com
PSP PianoVerb2 is a really unique and fun tool for creative process. The concept of the original PSP PianoVerb was innovative to start with. Now this version 2 has A/B switch and Freeze feature to be more creative tool. I started having fun with jumping between 2 settings as well as occasional Freeze for dramatic effects controlled by DAW automation, I now hooked it up with MIDI pedal to do the same in real-time for my live performance. The response is quick and all the switching is very smooth.

In recent trend, reverb has been pushed away by impulse based emulators. We forgot what reverb brings to the creative processes. PSP PianoVerb2 is not only rich sounding reverb effect, it brings unique timber to the reverb world, added with deep modulator for you to go crazy if you wish. I have been having so much fun with this plug-in.

Hiroaki Honshuku, A-NO-NE Music, Cambridge, MA, USA
Minimum System Requirements
In order to run a plug-in in 30 day demo mode or activate the plug-in, you need an iLok user ID which you can create for free at www.ilok.com, and you need to install the free iLok License Manager application. A hardware USB iLok dongle is NOT required, however it is optional.

PC

VST3

• Windows x32 or x64 (7, 8 or 10)
• VST3 compatible application

VST

• Windows x32 or x64 (Vista, 7, 8 or 10)
• VST 2.4 compatible application

RTAS

• Windows x32 or x64 (XP Service Pack 2, Vista, 7 or 10)
• ProTools 8.0.0 (or later)

AAX

• Windows x32 or x64 (XP Service Pack 2, Vista, 7 or 10)
• Pro Tools 10, 11, 12 or Pro Tools HD 10, 11, 12

All DAWs

• Up to date iLok License Manager application installed


Mac

AudioUnit

• Mac OSX 10.8 - 10.12 or later
• 32 or 64-bit compatible host application

VST

• Mac OSX 10.8 - 10.12 or later
• 32 or 64-bit VST 2.4 compatible host application

VST3

• Mac OSX 10.8 - 10.12 or later
• 32 or 64-bit VST 2.4 compatible host application

RTAS

• Mac OSX 10.8, 10.9, 10.10 or 10.11
• ProTools LE 8.0.0 or ProTools TDM 8.0.0 (or later)

AAX

• Mac OSX 10.8 - 10.12 or later
• Pro Tools 11, 12 or Pro Tools HD 11, 12

All DAWs

• Up to date iLok License Manager application installed
| | |
| --- | --- |
| Variant | 1 |
| Specials | Mar 20, 2020 |