You're currently on: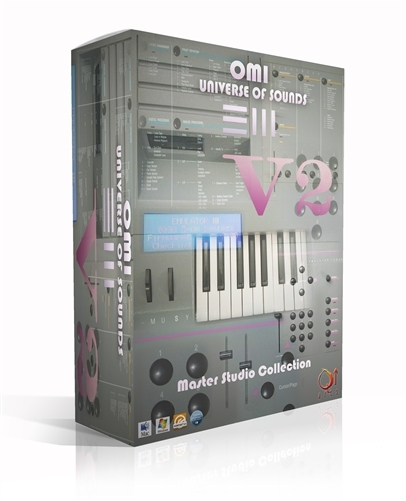 From the acclaimed OMI Universe of Sounds collection! Originally created for the Emu EIII, this library features a diverse collection of pianos, guitars, percussion, world instruments and much more! Optimized for Native Instruments Kontakt 5!!
Features
Vintage samples from the 80s! You've been listening to these sounds on platinum records and feature film scores since you were playing scales on your first keyboard!!
Kontakt full version. 16 bit, 44k. Stereo and mono samples.
The original samples were created and programmed by OMI's sound department, Reflective Arts. Douglas Morton, David Hannibal and Steve Boeddeker.
This Kontakt version was programmed by Michael Scott Struble and Douglas Morton.


Keyboards
B3 Leslie
Baby Grand Soft Chorus
Baby Grand
Big Stack Slow & Long
Big Stack
Church Organ
Classical Piano
Expensive Stack
Filmscore Main
Filmscore Slow Pad
Filmscore Wet Dynamic
Harpsichord
Killer Organ
Moog B3
MoogB3 ModWh+Leslie
OB Wood Filt Fast
OB Wood Main
OB Wood Slow Pad
OB Wood Wet Dynamic
Pankala Main
Pankala Slow Chiffs
Pankala Wet Dynamic
Perc Synth Echo
Perc Synth
Perc Wood Filt Fast
Perc Wood Main
Perc Wood Slow Pad
Perc Wood Wet Dynamic
RnR Piano
Syn Pop Main
Syn Pop Slow Pad
Syn Pop Wet Dynamic
Syn Rhythm Main
Syn Rhythm Slow Pad
Syn Rhythm Wet Dynamic
Syn Steel Main
Syn Steel Slow Pad
Syn Steel Wet Dynamic
Syn Vibe Main
Syn Vibe Slow Pad
Syn Vibe Wet Dynamic
SynChoir Main
SynChoir Slow Pad
SynChoir Wet Dynamic
SynPole Main
SynPole Slow Pad
SynPole Wet Dynamic
SynSteel2 Filt Sweep
SynSteel2 Main
SynSteel2 Slow Pad
SynSteel2 Wet Dynamic
Synth Fact Analog Filt
Synth Fact Analog Main
Synth Fact Analog Slow
Synth Fact Analog Wet
Synth Flute Main
Synth Flute Slow Pad
Synth Flute Wet Dynamic
Synth Symph Filt Sweep
Synth Symph Main
Synth Symph Slow Pad
Synth Symph Wet Dyn
Wood Filt Fast
Wood Main
Wood Slow Pad
Wood Wet Dynamic

Strings
Basses 6 Xfade
Celli 6 Xfade
Celli Pizzicato
Celli Section
Strings Combo
Strings Tremolo
Vio & Celli Filt Sweep
Vio & Celli Main
Vio & Celli Slow Pad
Vio & Celli Wet Dynamic
Vio Celli Gls Filt Sweep
Vio Celli Gls Main
Vio Celli Gls Slow Pad
Vio Celli Gls Wet Dyn
Violas Arco
Violas Pizzicato
Violas Section
Violin PIzzicato
Violin Section
Violin Solo 2
Violin Solo Vibrato
Violin Spicatto
Violins Arco

Bass
Funk Bass
Melody Bass
Stein Bass Phaser
Upright Bass
Wal Fretless Bass

Guitars
6 String Guitar Wet
6 String Guitar
12 String Delicate Dyn
12 String Main
Dulcitar
Martin Guitar
Nylon Guitar vibrato

World Ethnic
Big Drum + Tam Tam
Bodrhan, Flute & Shakers
Bodrhan
Digeridoo + Box
Digeridoo
Dumbec Main
Dumbec Wide Dyn
Indian Perc Wide Dyn
Indian Percussion Main
Kalimba Blocks
Koto Main
Koto Slow Pad
Koto Wet Dynamic
Marimba Echo
Marimba
Pan Flute
Peruvian Flute Echo
Plucked Box
Sitar Filt Sweep
Sitar Main
Sitar Slow Pad
Tablas Sitar Tamboura
Taiko Drum Main
Taiko Drum Wide
Tamboura & Dumbec Main
Tamboura & Dumbec Wide
Tamboura Filt Sweep
Tamboura Main
Tamboura Slow Pad
Tambourine Main
Tambourine Wide
Tibetan Bell Filt Sweep
Tibetan Bell Main
Tibetan Bell Slow
Tibetan Bowed Bell Slow
Tibetan Bowed Bell Sweep
Tibetan Bowed Bell
Tibetan Bowl Filt Sweep
Tibetan Bowl Main
Tibetan Bowl Slow Eth
Tibetan Tingsahw Main
Tibetan Tingshaw Slow
Tibetan Tingshaw Swp

SFX & Ambiences
African Amb Wet Dynamic
African Ambience
Birds 5 AM Key Track
Birds 5 AM Main
Birds 5 AM Wide Dyn
Planes
Strum FX
VibraTrain

Stringed Instruments
Harp Echo -8va
Harp Echo
Koto
Zither Main
Zither Slow Pad
Zither Wet Dynamic 2
Zither Wet Dynamic
Zither Wide Dynamic

Voices
Aahs Filt Sweep
Aahs Main
Aahs Slow Pad
Aahs Wet Dynamic
Breathy Ahhs slo & long
Breathy Ahhs
Choir In Church
Oohs Filt Sweep
Oohs Main
Oohs Slow Pad
Oohs Wet Dynamic
Voc Aahs Filt Sweep
Voc Aahs Main
Voc Aahs Slow Pad
Voc Aahs Wet Dynamic
Vocal Ooh Filt Sweep
Vocal Ooh Main
Vocal Ooh Slow Pad
Vocal Ooh Wet Dynamic

Drums & Percussion
Ducey Set Main
Ducey Set Wet Dynamic
Ducey Set Wide Dynamic
Gym Tom Wide Dynamic
Gym Toms Main
Gym Toms Wet Dynamic
Large Tones Main
Large Tones Wet Dynamic
Large Wide Dynamic
Library War Wide
Library Talk Main
Library Talk Wide
Library War Wide
Moog Percussion
Pop Echo
Real Drums
Rock Drums stereo
Rock Drums
South Am Perc low
South Am Perc
Swish Cymb Main
Swish Cymb Slow
Swish Cymb Wide Dynamic
Talking Perc Main
Talking Perc Wide
Tough Set Main
Tough Tone2 Wet Dynamic
Tough Tones Wet Dynamic
Tough Tones Wide Dynamic
War Drums Main
War Drums Wide

Metal
Gamelan Slendro Origtune
Gamelan Slendro Tuned
Gamelan
Gamelan+8va+
Gender Pelog Orig Tune
Gender Pelog Tuned
Space Bass
Waterphone FX Main
Waterphone FX Slow Pad
Waterphone FX Wet Dynamic
Waterphone Main
Waterphone Slow Pad
Waterphone Wet Dynamic

Orchestral
Orchestral Wind
Timp & Crash Main
Timp Crash Wet Dynamic
Timp Crash Wide Dynamic
EIII OMI MSC V2 Samples Folder

Multis
HorrorFilm.nkm
MarimbaDrum.nkm
Nylon&Steel Gtrs.nkm
PIano Strings.nkm
TaikoBodhran.nkm
VibeFlutey.nkm
You may also be interested in: