You're currently on:
COMPLETE REPLICA OF THE CLASSIC SH-2 SYNTHESIZER
The SH-2 Software Synthesizer is an authentic sonic reproduction of Roland's classic SH-2 synthesizer from 1979. Renowned for its raw vintage tone, the SH-2's dual VCO plus sub-oscillator configuration dishes out devastatingly fat basses, edgy leads, and wild effects.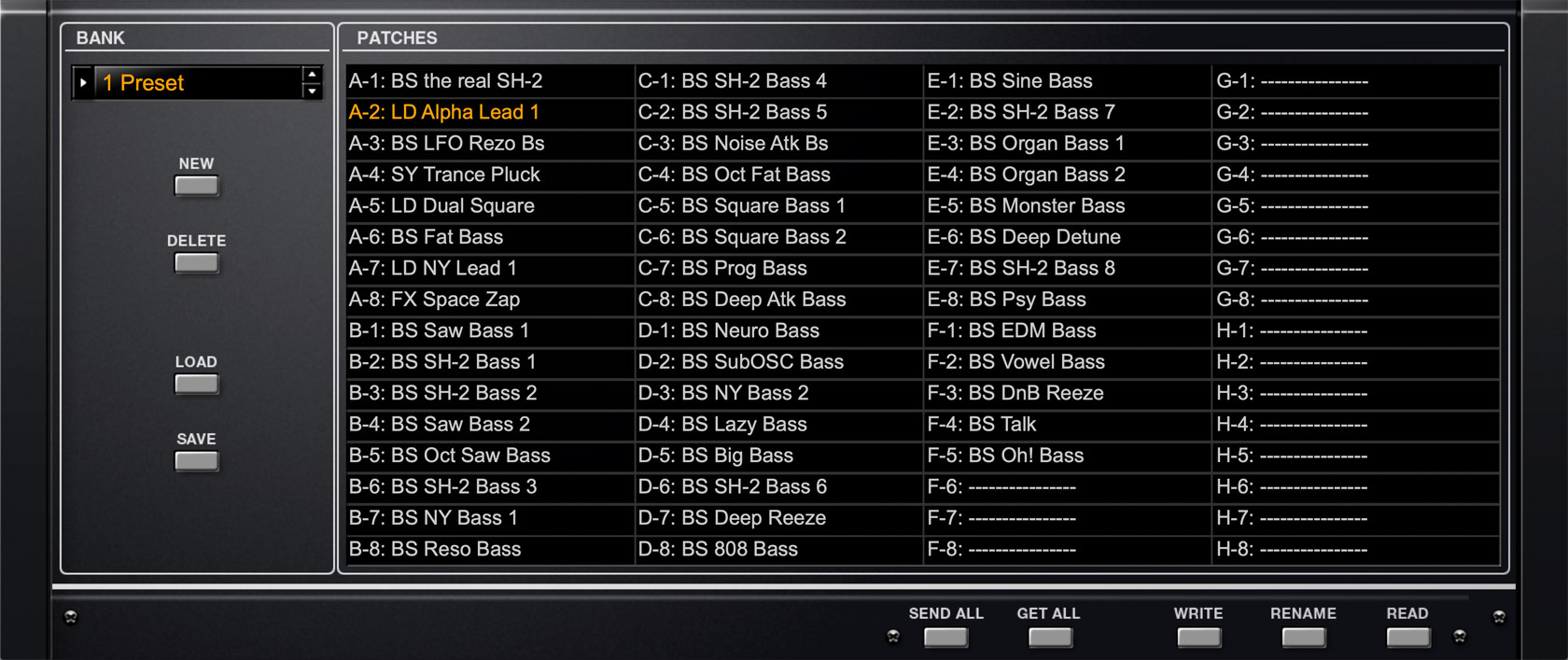 Party Like It's 1979
In the late 1970s, synthesizers were undergoing a significant transition with the development of polyphony and onboard patch memory. As the world's synth manufacturers raced to develop these new technologies, Roland launched a seemingly basic monophonic synthesizer—the now-classic SH-2.
The Place for Bass
Released around the same time as Roland's pioneering JUPITER-4, the SH-2's functionality was conservative by comparison. But its configuration of two VCOs and a sub-oscillator essentially gave it three VCOs, making it capable of extremely fat and warm analog synth tones. To this day, many synth aficionados feel it produces the most earth-shaking, bone-rattling synth bass sounds of all time.
Plug In Your Own SH-2
The SH-2 software leverages Roland's deep knowledge of the original units to faithfully capture every fine detail, right down to the interaction between the individual circuits. Everything has been reproduced exactly, from the self-oscillating VCF to the attack and decay characteristics of the steep envelope. The original's unique harmonic makeup and pitch wavering are present, as are behaviors that occur only in analog circuitry, like the subtle effect on tonality when parameters unrelated to the actual tone are adjusted. There are even some new features that were not available on the original:
VCO range is expandable to 64' for ultra-deep bass
Two ADSR envelopes
Modern effects: reverb, tempo-syncing delay, and bit-crusher
Auto-bend with support for reverse actions
Tempo-syncing arpeggiator
Hardware Integration
The SH-2 also supports our PLUG-OUT format for extended operation with Roland hardware synths like the SYSTEM-8 or the smaller SYSTEM-1. Transfer sounds back and forth between the hardware and software, and PLUG-OUT directly to the hardware synth to create a standalone SH-2 that goes anywhere and doesn't require a computer. You can also use the hardware's knobs and sliders for hands-on control when the plug-in is hosted in your DAW.
System Requirements
MAC
Operating System: macOS™ 10.8.5 or later
Host Application: VST instruments (VSTi) version: VST 3.6 compatible, Audio Units (AU) version: V2 Audio Units compatible
CPU: Intel® Core™ 2 Duo or better
RAM: 4 GB or more
Hard Disk: 100 MB or more
Display resolution and Colors: 1280 x 800 dots or higher, 16.7 million colors or more
WINDOWS
Operating System: Microsoft® Windows® 7 SP1, Microsoft® Windows® 8/8.1, Microsoft® Windows® 10
* incompatible with Windows® RT, Windows® Phone or virtual machines such as Hyper-V, Virtual PC.
Host Application: VST instruments (VSTi) version: VST 2.4/3.6 compatible
CPU: Intel® Core™ 2 Duo or better
RAM: 2 GB or more
Hard Disk: 100 MB or more
Display resolution and Colors: 1280 x 800 dots or higher, 24 bits Full Color or more
You may also be interested in: