You're currently on: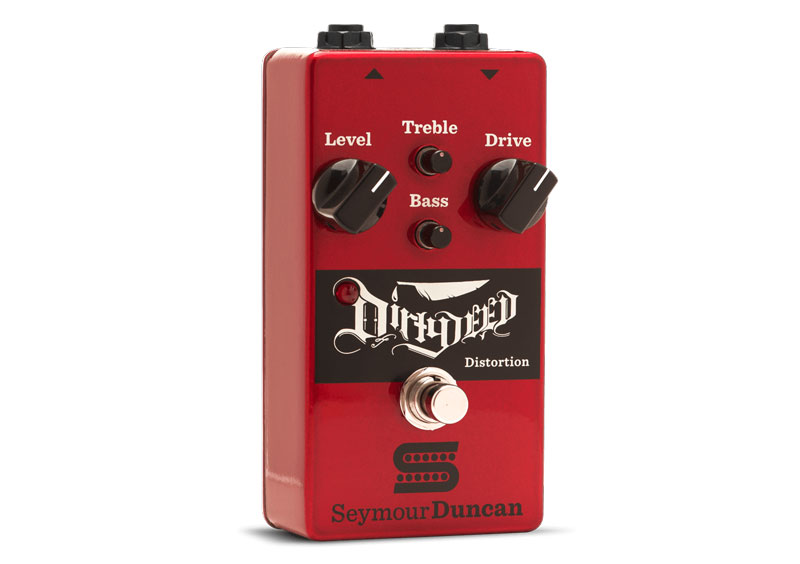 The Dirty Deed distortion pedal delivers a wide range of edgy distortion tones with a hint of fuzz. It's voiced for hard rock, stoner rock and classic metal, and is also great for overdriven and distorted bass sounds. You can leave it on all the time if you need distorted, fuzzy gain, or kick it in for a 1974 LA studio-style lead boost. A pair of MOSFET transistors give the Dirty Deed plenty of thick, beefy harmonic overtones and fat sustain, while the active two-band EQ offers 12dB of treble and bass boost and cut to shape your sound.
The Dirty Deed is true-bypass, and it's designed and assembled at our Santa Barbara, California factory by the same team responsible for our legendary pickups.
Fat Rhythm / Lead Tone
This is a great all-around sound for power chords, arpeggiated rhythm lines and leads alike. Big, fat, and saturated.
Power Crunch
This tone scoops out more of the mids while bumping the lows and highs for a mean, aggressive sound that's razor sharp.
Open Rhythm Crunch
An incredibly responsive, dynamic, chord sound. Ease up on your picking attack and it's clean, bash it and it will roar like a lion. Rolling off the bass a touch will help keep rhythm chords clean and chiming. Depends upon your specific amp, settings and preferences of course, so experimentation is encouraged!
Big Saturated Solo Sustain
This lead tone will sing and cry all day long. The saturation will make it easy to play legato lines but the clarity will let fast picked passages jump right out too. Just about any note you land on will sustain until you tell it to stop. This is a gorgeous solo tone.
SPECIFICATIONS
Distortion Circuitry: Discrete MOSFET pair

Bypass: True bypass

Gain Control Range: CCW: 30dB +/- 1.5dB; CW: 63dB +/- 1.5dB EQ Center Frequencies: Bass 90Hz; Treble 2.1 KHz
S/N Ratio at minimum gain and maximum level settings: 120dB Noise referred to input, 400Hz to 20kHz: 1uV rms

THD @ 10mVrms input @ 1 KHz with 30dB of gain: 0.12%

Max Output before Saturation: 2.6Vrms
Input Impedance: 470K Ohms Output Impedance: 2.8K Ohms
Power: 9V battery or external 9 to 18V Regulated DC Adapter (center negative) Current Consumption: 6.5 mA Max
Dimensions: 2.61" x 4.90" x 1.45" Weight: 0.8lb.without battery
You may also be interested in:
| | |
| --- | --- |
| Variant | 1 |
| Specials | Aug 8, 2016 |