You're currently on: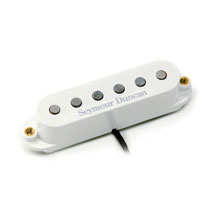 For Stratocaster® players, it's the challenge of the ages: keep the traditional tone, but ditch the annoying single coil hum. In the '80s, Seymour Duncan's patented Stack® design addressed that problem. But who says even a great idea can't be made better?
Seymour Duncan announces the release of the Classic Stack Plus, the latest advancement in the quest for hum-free Strat® tone. Like Duncan's original Stack pickup, the Stack Plus places two coils, one on top of another, to create a hum-canceling effect. But the patent pending Stack Plus uses several advancements, which make it truly unique.
The top coil is significantly larger than the bottom coil. It's almost the same size as a traditional Strat pickup coil. This, together with the symmetrically staggered, sand-cast, Alnico 5 pole pieces, delivers very authentic, traditional Strat "chime." The top coil is shielded with a "flux transfer plate" which attracts hum and "injects" it into the much smaller bottom coil, whose sole purpose is to eliminate the hum. The top coil gets the tone. The bottom coil kills the hum.
In addition to the unique design, Duncan employs a Helmholtz coil, a device seldom seen outside physics laboratories, to calibrate each individual Stack Plus pickup for maximum hum cancellation. The Helmholtz coil generates an extremely uniform magnetic field that allows Duncan's engineers to accurately simulate, on the test bench, the noise conditions found in a typical performance environment. This type of testing and calibration, in addition to the unique magnetic structure of the Stack Plus system, allows it to achieve extraordinarily low levels of 60-cycle hum.
According to Kevin Beller, the Stack Plus' designer, "The use of the flux transfer plates together with the individual tuning of each pickup combine to get maximum hum cancellation, while leaving the true Stratocaster tone."
For most Strat guitars, the Stack Plus is a direct retrofit. The Stack Plus is .995" (25.27mm) tall, which makes it .175 (4.45mm) taller than a vintage pickup for Strat guitars. Each Stack Plus is built and tuned, by hand, in Duncan's Santa Barbara, California workshop and includes mounting hardware and detailed wiring instructions.