You're currently on:

The Ultimate Loop Collection - Now For Download!
R.A.W Complete Styles Edition contains Deluxe Bass Lines, Deluxe Drum Grooves, Deluxe Guitar Riffs as well as 20 individual R.A.W. Style Paks for a total of over 40GB of sounds totalling over 35,000 loops. R.A.W. Complete Styles Edition offers one of the most flexible and comprehensive loop libraries ever assembled. Every loop is offered in Rex, Apple Loops and Acidized Wave formats for the ultimate in groove control and easy import into your favorite DAW or sampler.
Included in R.A.W. Complete Styles: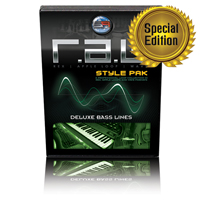 Deluxe Bass Lines
Over 700 Bass Line Loops covering a wide variety of styles such as hip hop, electronic, pop, rock, hard rock, jazz and more! This title is a Special Edition Style Pak previously unavailable! It includes hundreds of fresh new bass riffs as well as classic R.A.W. bass lines from the entire series and more! Add some BIG BOTTOM to your tracks and experiment with a variety of useful bass parts to use in your music.
Deluxe Drum Grooves
Deluxe Drum Groove features over 550 professional-quality stereo drum grooves in the styles of Classic Rock, Progressive Rock, Psychedelic Rock, and Punk Rock. Ranging in tempo from 73bpm to 200bpm, these grooves supply a wide variety of solid foundations for your tracks.
Deluxe Guitar Riffs
Deluxe Guitar Riffs features over 820 professional-quality guitar riffs in a broad range of styles - from acoustic to electric, clean to distorted, retro to modern, pop to hard rock.
Plus

Hip Hop: Dirty South - features over 500 authentic Dirty South loops from beats, basses and leads to full construction kits and beyond: all the essentials you need to make the hottest productions on the planet! Simply drag and drop to mix and match endless combinations of grooves.
Country Folk Rhythms - includes a variety of instrument riffs such as acoustic guitar, dobro, banjo, mandolin, fiddle and bass as well as drum and percussion grooves for a complete Rock, Country, Folk or Bluegrass
rhythm section.

Jazz Grooves - includes acoustic Jazz drum rhythms with Swing ride beats, brush grooves, Big Band drumming and more, performed by drummers (like Danny Gottlieb) who have played with Jazz legends such as Pat Metheny, Herbie Hancock, Chick Corea and more..
Blues Grooves - features 24-bit acoustic drum kit grooves in Rock and Blues and a variety of shuffle grooves, Blues beats with fills, pickups, snare rolls, snare builds, hat and ride variations, brushes and
more.


Nashville Pop Grooves - Acoustic drum Country, Folk, Rock & Pop grooves including both drum and percussion rhythms. Features over 600 drum and percussion grooves.


Sixties Motown Grooves - Authentic Rhythm & Blues and Soul grooves from the late 60's and early 70's. From crackling 45 vinyl loops to the clean and warm classic Detroit studio sound and beyond. Features over 600 drum and percussion grooves.


Trip Hop Beats - Includes fresh urban/electronic
construction kits made up of catchy bass lines, unusual effects, gritty beats and textures, synth leads, vocal licks and more. The ideal source for creating new IDM and Trip Hop tracks in styles similar to artists like Moby, Massive Attack, Bjork, Sneaker Pimps and others.


Vintage Rock Grooves - Live acoustic drum grooves in styles made famous by bands like The Beatles, Led Zeppelin, Rolling Stones, Pink Floyd, AC/DC, Boston and more. Features over 600 top quality drum kit grooves with extra fills and variations.


Vintage Soul Grooves - Features classic Funk and Soul grooves from the 60's & 70's. This collection offers authentic drum grooves, percussion and electric bass lines and is the ultimate source for adding that vintage flavor to your tunes.

Chi Town Hip Hop - Chicago's finest producers are emulated in this tribute to the Windy City. Complete with auto-tuned vocals and crisp production, Chi Town Hip Hop is as relevant to mainstream music as it is timeless.

70s Pop Drums - Features over 325 stereo drum loops in the classic 70s pop style


Hard Rock - features 305MB of Hard Rock sounds along with 206 Heavy Hard Rocking loops! This R.A.W Style Pak contains 16 construction kits from SR's Hard Rock, Heavy Metal, and Rock Guitar Libraries providing the professional artist with the essentials to create Hard rock Hits!


House - features over 450 loops that will instantly transport you to the club! These 19 construction kits contain everything needed to create authentic house music: drums, basses, synths, and more!


Miami Club - features 375 loops that will instantly transport you to South Beach. Nine construction kits comprised of drums, basses, synths, and FX have been masterfully performed and recorded, making Miami Club an essential loop workstation from Sonic Reality!


Modern Hip Hop 1 - features 480 loops from Sonic Reality's Rap, Modern Dance Rap, and Dirty South 2 libraries! These seventeen high-quality construction kits are made up of drums, bass and synth lines, vocals and FX, and more.


Modern Hip Hop 2 - features 470 bangin hip hop loops! Exquisitely recorded drums, basses, synths, vocals, and more make up 25 construction kits, providing the professional hip hop artist with the essentials needed to create hits.


Old Skool Hip Hop - Old Skool Hip Hop runs the spectrum of the infamous 80's NY rap scene. With sampler sounding drums kicking over deep basslines in hypnotizing patterns and breakdance joints that will make you want to move your shell toes.


Reggae - Be transported to Jamaica with Sonic Reality's Reggae loop collection! Nearly 400 loops make up 13 construction kits of drums, basses, guitars, organs, and everything else you need to create authentic reggae music.

Reggaeton - Create authentic Reggaeton beats with this collection of over 150 high-quality loops! Four construction kits made up of bass, drums, guitars, keys, FX, and even vocals provide essentials for hot Reggaeton production.
Modern R&B - With 22 constructions kits totaling 500 loops, you can t go wrong with Modern R&B.
Sample Format
Sounds may be used in all samplers supporting the following formats
R.A.W.
Manufacturer
Sonic Reality
You may also be interested in: