You're currently on: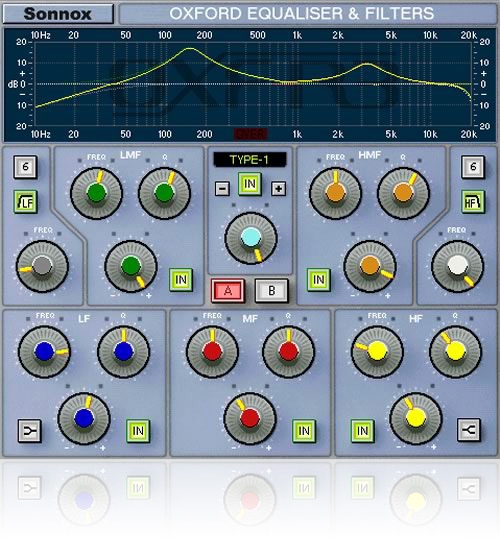 Receive special discounts when buying multiple Oxford plug-ins, simply add this Bundle Discsount to your caart or enter the following coupon codes whewn checking out:
sonnox2 - Receive a 20% discount when ordering two Oxford plug-ins
sonnox3 - Receive a 25% discount when ordering three Oxford plug-ins
sonnox4 - Receive a 30% discount when ordering four Oxford plug-ins
sonnox5 - Receive a 35% discount when ordering five Oxford plug-ins
sonnox6 - Receive a 40% discount when ordering six or more Oxford plug-ins
Plugin Overview

The EQ plug-in is based on the OXF-R3 EQ section. It is a fully functional 5-band application with selectable shelf settings on LF and HF sections. Additionally, separate variable slope low pass and high pass filters are provided. The EQ also features 4 different selectable EQ types that cover most of the EQ styles currently popular amongst professional users, including some legacy styles which are renowned for their artistic capability. The use of novel coefficient generation and intelligent processing design provides unparalleled performance that surpasses analogue EQ in both sound quality and artistic freedom. This plug-in may well provide all the EQ you ever needed.
Main Features
5 band fully parametric EQ
Variable HF & LF filters up to 36dB/Octave
Algorithm taken directly from the Sony OXF-R3
Four different EQ types in one plug-in
Fully de-cramped HF response
A / B switches (automatable)
Ultra low noise and distortion
Platforms Supported
Pro Tools HD (TDM), Pro Tools LE (RTAS), M-Powered (RTAS), PowerCore, AU, VST