You're currently on: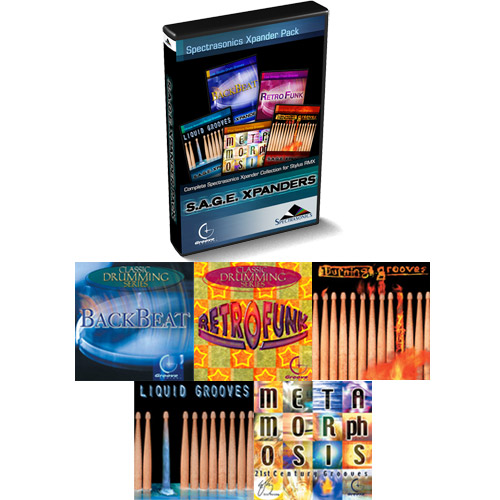 The SAGE Xpander Pack
includes
all FIVE
of the
Spectrasonics Xpanders
for only
$149
.
Every Stylus RMX user who doesn't already own these fantastic groove libraries will want to get this special package, as it represents an extraordinary value. The highly acclaimed grooves on these award-winning Xpanders were produced by Eric Persing and feature numerous top session drummers including Abe Laboriel Jr., Gregg Bissonette, Bob Wilson, Eric Boseman and John Ferraro. The wide range of tones and styles of the five Xpanders provide a versatile starting point for users to create authentic rhythm tracks.
Multi Library: Hundreds of amazing Multi-groove patches that combine the Xpanders in creative ways
Bonus Section: Unique grooves from Vocal Planet, Distorted Reality and more!
The
Spectrasonics S.A.G.E. Xpander Pack
includes:
Backbeat - S.A.G.E. Xpander
Live Studio Drum Grooves
Sometimes, you just need that straight-forward, no frills, clean and lean drum groove. If you do pop, rock, smooth jazz, or cross-over, a pure live drum sound is absolutely essential. Even in today's dance and R&B, the tight and crisp sound of an unadulterated drum kit is pure gold. This is why Backbeat may become the most important library in your collection! Producers Eric Persing and Bob Wilson recorded four world-class drummers in numerous legendary studios, with some of the best drum rooms on the planet. The playing is right in the pocket by LA drummers with legendary feels. The very latest recording technology was used to capture a stunningly Hi-Fi, yet very natural sound. Every groove has a unique kit and mix! The variety of sounds within this single library is astonishing. The featured players include: Gregg Bissonette (Santana, Joe Satriani, Don Henley) Bob Wilson (Liquid Grooves, George Benson, The Crusaders) John Ferraro (Larry Carlton, David Benoit, Albert Lee, Aaron Neville) Eric Boseman (Liquid Grooves, James Newton-Howard).
"This set is of very high quality and it is clear that much time and effort has been put into it....an immense array of stunning grooves -- all played on real acoustic kits, by real people! There is nothing run-of-the-mill about the quality of these performances, and there is a great variety of them, from basic 'Billie Jean'-type pop to highly-intricate shuffle, the latter capturing every nuance of snare stroke with great subtlety...The benefits of the Groove Control technique are considerable, allowing easy tempo changing without affecting timbre, and the power to create groove-quantize templates to use elsewhere in your track...I suspect that a staggering amount of time has gone into its presentation on Backbeat, to ensure that the grooves maintain their integrity...If you have a need for exceptionally well recorded standard drum grooves that really do groove, this is a library you should audition. Added to Retro Funk, it contributes to an extensive library of formidable grooves."
—SOUND ON SOUND 5 star review
"Backbeat is most certainly a classic-style drum loop library that is a cut above the rest. The variety and quality of all of the loops is first rate and very professional sounding, rivaling anything that you'll hear in any number of high-profile pop or rock tracks. The performances are also extremely tight and dynamic - they have life, and perform flawlessly...if you're looking for loops with an acoustic "classic rock and pop" feel, Backbeat is a library that you should own..."
—SONIC CONTROL 5 Star review
Retro Funk - S.A.G.E. Xpander
Live Vintage Drum Grooves
A fresh take on the killer vintage sound. The sonic texture of these loops makes them ultra-flexible, bringing massive "vibe" to any modern track. Producer Eric Persing's mixes create a unique, dry sonic attitude in this library, making it ideal for layering with other groove elements. Vintage mics, warm Analog tape compression and antique drums all contribute to the funkiness. And with Stylus RMX™, the grooves are at your command, effortlessly blending their timing and human feel to match your music. Turn a GoGo groove into Deep House, a JB Boogaloo into Drum & Bass, a Fatback P-Funk groove into Alternative Reggae, or an R&B stomp into a Pop Ballad! It's scary how quickly you can sound like a remix genius!
"This is a release that deals in sheer quality. Top LA session drummers focusing on laid-back and supercool funk drumming....more than enough authentically '70s drumminq sounds and stvles to keep retroheads happy. Provides all the flavor and spirit of retro soul/funk while at the same time susing it with a 'must-sample' sound quality and an infectiously musical groove. There is afantastically wide range of drum sounds used in the grooves...amazingly tight and powerful funk-rockkit sounds that would give even hard rockers a run for their money...Ultimately, Retrofunk's flair, precision, musicianship and sheer usefulness certainly rate it as one of the best drumming discs."
—SOUND ON SOUND
Burning Grooves - S.A.G.E. Xpander
Hardcore Live Drum Grooves
If you're looking for attitude, search no further...Where there's smoke, there's fire! Blazing live drum grooves laid down by legendary drummer Abe Laboriel Jr, with extreme re-mixes by producer Eric Persing. The diverse selection of hi-energy grooves comes in a wide variety of tempos (56-215 BPM), different time signatures (3/4, 5/4, 6/8, 7/8, 12/8), and even those hard to find Tom-Tom and Sidestick grooves.
• Maximum Impact Live Drum Grooves
• Aggressive Sound, Feel & Style
• Featuring Abe Laboriel Jr!
• Newly developed Multi patches take full advantage of new S.A.G.E.™ (Spectrasonics Advanced Groove Engine) technology with multitrack grooves which show the full potential of Burning Grooves with Stylus RMX.
• Hi-Energy Styles that work across a wide musical spectrum
• No Kick and No Snare versions
• Large quantity of diverse grooves
"A slammin' combination of loops...I would definitely use these grooves not only because the playing is good, but because I like the modern sound design....top honors for providing one new mix after another...killer beats throughout...Rock-solid playing...spans a wide range, from dry and natural to booming wet and delicious lo-fi...Excellent."
—KEYBOARD
"The quality of both the playing and recording is first class...the rhythms are straight 'on-the-money', and very usable."
—SOUND ON SOUND
Liquid Grooves - S.A.G.E. Xpander
Unique Acoustic Remix Grooves
Quite possibly the most versatile Xpander ever! The critically-acclaimed Liquid Grooves with S.A.G.E.™ technology provides an endless amount of possibilities that will be inspiring for years to come. Fluid rhythms forged by a synthesis of propelling live drum grooves, unusual, organic live percussion loops and unique ethnic sources. Works extremely well with Chaos Designer! The new Multis have to be heard to be believed!
These highly-original grooves have lots of space and are presented in a Construction Kit format similar to the Supreme Beats collection. Many of the grooves are presented in both "Natural Acoustic" and "Hybrid Remix" versions for a new level of versatility. If you've been frustrated at the lack of slow tempos on most loop discs, this is the library you've been searching for. The liquid concept is two-fold: Sparse "hand-played" grooves that feel great, combined with a focus on uncharted sonic territory. An inspiring, one-of-a-kind library from producer Eric Persing.
"..Truly inspiring...expertly performed and recorded, and the sound quality is uniformly excellent...The basic grooves are very interesting...The heavily effected versions are striking in their attitude and atmosphere...producer Eric Persing has outdone himself with creative processing...Although all of the loops start out as acoustic performances, by the time he has finished with the remix variations they're perfect for trip-hop, lo-fi, or acid jazz tracks...good use of the Korg Wavedrum; perfect for the other-worldly vibe of this disc...excellent velocity crossfading between the soft and louder hits on the CD-ROM version...Musical, grooving, clever ... Aw, these loops just plain sound great...played right in the pocket..the recording quality and performances are first-class...If these loops don't inspire you, hang it up."
—KEYBOARD (rated Outstanding)
Metamorphosis - S.A.G.E. Xpander
21st Century Remix Grooves
meta-môr´fo-sis (noun) [Latin metamorphsis, from Greek, from metamorphoun, to transform, meta-, + morph]
1. A transformation by supernatural means.
2. A striking alteration in character, condition, or function.
3. An extraordinary new library of 21st Century Grooves by Eric Persing.
Get ready to take it to the next level. Acclaimed producer Eric Persing's newest creation features an entire library of his trademark, cutting-edge loop manipulations. Each one of the hundreds of amazing remix grooves are truly unique in texture and feel. From floating, atmospheric Trip Hop pulsations, to experimental euro-club beats....and all the way to intense, Drum 'N Bass fury, this is an extremely versatile library for creative film composers, producers and remixers. The latest tools like Reactor™, Reason™ and over 100 hardware and software devices were used and abused to great effect in the development of this remarkable library. The processed rhythmic inspirations range in tempos from 50 to 180 BPM and beyond!
"Amazing, description-defying sounds on this bases-loaded, outta-the-park home run collection...scandalously creative sound design...everything from sizzling electronica and ethnic-sounding percussion loops to gut-busting kicks that thump out of the speakers with all the angst of an Outkast cut. The sound quality is top-notch throughout...The loops are not only impressive from a production standpoint, they're incredibly musical and inspirational, which is why we've given Metamorphosis a Key Buy."
—KEYBOARD.
Owners of the original Stylus RMX should contact their local Spectrasonics dealer to purchase this exciting package. For musicians that have NOT purchased Stylus RMX yet, please request Stylus RMX Xpanded from your Spectrasonics authorized dealer, which already includes these same 5 SAGE Xpanders along with the RMX software.
You may also be interested in: