You're currently on: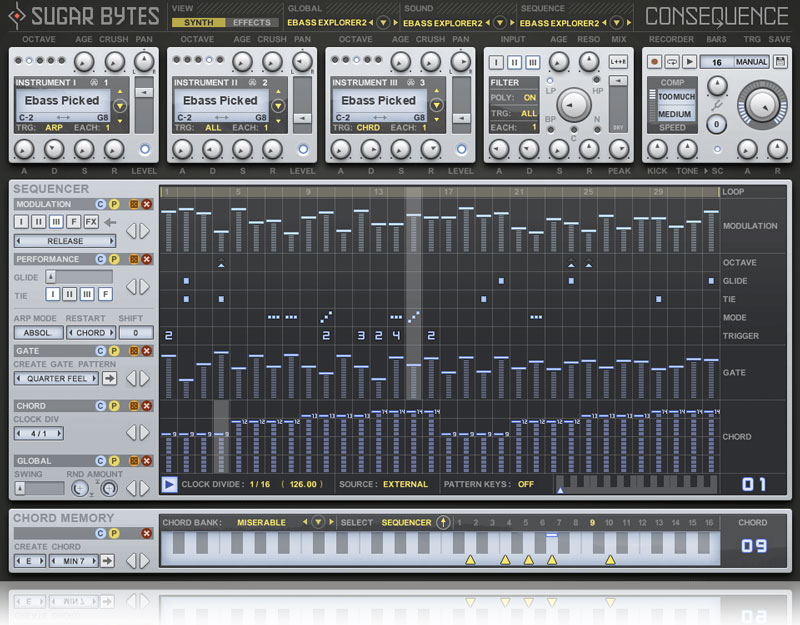 Massive Creative Chord-Pattern Groove Box
This incredible machine will stir up your tracks and galvanize your production routine. Chords are organized via sequencer, cut in arpeggios and converted to delightful bass lines, charming melodies and seemingly unreal textures of sound.
CONSEQUENCE is a chord groove box that's both overflowing with possibilities and enabling an intuitive workflow, capturing any of your ideas directly via audio recorder. An extensive sound library contains all kinds of instruments – from powerful analogue synthesizer to most subtle violins.
CONSEQUENCE is a compositional tool for you to try out chord patterns in a matter of seconds. This mega-instrument also mutates everything you play via MIDI into the disco sound of tomorrow.
CONSEQUENCE includes lots of new Club-Style Presets and Instruments as well as some incredible new features. Just to name a few of them: Each of the 3 Instruments has a Note-Range feature and can send its Gate and Pitch information to an individual Midi Channel. Randomize has been implemented and the Chord Sequencer-Bars now display the number of the Chords that they will trigger. We added a new delay algorithm which provides individual delay times (which are working in 16th notes) for left and right channel. The whole clock has been reworked and some important fixes have been applied to make Consequence 1.1 your inspiration delivery service for life.
CONSEQUENCE is fully 64-bit compatible and features MIDI Export! Just drag and drop from within Consequence to your host or a generated MIDI file to your desktop. It's quick and easy! Just play with Consequence and export the results as MIDI or audio file. Consequence also includes a powerful stand-alone version.
Features
3 sample-based oscillators with independent envelopes and gate selection for overlaying chords with arpeggios.
32-step sequencers for chord selection, gate, performance (arp, tie, multi-trigger, octave, glide) and modulation.
New sound design features like polyphonic frequency-dependent sample rate reduction and aging.
Included kick 4/4 kick drum for easy groove orientation.
Multi-effect with 5 effects (reverse, chorus, phaser, delay, reverb).
Master compressor (can be driven by 4/4 kick via side chain).
Monophonic and polyphonic 5-mode filter (LP, BP, HP, BR, comp) with independent gate selection.
Pattern change via MIDI note.
MIDI input for sequencing chords in real-time.
MIDI output for triggering MIDI compatible gear.
Easy chord creation via chord-maker, chord-recording and manual chord drawing.
Audio recorder for session recording or for creating loops.
200 first-class sounds available.
Split preset system can combine sound-, sequence- and chord-presets.
You may also be interested in: