You're currently on: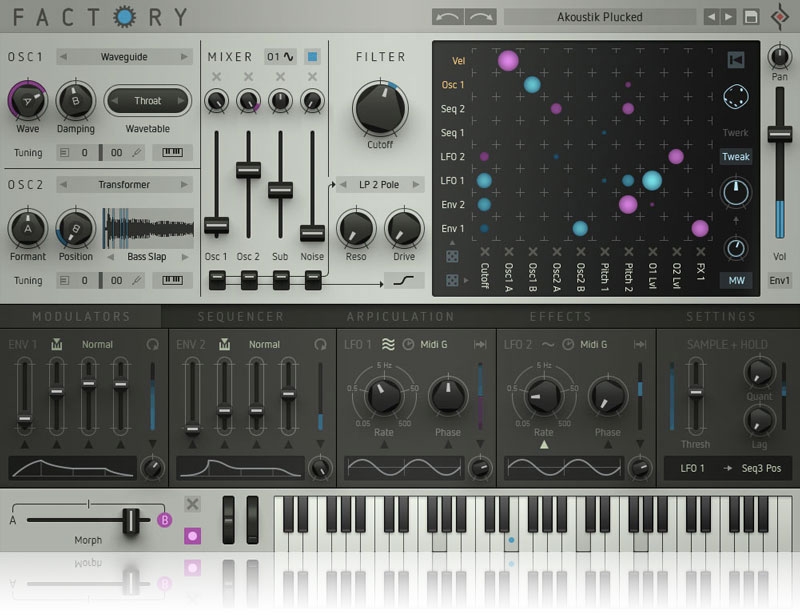 Factory is your safari ticket to the wilderness of sound. Bearded basslines go fishing for diamonds in a lake full of frogs. Crank the crossfader to morph from a tricky beat to some mellow chords. Combine what no one else has combined yet. This is not your usual preset-clicker. Factory is the new poly-synth from Sugar Bytes. The one with the matrix.
2x10 Oscillator Engines, plus Sub Osc (with RingMod mode) and Noise (with 5 Colors)
8-Voice VA-Sync, FM, Transformer, Wavetable (6 Flavors), Waveguide, Fractal Synthesis
11 New Filter models, matched to the oscillators
Morph Crossfader allows for morphing of all continuous parameters
"Liquid" Mod Matrix with 8 sources & 10 targets is the centerpiece of sound creation
3x Multi-Effect with drag 'n' drop signal flow, incl. newest reverbs (Corpus, Piano, Spring, Shimmer)
4x Sequencers for all kinds of Gates and CV's, incl. 36 motion curves, uni/bipolar
Arpeggiator, Intonation engine, Scale Quantizer
Over-Featured Envelopes, LFOs and Sample+Hold
Oscillators
The Oscillators are the tonal ore. Besides non-aliasing VA-Sync and fractal oscillators, we actually tackled wavetable, waveguide and FM. Get Cyclop's notorious Transformer in polyphone mode now.
Modulators
Features galore. Looping Envelopes, Oneshot LFOs, bipolar sequencers, Sample + Hold taking it to the top. Wouldn't make sense to list everything here, but whatever you need for your sound will be there and right where it belongs.
Arpiculation
All life is imperfect, yet endlessly complex in its beauty. Arpiculation is arpeggiator and intonation. Organic pitch envelopes, slight fluctuation of tone, pitch-quantizing with a fine blend of scales. The Arpeggiator as Factory's data hydra, triggered by god knows what and voice selection via the matrix. It's possible.
Matrix Basics
Routing 8 sources to 10 targets makes us happy. No retro plug matrix, of course biploar mod amounts get the job done. And then there's the random button, an optical feast, blurrying your vision for a moment or two. The twerk section with its shenanigans. Get things done with 36 modulation targets. A must have these days.
Matrix Advanced
Dive a little deeper and check the underwater biosphere. Next-level Shit.
Sequencers
Factory's four sequencers are the secret force in the background. They can trigger the envelopes, LFOs or the Arp. Or the S+H for that matter. 36 curves incl. multi triggers blow out the slowly-burning candles of boredom. Your beats bore the cat? Give Factory a go.
Morph
Morphing one sound into another, this is contemporary stuff. Be the Rainmaker, be the Frankenstein. Better put the Morph fader to the Mod Wheel right now.
Sample + Hold
This is where the synth came from. It all began with a small matrix and this muscular Sample + Hold. Take a trigger from anywhere and use it to sample a value from anywhere else. Quantize the result and put a lag on it. Check the video.
Some feedback from the sound designers, the ones who worked this beast for painful weeks:
Soundbits: "About Factory I liked the most its very flexible and novel Modulation Matrix, the versatile Oscillators, the Morphing possibiltiy and the super slick GUI"

Mads Lindgren aka monolog: "Congratulations! The ability to use audio input as modulator source is next level!"

Tom Cosm: "The ability to complexly modulate so many different aspects of the synth, especially the core oscillator functions, some of which were totally new to me after 10+ years of producing music"

SiriusMo: "I found your Waveguide bug! Now I love it more and more."

Kabuki: "For me the highlight of Factory is the innovative interface. For example, instead of treating the Modulation matrix as a static entity, it becomes an integral tool for shaping the sound in a fun and playful way. Hats off to Sugar Bytes for creating tools that inspire!"

Plaeground: "Factory makes huge dark sounding textures with its boutique selection of oscillators and fx. Finding new sounds with the modmatrix morph is my new hobby."

Solidtrax: "We are really impressed with this workhorse, the modulation concept, the osc-models, the filters and its drive section are just a few things that come to mind that are just stunning. Great to be part of this!" Check out their song "Got a job at the Factory".
System Requirements
Windows (32/64 bit)
Win7 or higher, 2GHz, 2GB RAM
Mac OS X (32/64 bit)
10.6.7 or higher, 2GHz, 2GB RAM
Interfaces
Mac OS X: VST / AU / AAX*
Windows: VST / AAX*
Screen Resolution
1024 x 768
*Pro Tools 10.3.5 or higher
You may also be interested in: