You're currently on: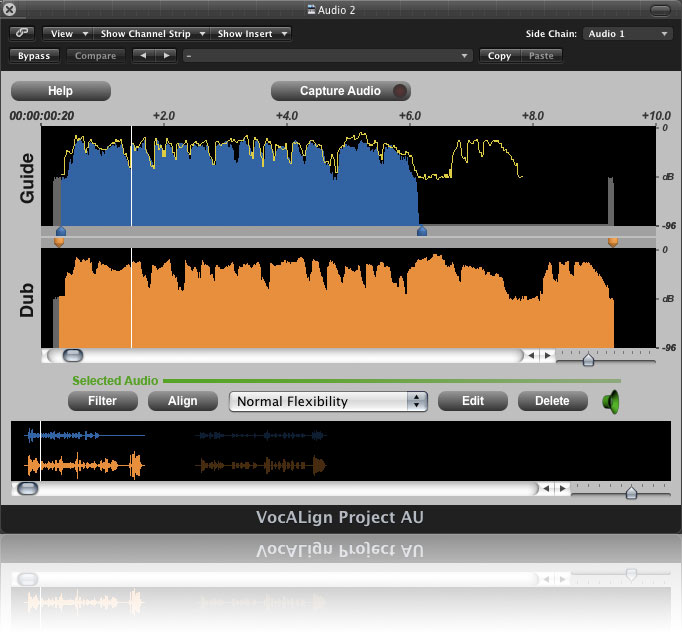 VOCALIGN PROJECT 3
CLASSIC AUTOMATIC AUDIO ALIGNMENT
VocALign Project 3 (VST3 Plug-in Version)
Fast, Basic Functionality, Low Cost
VocALign Project 3 provides the latest version of the basic and legendary VocALign program that has been available since 1995, providing instant tight alignment of one audio signal to another. Simply capture a Guide signal with the right timing, capture a Dub signal to be aligned, press one button, and a new aligned Dub is generated and returned to your DAW.
Quietly legendary, VocALign's early life included use in music production ranging from Shania Twain and Steely Dan to Black Eyed Peas; as well as in popular TV shows such as Friends and Seinfeld and in blockbuster films including Harry Potter and Lord of the Rings.
Features
Instantly edits one audio signal to match the energy patterns in another audio signal.
Works with voice, musical instruments and sound effects.
Provides time saving and quality benefits for ADR, tightening double tracked vocals and backing harmonies, foreign language dubbing, etc.
Plug-ins for most popular DAWs plus a stand-alone version.
"VocALign is the most significant advance in Automatic Dialogue Replacement editing in my twenty-three years as an editor."
"VocALign is a staple really, especially for backing vocals."
Authorization
VocALign Project 3 uses iLok for authorization to give you portability, simplicity, and protect your investment.
FEATURES
VocALign Project takes just seconds to automatically align two audio signals so that the timing of one matches the other
Simple, intuitive operation
Sophisticated pattern matching techniques
Rejects guide track noise
Work with different speakers, singers, words, instruments and sounds
The aligned audio can be auditioned within VocALign Project
Scrolling, scalable display allows instant visual confirmation of sync
User interface allows adjustment of selected audio regions for processing
User-adjustable processing presets ensure optimal performance
Pitch of aligned audio is unchanged
"I use VocALign to tighten harmonies and doubled vocals, and frankly I couldn't live without it. It would take days of strenuous tracking to get harmonies that tight."
"VocALign is a totally invaluable necessity for what I do. We do a lot of sitcoms: Seinfeld, Friends, Third Rock from the Sun, Cosby. We use VocALign on almenst every show we do. I can't live without it"."
HOW DOES VOCALIGN WORK?
VocALign works by applying varying amounts of time stretching or compression to one signal (called the 'Dub') to make its energy peaks and troughs align in time with a 'Guide' signal. It does this in three main steps as shown in the block diagram below.
VocALign analyses the captured Guide and Dub audio signals using identical spectrum analysers to produce time-varying energy patterns.
Then it uses advanced pattern recognition techniques to examine the energy patterns and determine the best way to 'warp' the time structure of the Dub signal so that its energy pattern is matched to that of the Guide. The time-warping path describes the best time-distortion of the Dub for matching to the Guide.
The time-warping path is fed to an audio editing processor that time-compresses and expands the Dub audio to create the aligned version based on the path. It is this edited version of the Dub that is returned to the audio editing software for the desired use.
Note: In the above diagram, the spectrum analyser colours match those used in the VocALign screen for Guide and Dub audio signals and controls.
---
COMPATIBILITY WITH POPULAR DAWS
A VocALign Project 3 iLok License will let you run ALL versions of this software:
AUDIO SUITE / AAX PLUG-INS
AU PLUG-IN
VST3 PLUG-IN
STANDALONE
You may also be interested in: