You're currently on: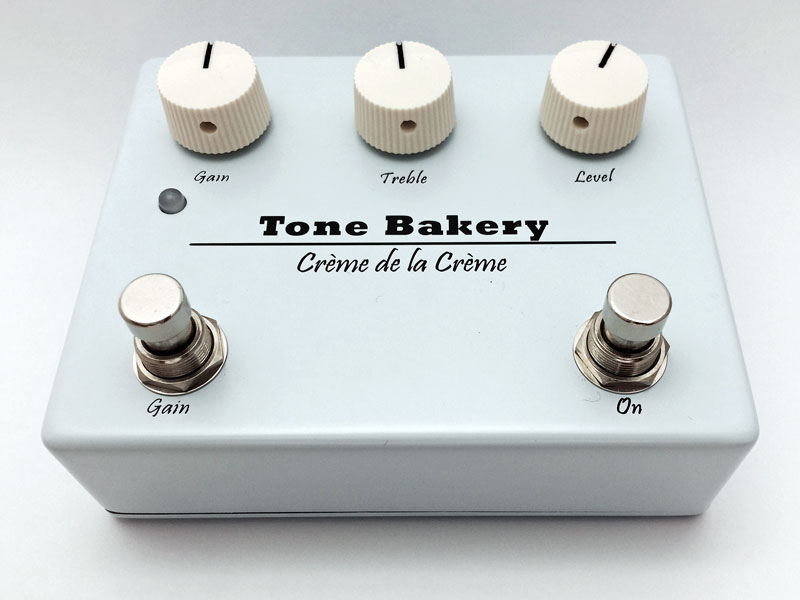 The Tone Bakery Crème de la Crème is a smooth, open sounding boost-overdrive with a separately footswitchable gain stage. Using an internal switch, the gain stage can be set up either for clipping, through a pair of NOS Tungsram OA1160 germanium diodes, or for a second stage of transparent clean boost. The OA1160 germanium diodes have a high clipping threshold and tube-like breakup, helping give the Crème de la Crème a clear, bell-like open tone that other pedals lack. At the same time, the tone is smoother than our original Crème Brûlée pedal thanks to a redesigned circuit.
The Crème de la Crème has a Gain footswitch that engages the Gain knob, allowing you to switch between a clean boost (using only the Level and Treble controls) and clipping (using all three knobs). The LED indicator light changes from Green (Gain off) to Red (Gain on) to tell you which mode is on. In addition, there is an internal switch to change the Gain knob from clipping to a second stage of transparent clean boost with an absolutely incredible amount of extra gain.
Crème de la Crème users include:
Matt Beck (Gwen Stefani, Rob Thomas, Andy Grammer)
Brian Layson (Dierks Bentley)
Aaron Andersen (One Republic, Christina Aguilera)
Dwayne Larring (Kelly Clarkson, Nick Carter, Audio Adrenaline, Sonicflood, Matt Redman, Tim Hughes)
Stu G (Delirious, Paul Baloche, Steven Curtis Chapman)
Christopher James (Zella Day)
You may also be interested in: