You're currently on: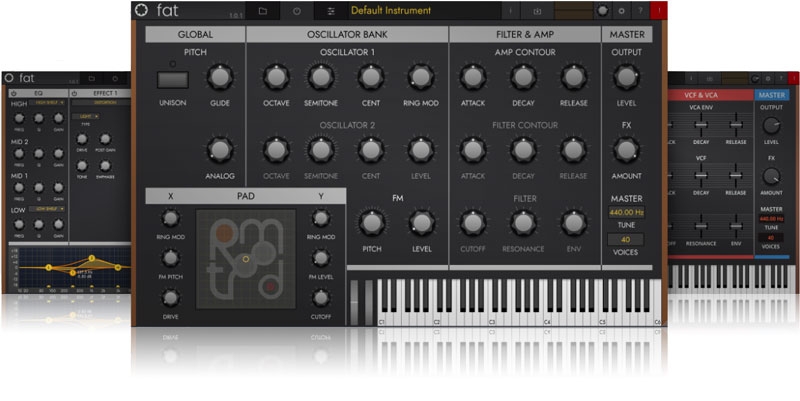 All 3 Retromod Products. 106, LEAD and FAT
LEAD
Six Clavia instruments sampled note by note, at multiple velocities and across 5 octaves, with every category of sound captured. Lush pads, shining electric pianos, cutting edge leads and PPG-like metallic sounds. RetroMod Lead is not just a simple reproduction of a collection of Clavia synthesizers but an inspiring combination of them. For example, the attack of an FM Piano generated by a modern NordLead A1 and the raw body of the sound produced by an early NordLead 1. The result is a powerful instrument with a unique personality twisting the soul of the most desirable synthesizers made by Clavia.
106
Simple and effective, the 3 classic Juno instruments have carved out a devoted following. Building on this expressive foundation, for the first time it will be possible to enjoy the sound of a virtual multi-oscillator Juno, allowing you to layer tones. Explore new depths in the Juno's bass capabilities and enjoy the unusual chorused pads that defined the originals.
FAT
Includes all contemporary Moog synthesizers, with the exception of the Mini, for the first time in one package. Not only final, complete sounds of each instrument have been sampled but also every basic element, starting from the pure waveforms. The result is a virtual future Moog capable of generating incredibly rich sounds. Be warned, the low frequency capabilities of this instrument may damage your speakers!
Intel Core 2 Duo 2GHz Processor
2GB RAM (8GB Recommended)
Intel Core 2 Duo 2GHz Processor
2GB RAM (8GB Recommended)
Intel Core 2 Duo 2GHz Processor
2GB RAM (8GB Recommended)
You may also be interested in:
| | |
| --- | --- |
| Variant | 1 |
| Specials | Nov 27, 2019 |