You're currently on:

Dubstep Beats
Own any Beatmaker? Get BERSERK for less
Smack, wobble, and roll
Looking for big, bad drums for intense electronic music? Give your production the necessary oomph with this bone rattler of Beatmaker. BERSERK will energize anything from dubstep to movie scores.
What's inside?
20 styles, 50 presets
10 drum kits, 460 patterns
MIDI Drag & Drop, Resizable User Interface
Special Control: Devastate/Squish
From dense to distorted
Genres like Dubstep excite with their dynamic contrasts. Master the temperaments of your track with BERSERK from gentle to brachial. With its Mix Presets and the Devastate custom multi effect you control the punchiness.
Glitch aesthetics
20 different styles allow you to manipulate hundreds of rhythms, everywhere from light to thumping beats. Combine these with one of 10 different kits and you'll never run out of options!
Straightforward but deep
Mix and match the custom-made Kit, Style and Mix presets and you're ready to go! With three simple steps, you're on the way to produce stunning tracks. No more searching for samples.
Make it yours
Finishing touches — the Mix settings allow you to quickly switch between various multi-effect profiles and completely remake your sound! It's like –black– magic.
Features at a glance
BERSERK features 10 kits with 16 drum instruments each. There are 20 Styles with 23 ready-made patterns, for a total of 460 patterns. Plus: Pair with USynth EUPHORIA or 2080 for a gritty electronica combo.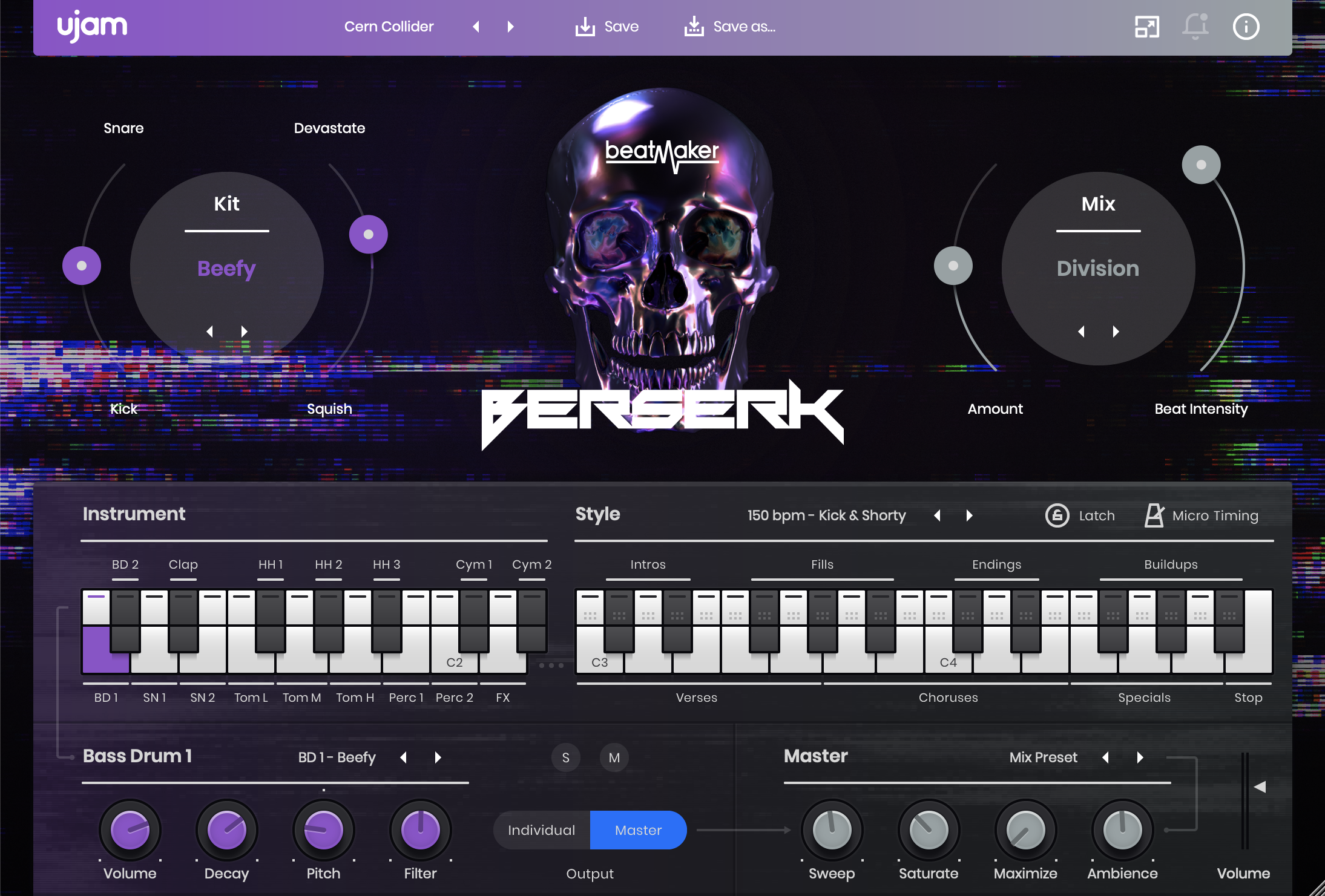 Special control: Devastate
Add custom compression and distortion for extra intensity, or set it negative to bring everything mono with a tight, crunchy distortion. Perfect for distinguishing the vibe between verse and chorus.
Intensity
Use the Beat Intensity control to make quick and dirty brightness changes — add separation between your verse / chorus and change the EQ on demand.
Windows 10 or later
macOS X 10.14 or later
New: Runs natively on M1
64bit only
You may have success on earlier versions but UJAM doesn't support and fully qualify them.
4 GB of RAM
295 MB of free disk space
1280x768px Display
Internet Connection
If you want to move your .blob file to an external drive, we recommend the use of a SSD to prevent dropouts.
VST, AU 2, and AAX
AU 2 version only compatible with Logic Pro X and newer.
Downloadable Installer File
E-mail and Password Within the Plug-in
You may also be interested in: