You're currently on:

Reggaetón Rhythms
Effortless Latin pop grooves
Light up the dance floor
Add a Latin club or dancehall feel to any pop tune you create! Spice things up with deep, bassy kicks and the classic boom-chak rhythm of reggaetón that always gets the crowd moving and grooving. Whether you need straight-ahead beats or authentic world percussion grooves, RICO gives you all the pieces you need.
10 drum kits, 460 patterns
MIDI Drag & Drop, Resizable User Interface
Special Control: Me Gusta
Easy, polished pop hits
Reggaetón & Dancehall rhythms are key ingredients for some of the greatest pop hits of the past half-decade, and the Dembow groove is only on the rise. Getting a round bottom end, tasty percussion and a snare that smacks can mean hours of mixing to lock everything in... but with RICO, you'll never have to do it from scratch.
Countless style options
20 different styles allow you to manipulate hundreds of rhythms, everywhere from light to thumping beats. There are classic and more traditional latin rhythms like Paso A Paso; offbeat rhythms that break away from 4 to the floor like Perreo, in case you want to get creative; and hard-hitting beats in Styles like Pichudo. Combine these with one of 10 different kits and you'll never run out of options!
Chop it up
Never settle for boring — the Mix settings allow you to quickly switch between various multi-effect profiles and completely punch up your sound! Delay and garble your beats with The Grinder, add extreme distortion with Wrecking Ball or liquify everything with Good 2 Go, putting your own spin on reggaetón with just a few clicks.
Dembow riddims
RICO is the perfect complement to club, EDM, hip hop and other rhythm-focused pop genres. If you want to get the party going as quickly as possible, this is the tool to do it!
A quick fix, every time
Select your Kit, Style and Mix presets and you're off! With three simple controls, you have an endless palette of reggaetón, moombahton and pop beats to dial up the energy in moments — no more searching for samples.
Características a simple vista
RICO features 10 kits with 16 drum instruments each. There are 20 Styles with 23 ready-made patterns, for a total of 460 patterns. Plus: Pair with Virtual Guitarist AMBER and Virtual Bassist DANDY for a smooth and punchy electro-acoustic feel.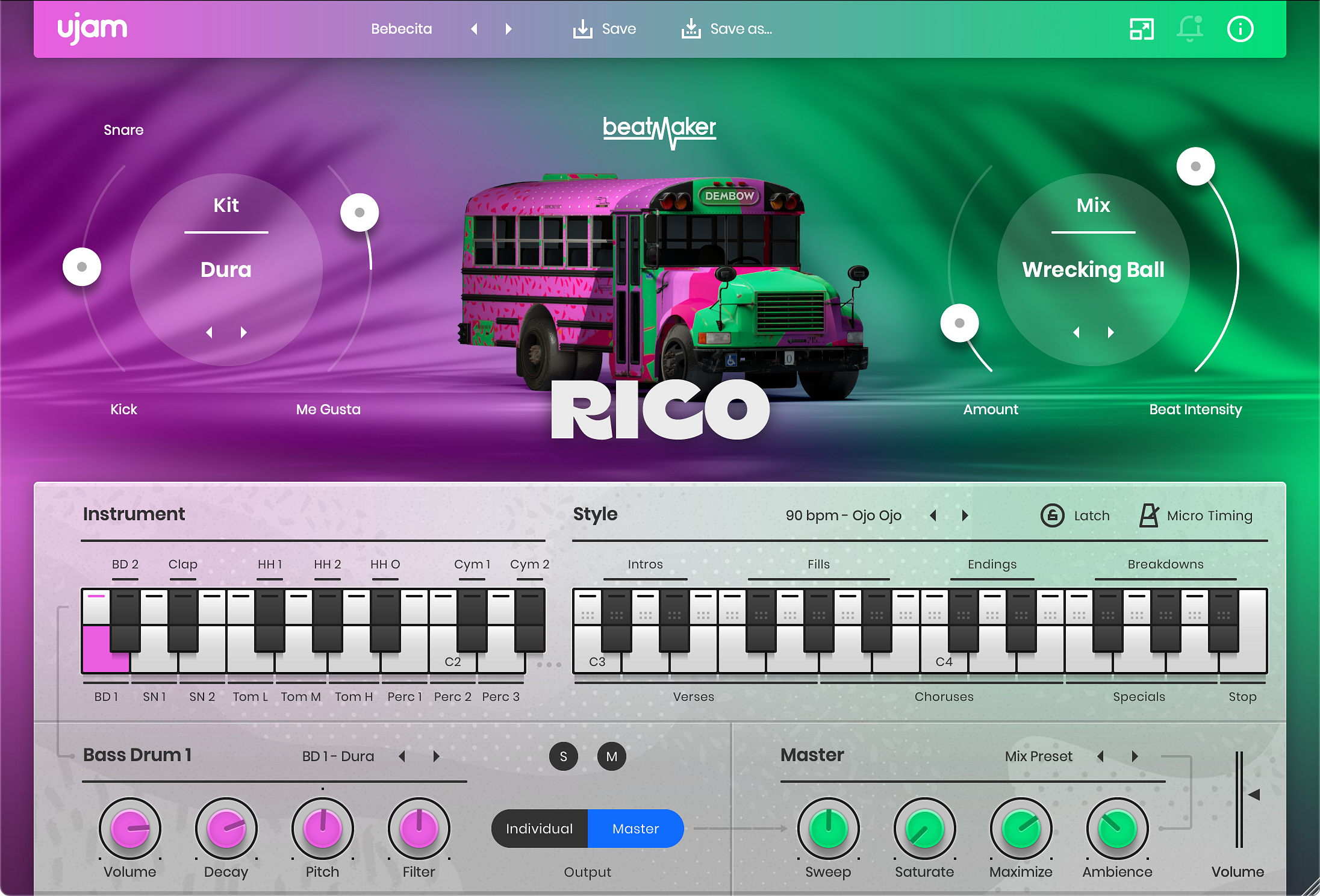 Me Gusta
Add stereo width and instrument isolation for a larger than life beat, or set it negative to bring everything mono with a tight, crunchy distortion. Perfect for distinguishing the vibe between verse and chorus.
Intensity
Use the Beat Intensity control to make quick and dirty brightness changes — add separation between your verse / chorus and change the EQ on demand.
Operating Systems
Windows 10 or later
macOS X 10.14 or later
64bit only

You may have success on earlier versions but UJAM doesn't support and fully qualify them.
Minimum Requirements
4 GB of RAM
188 MB of free Disk Space

1280x768px Display
Internet Connection
If you want to move your .blob file to an external drive, we recommend the use of a SSD to prevent dropouts.
Plugin Formats
VST, AU 2, and AAX
AU 2 version only compatible with Logic Pro X and newer.
Delivery Format
Downloadable Installer File
Authorization
E-mail and Password Within the Plug-in
You may also be interested in: